If there is one thing that stands out about Malaysia, it is its beaches. As a country that is comprised of islands, it doesn't come as a surprise that this country has gorgeous beaches. While Shawn and I only got a chance to explore the beaches near Sabah Borneo (which I will be talking about in just a bit), we have always wanted to go back. Intrigued, I decided to reach out to other travel bloggers and see what they thought about the beaches in Malaysia. Together we have put together a post detailing the most beautiful beaches in Malaysia according to us. Each blogger has added their own tips about how to get there and where to stay to point you in the right direction. Without further ado, let's head to the list of the most beautiful beaches in Malaysia.
*Kindly note that in some cases the travel bloggers haven't been able to give a specific name to the beach. In which case, they have named the island and the way that you can access the beach. In our opinion, this just makes it more interesting because unnamed beaches definitely are less crowded!
PAUH BEACH, PULAU PERHENTIAN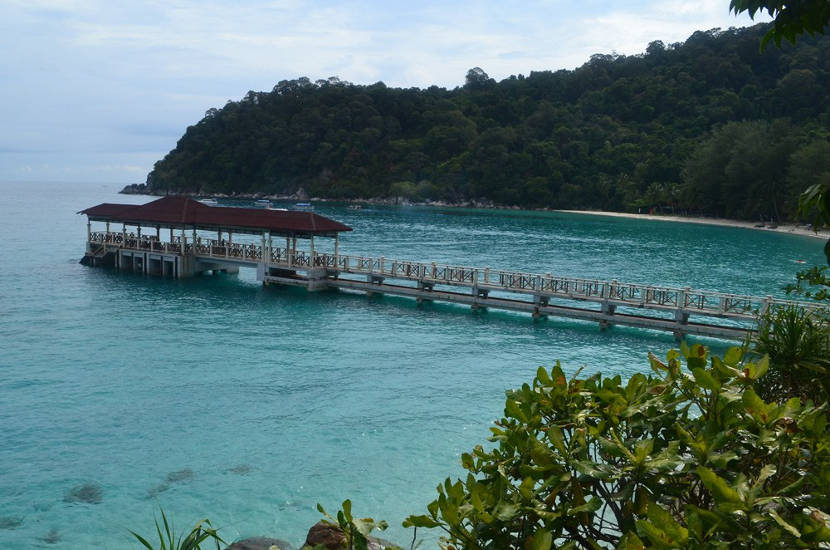 Allan believes that Teluk Pauh is one of the most beautiful beaches in Malaysia.
LOCATION: Teluk Pauh Beach, Pulau Perhentian
GETTING THERE: Water Taxi from Kuala Besut
WHERE TO STAY: Perhentian Island Resort
Located in a cove on the northeast of Perhentian Besar (the Big Island), Teluk Pauh Beach is often mistaken as a private beach, given that the only hotel next to it is the Perhentian Island Resort. But it is very much a public beach, and it is also easily reached on the island by following an elevated wooden walkway along the shoreline, passed the Coral View Bungalows and it is roughly 10RM by water taxi from most of the beaches on the Perhentian Islands (both on the big and small island) where boats arrive to the convenient jetty of the beach. And it is very much worth the trek, as Teluk Pauh may have the most diverse and abundant reefs in the Perrhentian Islands, and just a short swim from the shoreline we counted 10, 20, 30, species of fish. Including many Clownfish, and a Ray and a Pufferfish, and we just lost count.
This meant of later snorkelling tour of the island was a bit of an anticlimax, when we ended just 500 meters from where we started at Teluk Pauh Beach, at the final stop to swim with Sea Turtles. Meaning we really didn't need to leave the beach at all. But the beach is much more than a snorkelling destination, as this serene slice of paradise is hidden in a cove surrounded by hills of dense jungle, and the unrelenting sounds of nature on every side. The perimeter mango trees are also a favourite feeding ground for local silvered-leaf langurs. So, the beach itself is located directly in front of the Perhentian Resorts, meaning all the facilities are there to make a full-day of the excursion, including a restaurant, bar, and of course snorkel hire to make the most of the surrounding marine life and reefs.
BATU FERRINGHI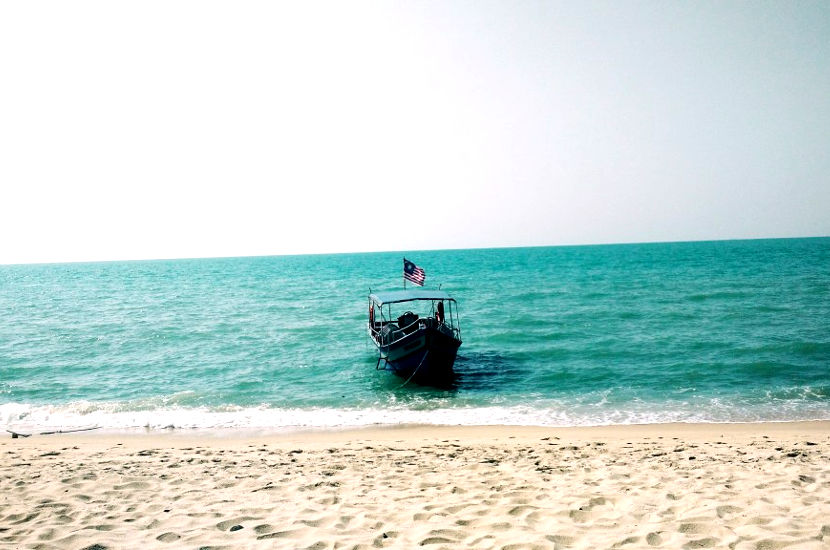 Ruben says that Batu Ferringhi is one of the beautiful beaches in Malaysia.
LOCATION: Batu Ferringhi, Penang, northwest of Georgetown
GETTING THERE: To get there, there is an international airport in Penang, or you can take buses coming from Kuala Lumpur. Once you are in Georgetown, you can get to Batu Ferringhi by bus.
WHERE TO STAY: Park Royal Penang and Four Points by Sheraton
Our favourite beach in Malaysia is Batu Ferringhi. You can´t skip Batu Ferringhi in your Malaysia travel itinerary. In fact, it is the second most popular destination after Georgetown. The beach is located in Penang, northwest of Georgetown. There are few options to stay in Batu Ferringhi, depending on your budget. There is luxury accommodation like Park Royal Penang and Four Points by Sheraton. Both places offer accommodation with a view of the sea. If you are traveling Malaysia on a budget, you can always try couch surfing or Airbnb for your stay in Batu Ferringhi.
Our favourite thing to do in Batu Ferringhi was watching the sunset. The beach is really quiet, and you will enjoy swimming as the water is very calm. Water sports are also popular if you are an adventure seeker. Alternatively, you can visit the local art. We really liked the night market. There are shops and restaurants everywhere. You can also plan a day trip to Georgetown which is infamous for its street food.
LONG BEACH KECIL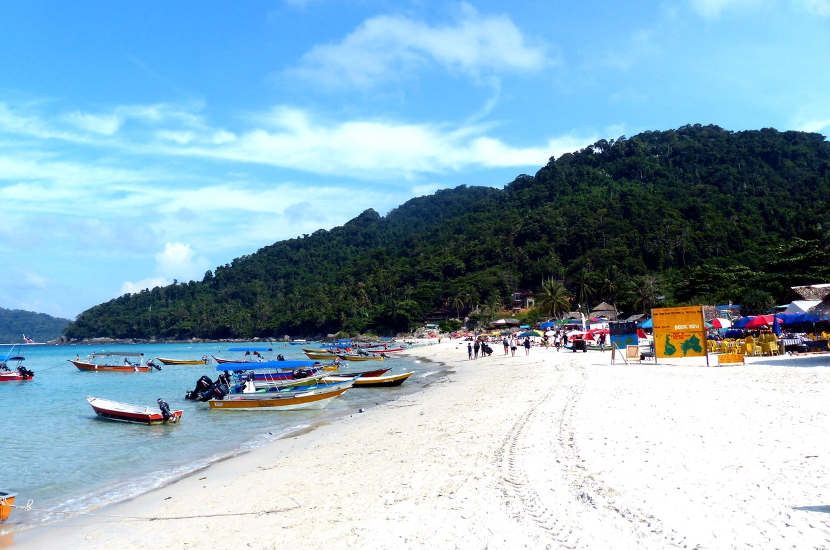 Patrick believes that Long Beach is one of the most beautiful beaches in Malaysia.
LOCATION: Long Beach Kecil, Perhentian Islands
GETTING THERE: The tourist infrastructure is quite good in Malaysia and you'll find transport to the Perhentian Islands from most tourist places such as Penang and Kuala Lumpur. Typically, you'll be transported in a van which might take some time dependent on where you start your trip. When arriving at the coast, a boat will bring you to the Perhentian islands. The boats do several stops and you just tell them where you would like to get dropped off. My transport from Penang was during the night, and I took the first boat early in the morning.
WHERE TO STAY: This one is a little bit tricky. Kecil is quite remote, and the tourist infrastructure isn't well established. Therefore, it's basically impossible to book any accommodation in advance. The beach attracts mostly backpackers and divers and accommodation is rather budget, with dorms and guesthouses. However, none of them has an online booking system. Thus, you need to get there with the first boat in the morning and walk up and down the beach, asking for availability. Many times, the owners can't even tell you if there's any availability until they see if someone checks out or not in the morning, which is a little bit annoying. However, you'll most likely find a place to stay, so try not to worry too much about it. Just be prepared for some very basic facilities – I ended up in a dorm with 40 bunk beds in the same room!
When visiting Malaysia, you shouldn't miss Long Beach on the Perhentian Islands. Especially if you're a backpacker, you'll love the relaxed atmosphere. The main reason to visit is the awesome and cheap diving, and it's also a great place to get your license. There are several diving schools to choose from. Besides that, you can do a short hike through the jungle to another beach but be prepared that the island is very less developed, and you won't find any cars or streets! During rainy season, even most locals leave the island, and everything shuts down. Nevertheless, it's a beautiful spot and you shouldn't miss it.
ROMANTIC BEACH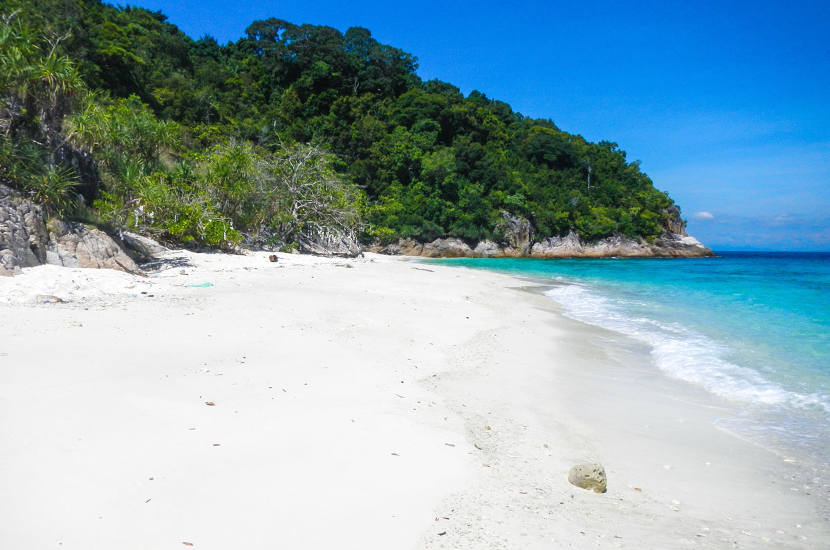 Gabor believes that Romantic beach is most beautiful beaches in Malaysia.
LOCATION: The Perhentian Islands (Kecil and Besar) are situated near the East Coast of Malaysia. This part of Malaysia suffers monsoon from mid-October till the end of March; therefore, the best time to visit is between May and August.
GETTING THERE: The Perhentian Islands can be accessed by boat from the port of Kuala Besut. Boats will leave you on any of the requested beaches; the most popular destinations are Long Beach and Coral Bay. From the rest of the tourist destinations in Peninsular Malaysia you can take an air-conditioned private van to get to Kuala Besut.
WHERE TO STAY: The best place to stay on the island is in Coral Bay that offers a much calmer atmosphere than Long Beach and great snorkeling options. The quality of accommodation is not the highest on the whole island, Senja Bay Resort in Coral Bay represents a decent option.
Amongst the beaches of Perhentian Island, there's no doubt that Romantic Beach is the most spectacular. This beach, situated relatively close to Coral Bay, is accessible by boat only (or through serious rock climbing), so you will need to hire a taxi boat to take you there and come back to pick you up. The beach is simply perfect, one of the nicest white sand beaches you can find in Southeast Asia. Turtles and small sharks often come close to beach, so it's also a great spot for doing snorkeling, but the best is to simply relax in this untouched paradise. We remind you that Romantic Beach is a regular stop in the different snorkeling excursions they do on the island, so if you want to enjoy your romantic moment, it's highly recommendable to go early in the morning or late in the afternoon.
PULAU PANGKOR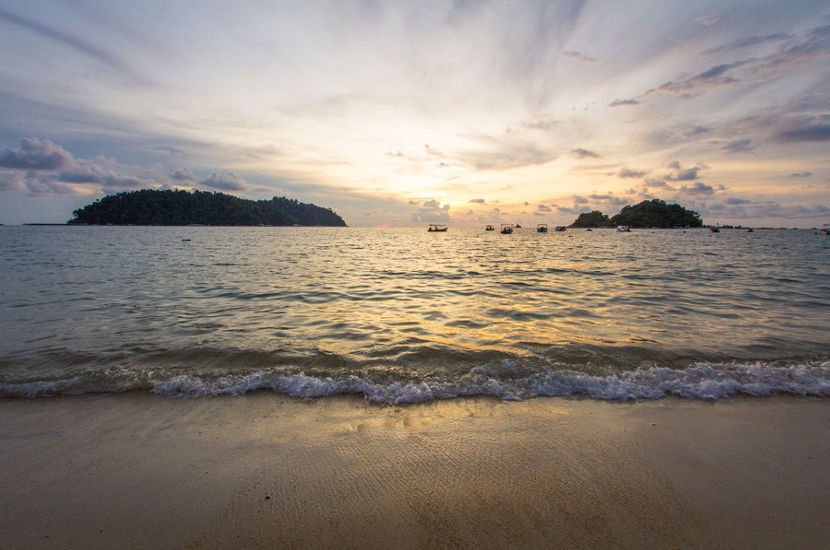 Josh believes that Pulau Pangkor is one of the most beautiful beaches in Malaysia.
LOCATION: Pulau Pangkor is a small island off the west coast of Peninsula Malaysia. Think halfway between Kuala Lumpur and Langkawi.
GETTING THERE: To get to Pulau Pangkor you will have to take a minivan from Kuala Lumpur to Lumut (approx. 3.5hrs journey). The van will drop you off at Lumut pier where you can board the ferry to Pulau Pangkor. From the pier you'll need to get a taxi around to Teluk Nipah on the west coast.
WHERE TO STAY: Most accommodation on the island is either along the coast or on the road perpendicular to the beach at Teluk Nipah. There are a range of both budget guesthouses with dorm rooms, and nicer boutique hotels.
Pulau Pangkor is just 10km long by 3km wide and can be explored by bicycle in one day (if you're fit). There are a few small beaches on the island; however, the west coast is definitely better side. The best beach on the island is called Teluk Nipah. This white sandy beach is located mid-way up on the west coast. During the day, there are loads of Hornbill birds hanging around the coast. Get some great photos of these otherwise rare birds. In the afternoon, you will be pleasantly surprised as it has one of the best sunset viewing spots in Malaysia. The view of the sun setting over the water with the small islands and boats in the background is incredible.
BAKO NATIONAL PARK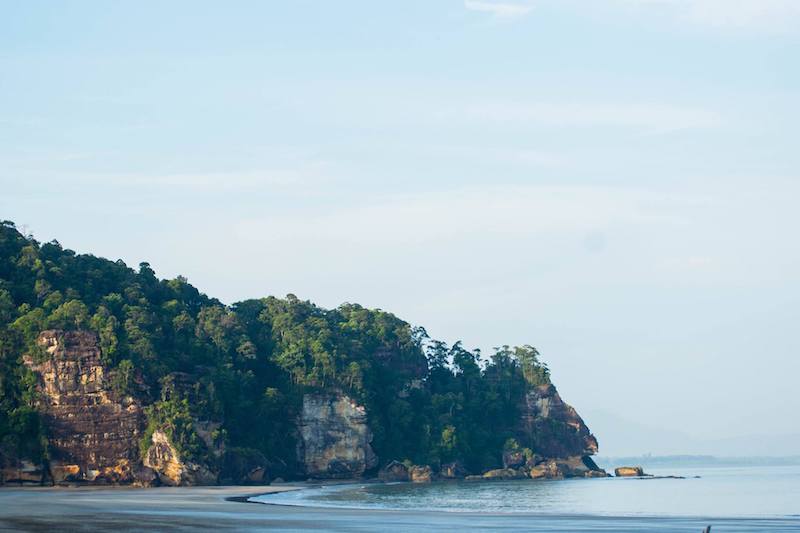 LOCATION: Sarawak, Borneo.
GETTING THERE:   You must take a ferry to Bako National Park from close to Kuching.
WHERE TO STAY:   You need to stay in the park.  There aren't other options, however a multiple day stay will enable you to enjoy more wildlife!
If you're looking for the most beautiful beaches in Malaysia, consider visiting Bako National Park! This stunning national park is located on an island and has numerous ecosystems.  While in Bako, I loved hiking around the various paths—and discovering tons of secret beaches (often with naughty monkeys!) after reaching the shores.  Even as you arrive to Bako, you might need to wade through the water and arrive onto the beach if the tide is too low…so expect epic views.  You can see some of the fascinating rock formations from the beaches and you're likely to encounter a lot of amazing wildlife as you hike to find these beaches.
GAYA ISLAND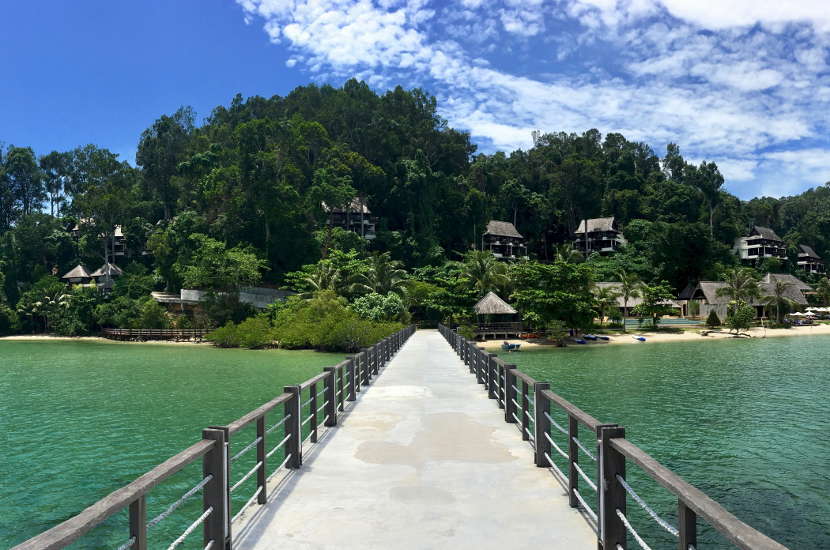 Clemens believes that some of the most beautiful beaches in Malaysia are on Gaya island.
LOCATION: Gaya Island, Borneo
GETTING THERE: 15-minute speed-boat trip from Kota Kinabalu
WHERE TO STAY: Gaya Island Resort
Pulau Gaya Island belongs to the Tunku Abdul Rahman Marine Park in Borneo, the largest in Asia. It is home to one of the most beautiful beaches in Malaysia: Gaya Island main beach. The island is also home to the Gaya island resort, a 5-star resort that offers a pampering Spa Village, idyllic villas and a signature restaurant. The resort is surrounded by water, including several excellent snorkelling spots. No wonder that one of the best things to do at the beach is to go snorkelling. Expect crystal-clear water with fish of incredible colour, variety and species. The biodiversity of this part of Borneo is amazing. The area is home to the most diverse marine life that exceeds 75% of species that is known to science. Amazing coral gardens can be found only 20 metres from the shore.
Part of the beach and the Gaya Island resort is the Turtle rescue centre where sick and injured turtles are rescued, rehabilitated and later released back into the sea. So in between chilling at the beach, snorkelling and enjoying the amazing views, you can also visit the centre and discover how sea turtles are rescued, treated and cared for and learn more about the daily life of a sea turtle rescuer. Also, you can learn about cultivation of coral fragments. The beach of Pulau Gaya Island is just a 15-minute speedboat trip from Kota Kinabalu, the Capital of Malaysia's easternmost state of Sabah. At last but not least, the best thing about Gaya Island is that you won't see hordes of tourists, as Gaya lies off the coast of Borneo. The only species you will see a lot is monkeys. But that fits very well to the overall charm of the island.
Malaysia's beaches have attracted beaches from all over the world. Which are your favourite beaches in Malaysia? Let us know in comments below!
*This post contains Affiliate links
** The photographs in this post are not the property of Globetrove and have been provided by the authors in each section.