Everyone probably knows that Shawn and I are addicted to board games. Thank you Sander! I give you full credit for this addiction! Hahaha… While our board game collection may not be as large as our role model's we have managed to accumulate a decent sized one considering that we buy all our games while travelling out of the country. India just isn't economical when it comes to building a collection. Sigh! That being said, when Shawn found himself in Brunei for seven months we were rather disappointed. We couldn't take our games with us because of weight restrictions. Luckily for us, our search for board games in Brunei was successful.
BOARD GAME CAFES IN BRUNEI
We lived closer to Seria and Kuala Belait and there are no board game cafes or outlets in this area. Bandar Sei Begawan, the capital of Brunei does have two options that I found. One of which hooked me on so much so that I dragged Shawn across the country two weekends in a row just so that I could play new board games in Brunei. Silly me! Then again… Once an addict, always an addict right?
GAMES & LATTES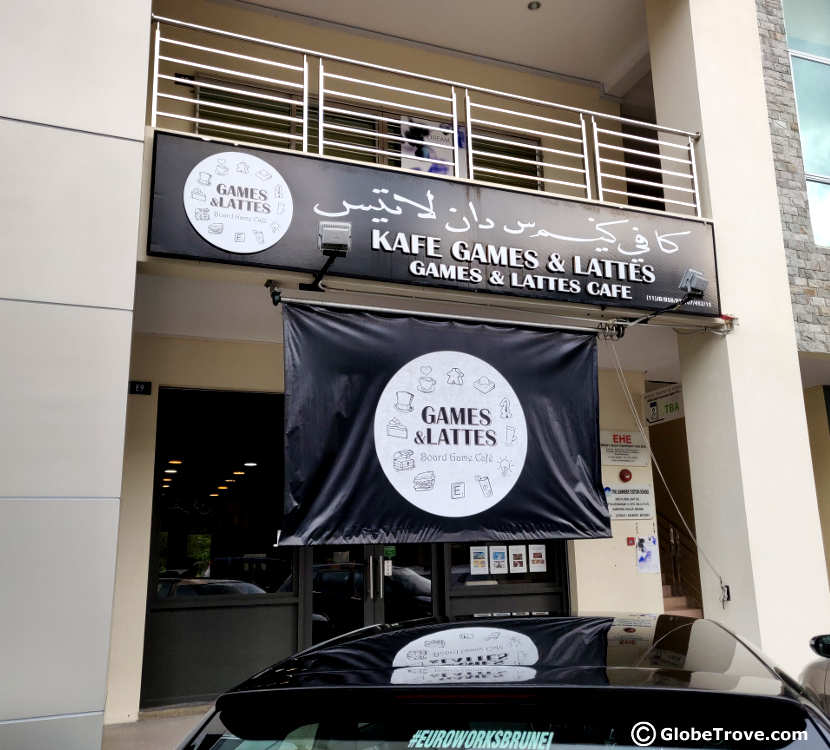 Games & Lattes does not have a website or I would have linked to it. They do have a Facebook page that you can follow. This café may not look much from the outside but it has become my favourite place in all Brunei and I may go as far as to all it my happy place.
Wondering how much this board game café in Brunei is going to weigh on your pocket? Don't worry too much. For $5 per person you can play as long as you like. If you are a member the price drops to $4 per person. Better still if you order anything on the menu worth $5 per person you can play for free. Pretty awesome right? We find that one we step into the Games & Lattes we don't get out for the next 5-6 hours. It certainly helps that they are open till 11 pm on the weekends.
BOARD GAMES IN GAMES & LATTES
Let's talk about the board games in Games & Lattes shall we? That is after all what we drive over an hour to indulge in. We found that Games & Lattes has a variety of games to choose from. We found strategy games, Euro games, filler games, party games and more. The collection is really decent and it has kept us occupied while we explore new games in search of ones we would like to add to our personal collection.
GAMES THAT WE HAVE EXPLORED HERE
I think one of the things that we struggle with is letting go of the apron strings and exploring the rules of a new board game alone. Our friend Sander has taught us well and rule books don't scare us as much as they would have. Yet, the hefty rulebooks do act as a deterrent. Moving to a board game café and figuring out a few games is exciting and like I said before, we are addicted. Here are a few that we explore at Games & Lattes which will give you an idea of what their collection is like.
TZOLK'IN: THE MAYAN CALENDAR
Board Game Geek Rating: 7.7
No Of Players: 2-4
Tzolk'in was a real brain buster for us initially and it took us a while to go through the rules. We did love the gears on the board and after we got the rules down, the game was fun. That being said, the game involves a lot of strategy and you have to keep your eye on the wheel and the prize. It took us a couple of rounds before we realized this. The game played well with two players so that was a big bonus too.
Verdict: Definitely on our list of things we would consider buying especially since it has a lot of replayability. Is that even a word? I'm not too sure but the rest of the board gamers out there will definitely know what I mean.
Board Game Geek Rating: 6.9
No Of Players: 2-5
I had heard a lot about Sushi Go on so many board game groups in Facebook. So when I found this board game in Brunei I really had to try it. The game comes in a quaint little metal box which makes it a great travel board game. It is easy to learn and a lot of fun to play. It is also a game that does not look like it gets boring in the long run because of the large deck of cards and the different permutations and combinations that you can use when playing.
Verdict: I loved it and so did Shawn. We would consider adding it to our collection depending on the price we get it at.
Board Game Geek Rating: 7.4
No Of Players: 2-4
Another game that I have heard a lot about in the board game communities is Santorini. The cute white structures and the beautiful blue domes definitely made it attractive. We started it out playing well enough but I'm a bit unsure whether we messed up the rules a bit. The game was easy to play and involved a little strategy. We did not play with the Gods so that may be why we found it a bit underchallenging.
Verdict: I think we would need to play this game again probably incorporating the Gods. It is a game that I would give a second chance but I don't see us adding it to our collection just yet.
Board Game Geek Rating: 7.1
No Of Players: 2-4
I have Fresco before and absolutely loved it. While I remember loving it and talking about it a lot, over the past two years I had forgotten why. So it went without saying that I had to introduce Shawn to the game and I was ecstatic that he loved it too. The game has plenty of strategy and a dash of luck. The last time I played the game, we were three players. One thing that I realized this time around was that Fresco plays well as a two player game too. Leonardo da Vinci did annoy us which was hilarious and fun. Shawn can't wait to play it again.
Verdict: To quote Shawn: Hell yeah! Hahaha! This game definitely goes in our collection.
OUR TO PLAY LIST FOR FUTURE VISITS
If you think we were done exploring board games in Brunei, then you are sorely mistaken. There are more games in Games & Lattes than we will probably have time to explore especially since the drive to Bandar Seri Begawan is so long. If it was closer we would have been in the café multiple times in the week. Anyway, here are a few of the board games in Brunei that we still want to explore. I will keep updating this list.
As you can see, our list is already quite large and there are many ore games that our eyes haven't fallen on yet! I just can't wait to go back.
Another place to play board games in Brunei is Ner De café. The name is a pun on the word 'nerdy' which is kind off cool. What surprised me the most was that both Ner De Café and Games & Lattes are just a stones throw away from each other. Ner De café was the first board game café in Bandar Seri Begawan from what I gather. It has a decent collection of games which are different from the ones in Games & Lattes. Patrons of the cafes go to each depending on the games that they want to play. I personally found that Games & Lattes has a larger more intriguing collection but like I said before, it is geared towards a personal preference in games.
One mega difference between Games & Lattes and Ner De café is that the later has some board games for sale. It also runs discounts on the games on sale so if you want to buy games you may want to check it out. We did enquire at Games & Lattes if they sell games too and they said that while they do not, they help gamers get the games that they want by connecting them to the right sites.
I still can't believe that I am exploring so many varieties of board games in Brunei! It just goes to show that life can surprise you and that board games rule across the world! Here's to being a geek and owning it!
*This post contains Affiliate links