When Shawn told me that Shell was shifting him to Brunei for a couple of months I was understandably sceptic. The country isn't the most popular location in the world, there isn't too much information available online and whatever there is, is restricted to Bandar which is the main capital. What about Seria or Kuala Belait? The two little towns down south which would be his home for seven months? What about health care? Transport?
There were so many questions and very few answers. Even after Shawn travelled across (I had to wait for medical reasons) I was sceptic. Now this guide is probably going to be totally different from the usual posts I put up and I found that I don't really care. I just want others shifting here in the future to have a bit of a grounding and I really hope this helps.
There is a lot of propaganda that goes on across the internet and I have to tell you the truth. It freaked me out and I had no clue what to expect. One thing that you do from your flight window is an expanse of green touching the brown blue waters of the sea. The sea… Now that is dotted with a number of rigs and if you are lucky you may just see a helicopter moving between them.
You probably know by now that the main religion is Islam and that the country is ruled by a Sheik. Its main sustenance is from oil. That means that low oil prices can adversely affect its economy. The main capital is Bandar which is a largish city and is also the place where most of the tourist attractions are.
Brunei is a part of the island Borneo which means that it has a large cover of the tropical rainforest. The climate is hot and humid. Yes you heard right. With the sea right next door you can be assured of nice cool breeze blowing in through your windows every now and then. Worried about the heat? Well, it isn't too much of a bother since all the houses and office spaces have air conditioning.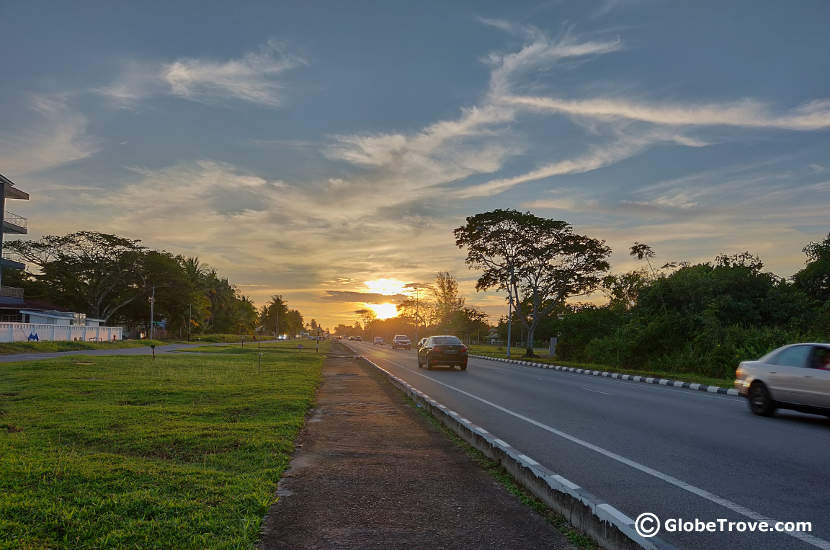 A glimpse of one of the main roads passing between Seria and Kuala Belait.
Transportation in Brunei is rather intriguing. If you think you are going to catch a local bus or hail a cab when you are in Seria or Kuala Belait, just forget it. Transportation is via your own private vehicle. You could walk but pavements aren't everywhere and if you think the grass looks nice, watch out you can sink quite deep in that thing. Plus you never know what lurks below!
At the beginning Shawn had a company car for a few days and he had to quickly work out how we would rent one for himself since post that the company does not make arrangements. A friend was extremely helpful and ferried him to work for a couple of days before he could find someone to rent a car from.
GETTING TO SERIA OR KUALA BELAIT FROM BANDAR AIRPORT
Both Seria and Kuala Belait are over 100 kilometers away from the airport which is in Bandar. Luckily traffic isn't as bad as it can get in some parts of South East Asia and you can make the drive between the two cities in just over an hour. When Shawn arrived, he had a company car to drive him across the distance. Shawn however had to drive my grumpy ass south when I arrived a month later.
Since Brunei is a Muslim country (and it has come under a lot of flak for the implementation of the Sharia law) it is wise to cover up. The question is how much and I kept asking that very same question. The local Muslims do cover their head with a hijab and unlike in UAE their hijabs are colourful. Not all of them wear a burka. Don't panic. You don't need to wear one either unless you are entering a mosque.
Generally people are pretty laid back. Clothes that reach below your knees are good and I have even seen a few expats wearing shorts. You don't need to cover your head so don't worry though I would suggest wearing a hat when outside because it gets hot. When you visit government offices however make sure that you are covered up well or it isn't appreciated. Think formal wear. Trousers or long skirts for women and no plunging necklines. Men need to wear long trousers too. And preferably wear a long-sleeved shirt. It facilitates the process.
Shawn got a bit in trouble because he has long hair and they kept insisting that he should cut it. Something that made me really angry. Luckily he doesn't have to do unless he wants to extend his stay which is something that we won't be doing.
MEDICAL FACILITIES IN BRUNEI
I did a lot of research online about the medical facilities in the area. The Panaga Health Centre which is located just outside the Panaga housing area. Aside from that there are a couple of private clinics in Kuala Belait.
Jerudong Park Medical Centre popularly known as JPMC is where most of the expats head to if the Panaga Medical centre cannot cope with their needs. I must stress that JPMC is expensive and if you are not covered under the company insurance it can be a bummer as Shawn and I quickly found out. Appointments on the weekends can be hard to come by so make sure you book in advance or you will have to head over on a weekday if its urgent. One of the major downside to JPMC is the distance you have to travel to get there since it is almost next to Bandar.
Brunei also has a number of government hospitals that are much cheaper than the private medical centres. The downside is that if you are pregnant and come mid pregnancy, you have to do all the tests from the beginning because of Brunei government policies which isn't a pleasant thought.
LOCAL MARKETS AND BUYING SUPPLIES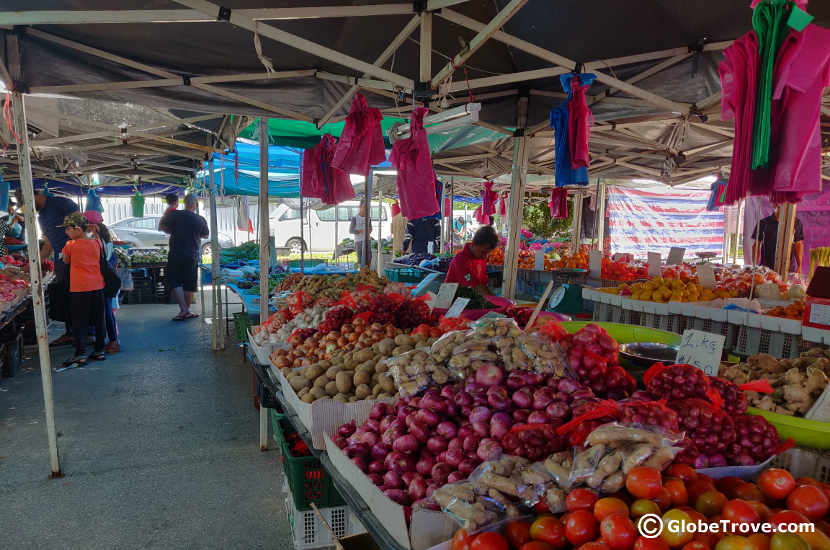 The local vegetable market in Kuala Belait.
With the sea being just a hop skip and a jump away, it does not come as a surprise that Bruneians love their seafood and fish is easily available across it. I was rather surprised to find that most of the food however is imported into the country so when you compare it to the rest of south east Asia, it does seem rather expensive. Especially if you head to the shops that cater to mostly the expats. The local fish markets are open everyday and you can always catch some fresh seafood to cook at home if you like. Vegetable markets however come round once a week. It's Friday morning in Seria and Saturday morning in Kuala Belait. I'm not too sure how Bandar works but since it is a larger city, things maybe more easily available.
Supasave is a gourmet grocery store that is really popular with the expat community. You can catch everything from gourmet cheese to fish and meats here. Beef, lap, chicken and fish are what I have popularly seen. The non-halal section has a good variety of different cuts of pork.
CHINESE AND INDIAN INGREDIENTS
If you are looking for a Chinese ingredient shop then Soon Lee on Jalan Maulana is where you need to go. Indian expats find their spices at Ram Dhani Canteen and Store. They even have some amazing samosas there. The store is located close to the Hornbill school.
Don't kid yourself. There is no alcohol sold in Brunei so don't head out to search. Luckily staying in either Kuala Belait or Seria means that Miri in Malaysia is really close by. Expats are allowed to carry two litres of alcohol or a pack of 12 cans of beer over the border every 48 hours. I am still not sure of all the logistics involved so I will update this part after we make our first trip across.
Supasave has a great collection of different varieties of bread but if you want to try something different you can head to Lof in Kuala Belait which is also really nice. If you are looking for cheese rolls and stuffed bread then try SunnyBee bakery (they have outlets on Jalan Maulana, Kuala Belait and Seria) or Mom's bakery which have a variety of choices including some really nice cakes.
One thing that I quickly learned was that there are a number of well favoured fast-food chains in the area. You probably find outlets of them in both cities. The chains cater to different cuisines and while some are globally well known, some are popular here in Brunei. KFC, Burger King and the Filipino franchise Jollibee can be found easily. I will be adding to this eventually as I discover more spots to eat.
WYWY on the other hand is a popular restaurant. We found one popular one at the Pandan area. If you think choosing from a menu is difficult WYWY will take it up a dozen notches. The menu covers everything from Thai to Chinese to Malay to Indonesian to Indian. My personal favourite was the local coconut with prawn curry and the spicy fried rice. I've heard that the deserts are drool worthy and while we did not try any due to my rising blood sugar levels, I can assure I was drooling over the options.
If you are craving for some pizza or pasta then Chef Mauri has you covered. The pizzas come with a thin crust and are super large so make sure that you have an appetite.
Sushi is also another popular choice of cuisine in the area. Kaizen Sushi, Escapade Sushi and Sushi Tei are all great options.
Brunei has a thriving coffee shop culture and many of the coffee shops are open till late at night. I've spotted the Internationally known brands like Starbucks and Café Coffee Day here but aside from these there are a couple of others that you can stumble across in either city.
THINGS TO DO IN KUALA BELAIT AND SERIA
You quickly learn that both Kuala Belait and Seria are really sleepy towns. That means that boredom can set in quick and fast. Most of the expats live in the Panaga area whereas the employees on short term assignments have to figure out their housing wherever they can find a decent apartment. Believe me these are hard to come by. Shawn was shown a couple of tiny places with barely any light entering them till he got lucky at the last minute and found an apartment at Majra apartments. Not everyone is happy with its location because of its proximity to a cemetery but we didn't really mind since it gave us a view of sea and plus there were a couple of restaurants and Soon Lee just across the road.
Anyway, as I was saying, the expats who are in Brunei for a long term stay closer to each other and you quickly realize that you need to build a community of friends from within the organization that you work. Get togethers,  dinners, children's playdates etc make up a good deal of how people pass their time on the weekends. Aside from this the Panaga club has a number of activities which you can participate in from swimming and horseback riding to sailing and tennis.
There is one theatre called Times Cineplex which has a lot of English movies if you are interested. The shop timings are numerous and I've heard that there is never a rush. If you live close to a beach like we did, early morning or late evening walks are a great option. I should caution you that you will find jellyfish scattered across the sand so keep your shoes on!
What else would you like to see in our expat's guide to Seria and Kuala Belait in Brunei? Just drop a message in the comments and we will try to add the information you need.
*This post contains Affiliate links