Everyone dreams about those elusive Egypt holidays. At least, I know that we have dreamed of going to Egypt for a long time. Some how it slipped the radar every time we planned a vacation. Our luck changed when Shawn had to go to Cairo on work. Due to certain constraints we couldn't travel much so when we managed to squeeze in a weekend in Alexandria we were ecstatic. I don't know about you, but I hate traveling with little time especially when there is a lot to explore. Alexandria was like that for us. Luckily, a weekend in Alexandria does help you cover all the salient spots of the city. I'm going to take you a virtual journey of how we did just that.
GETTING TO ALEXANDRIA FROM CAIRO
There are three main ways to get from Cairo to Alexandria. There are frequent flights that leave from the Cairo airport every day. These are by far the fastest way to reach the city, but it also comes with a price. Another way to reach Alexandria is by road. I'm sure that this road trip would be a lot of fun, but it does come with it share of hitches. A driving license that is valid in Egypt being one. If not, one can get a driver to take you all the way but then the cost factor does come into play again. We chose option three, which was to head to Alexandria by rail. It was an epic adventure. To top it all it was cheap and comfortable. I've already written a long post about how to travel to Alexandria by train, so I won't get into the details again. You will find the link below if you want to know how our journey went in detail.
SPENDING A WEEKEND IN ALEXANDRIA
One thing that I really felt that I needed to add is that weekends in Egypt are different from most of the other countries in the world. Here the weekend comes every Friday and Saturday. The reason why I emphasize on it is because you may think that Sunday is a holiday. It isn't. With that in mind, we left Cairo on Thursday and left Alexandria on Saturday night.
Our choice of accommodation was the Sheraton Montazah hotel. Located a distance away from the heart of the city, this hotel gave us a view of the sea and a quiet place to chill. There are a number of pro and cons when it comes to this hotel. I will be detailing them in a separate article which will be updated here as soon as it is ready.
HOLIDAYS IN EGYPT: DAY 1 IN ALEXANDRIA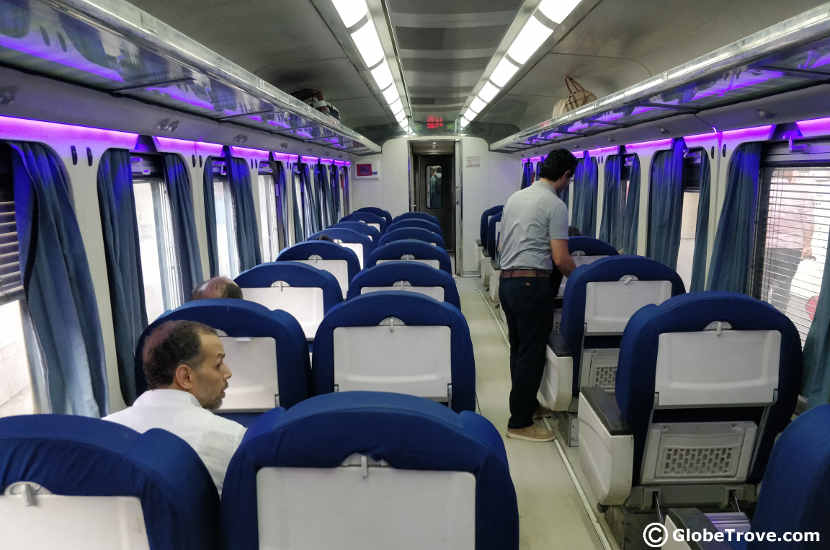 We arrived late Thursday night in Alexandria. Our intent was to get as much sleep as possible so that we could get out and explore the city. Since Shawn had been working through the week, it turned out to be a wise choice. A lot of people from Cairo head into Alexandria for the weekend. Since we were traveling in the middle of Ramadan, the number of local tourists was minimal. One thing that struck us the moment we got out of the train was the lack of noise when you compare Alexandria to Cairo. The drive to our hotel was peaceful. We got a chance to watch the coast in the night. It was at that point that I realized that Alexandria was exactly what I was looking for.
With a quick meal in our hotel, we turned in for the night only to be woken up the next day as the warm rays of the sun flooded our room. The view from that balcony will forever be imprinted in my mind. Let's call it my new happy place shall we?
HOLIDAYS IN EGYPT: DAY 2 IN ALEXANDRIA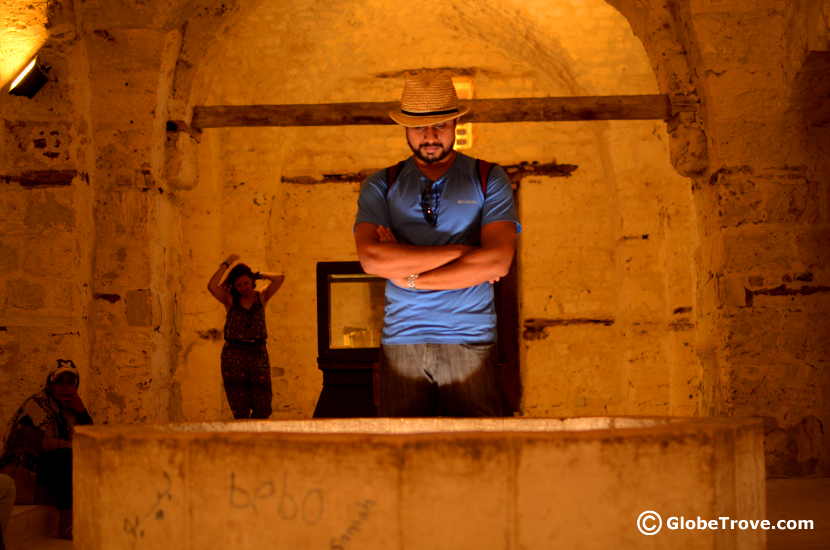 Our day started out later than expected. In a way it was good because we had breakfast, caught a cab and headed out to the city. I had everything planned out in my head. I knew exactly where I wanted to go. First on my list was the Catacombs and then maybe we would squeeze in the Pompey pillar which was close by. Unfortunately for us there was a barrier in communication when we were talking to our cab driver. Instead of dropping us off at the Catacombs of Kom Ash-Shuqqafa he dropped us off at Pompey's Pillar instead.
WEEKEND IN ALEXANDRIA STOP 1: POMPEY'S PILLAR
Normally something like this would have soured the start of our day but we were determined to have a good time. Since we were there we decided to start our journey out with Pompey's pillar. Ironically it turned out to be the attraction that I enjoyed the most and I still look at it with a lot of nostalgia. At first glance the pillar appears to be just that. A pillar. Nothing special other than the two sphinxes guarding it. Yet, this place also houses the daughter library of Alexandria. Wow! Right? Definitely a site that you want to visit on your holidays in Alexandria. Anyway, I won't get into details but if you want to know more about it then read it in the post I've linked to below.
WEEKEND IN ALEXANDRIA STOP 2: THE CATACOMBS
The Catacombs of Kom Ash-Shuqqafa are located a short distance away from Pompey's pillar. We walked there despite the hot sun. Don't worry, the alleyways are narrow and shaded so the sun doesn't bother you too much. The walk itself was a nice way of getting to see the inner heart of the city. A far cry away from the main scenic route of the coast, it gave us an insight to how people in Alexandria lived.
We expected the catacombs of Kom Ash-Shuqqafa to be grandiose, but they weren't. In fact, as many tourists are bound to say, it was a bit anticlimactic. The catacombs however are an interesting bridge in history from a spectator's eye. You can see how the Egyptian and the Graeco-Romanian beliefs crossed. It is intriguing in its own way.
WEEKEND IN ALEXANDRIA STOP 3: FORT QAITBEY
By now it was almost midday. We had one more place to stop at before we headed out for food. That was Fort Qaitbey. Not only did the fort look amazing every time we took the sea route, it also stood on the exact place that the lighthouse of Alexandria once stood. Amazing right? Well, the lighthouse did crumble into ruins but some of thee stones were used to build Fort Qaitbey. One thing that we quickly realized was that this for is better visited in the early morning hours or in the evening. It was really hot when we visited. Luckily, we carried water. The heat however did not take away any of the fun that we had.
WEEKEND IN ALEXANDRIA STOP 4
There was supposed to be a stop 4 and that was supposed to be the Bibliotheca Alexandria. Unfortunately, the library remained closed on Friday so that was a total bust. It took us a while and a lot of walking to realize that being Ramadan almost all of the local food stores were closed. By the time we realized this we had spent over a hour walking in the hot sun so we headed to the closest hotel, grabbed a bite there and headed home to crash. Dehydration can give you a really bad headache. The remainder of our day was spent indoors till around 6 in the evening. That was when we decided to head to Montazah palace grounds for a walk. The cool ocean breeze and canopy of trees made it a nice place to spend the evening. We saw a number of locals breaking their fast there and enjoying the ambiance.
HOLIDAYS IN EGYPT: DAY 3 IN ALEXANDRIA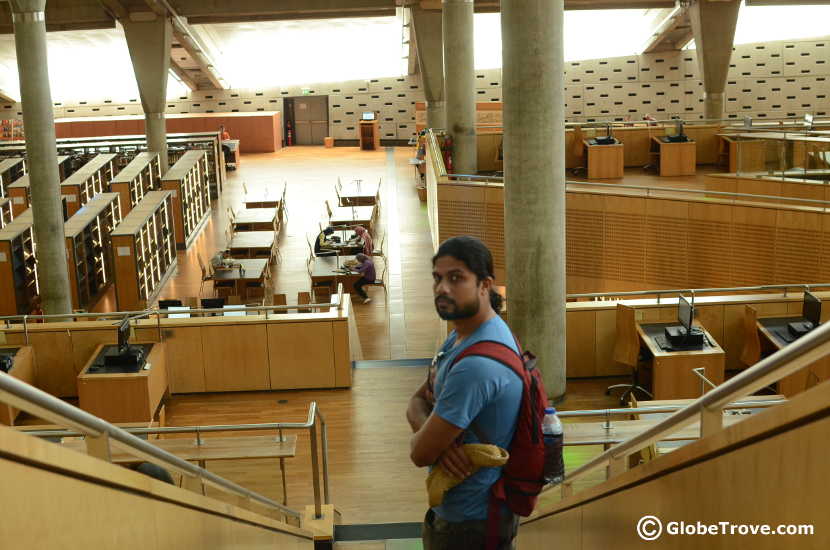 Our last day in Alexandria was Saturday. We were due to catch a train out of the city in the evening and wee had to check out of our hotel midday. With a bit of negotiating we managed to get a late check out. That still meant that we would have to reach the hotel mid-afternoon. One item that was left on our list was the Bibliotheca. So, it was exactly where we headed after breakfast.
If you haven't been to the Bibliotheca Alexandria before, be forewarned that it is huge! They do offer a tour around the library which is pretty cool, and it takes around 30-45 minutes to do it. I highly recommend taking the tour. It is included in the price of your ticket. We spent around 3 hours exploring the library before returning back to the hotel.
Our evening was spent chilling at the private beach. We were a bit sad that we couldn't plunge in because our suitcases were all packed up and we had checked out. We did have some fun chilling on the beach and listening to the waves lap against the shore.
We wound up our weekend in Alexandria by collecting our bags and heading to the railway station. Being Ramadan, we decided to leave a little extra early just to ensure that we did not have any problems catching a cab. It left us with a good deal of time to ponder over the weekend and we even managed to get some delicious food for the journey from one of the local shops. All in all, our weekend in Alexandria was a huge success.
*This post contains Affiliate links