Travelling through Egypt may feel really daunting at first. People talk about safety, security and about all the things that could go wrong. At first all those warnings got to me. I started worrying about travelling around Egypt and second guessing everything. Turns out that I was very very wrong to do so. One of the times, where it was really obvious how easy it was to travel through Egypt was when we were going to from Cairo to Alexandria by train. It was one of the nicest journeys that we had.
The distance between Cairo and Alexandria is just a little more than 200 kilometres and yet there are so many ways in which you can bridge this distance. Flights from Cairo to Egypt certainly exist but they are expensive and then there is the time it takes to get to the airport, check in etc. Bus… That was an option but one that we hadn't explored. A personal driver… Too expensive. Getting from Cairo to Alexandria was cheap, convenient and an adventure. A big plus was that we would get to see the countryside as it passed by.
BOOKING OUR TRAIN TICKETS
Due to certain constraints we were not staying the heart of Cairo city as we would have liked to. Instead we lived in Nasir city in a really nice hotel called the Intercontinental City Stars hotel. That meant that heading to the train station during rush hour wasn't particularly favourable. So, we contacted the concierge and asked him how to go about doing it. He said for a fee of EGP 100 he would send someone to get them for us. In our eyes, that was perfect because it was the amount we would have spent on transportation either way!
The cost of the train tickets depends on the type of train you book. We chose the sitting A.C. but I will get to that in a bit. Our ticket back to Cairo was also pre-booked in the same run. We paid EGP 100 per ticket and just that our journey from Cairo to Alexandria by train was finalized.
NAVIGATING THROUGH RAMSES STATION IN CAIRO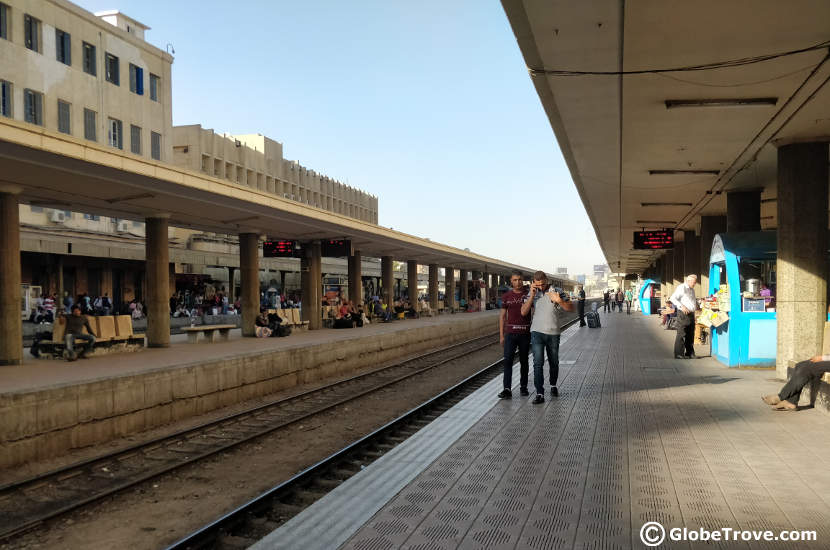 Ramses station on the day we left from Cairo to Alexandria by train.
Our train was due to depart at 6 pm which meant that Shawn had enough time to get back from work, catch a bite and run to the station. Check out had been done earlier in the morning so we knew that wasn't a place where we would get stuck. Now, I'm not sure when you will be travelling but we just happened to be leaving on a Thursday at 4 pm during Ramadan. Luckily, we were wise enough to know that the traffic is crazy! Instead of leaving at 5 pm which would have been more convenient we chose to be early. It took us an hour to get to the station.
Now Ramses station is beyond gorgeous. So even if you are the person who wants to get in just in time, try reaching a little bit earlier. I spent about 10 minutes just taking photographs of the doors, the art work and even the throngs of people swirling through the doors every second.
Navigating round Ramses station feels really daunting at first. For one thing, all the signs are written in Arabic. Another thing that is disorienting is the throngs of people who pour in every second. Don't worry, finding the train that takes you from Cairo to Alexandria isn't as difficult as it seems. The best way to get around this is to head to the guys/guards sitting under the green sign.  That was what we did, and they were super helpful.
One thing for sure… Once you walk through the doors that head towards the platforms for long distance trains, the scenery changes. The beautiful artwork is replaced by the great outdoors. Dust filled benches, long platforms and a few stores are what you will see. Luckily, the platforms display the destination of each train in English and in Arabic alternatively. One should also note the time that the train is plying because there are multiple trains that ply between Cairo and Alexandria at different times. Finding your coach however is something a little trickier. We couldn't find coach numbers and it is often a game of counting and guessing. Best way to check is to ask one of the locals inside the compartment. They are usually very helpful.
One thing that really surprised me (in a good way!) was that the pay toilets (EGP 1) were really clean. That was something that I had been dreading and after a couple of bottles of water I really needed to use it. Normally I avoid public toilets in stations as much as I can.
INSIDE THE TRAIN PLYING FROM CAIRO TO ALEXANDRIA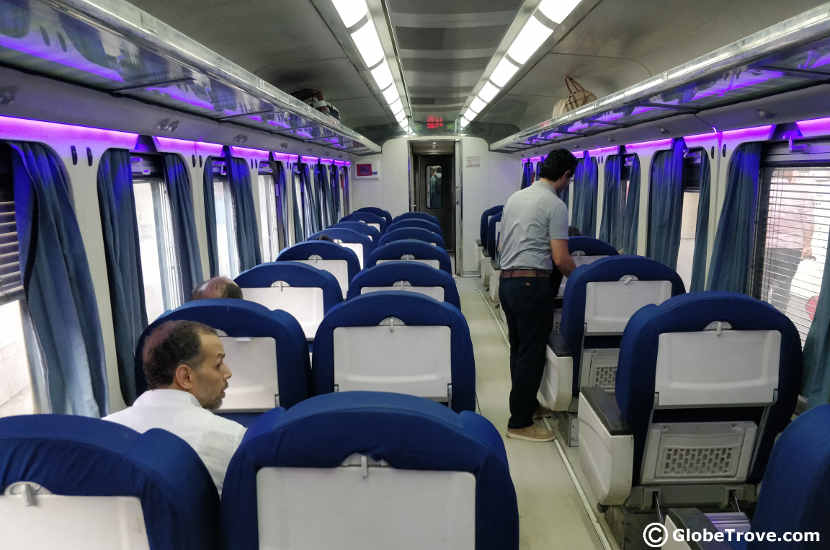 I can't vouch for all trains, but I can tell you what we experienced during our trip from Cairo to Alexandria by train. As I mentioned before, we took the Spanish train and booked the sitting seats in the AC compartment. The seats were large, comfortable and reclined. There were two rows of seats. One row comprised of single seats while the other was comprised of double. So, you get how spacious it was. There is plenty of leg room, a drop-down table for you to eat and work and even a foot rest! Storage of luggage is over head in a rack. We had a small trolley bag and were able to put it up quite comfortably.
The windows come with blinds and with curtains, so you can control the amount of light entering in. Food is served on the train but at an additional cost. Most people bring their own food. Since we were travelling during Ramadan an iftar meal was provided to people who wanted it. You can even get a cup of hot coffee if you want. A young lady went down the aisle distributing dates to everyone (known and strangers, us included) when it was time to break the fast. It was possibly the kindest thing that I have seen someone doing in a long while.
The one thing that falls short in the train from Cairo to Alexandria is that there aren't many power points in the whole train. You do have to move around a bit to spot one. It also gets cold due to the AC so make sure you have something slightly warm to wrap yourself in. It probably felt a wee bit colder after the sun set.
GETTING TRANSPORT FROM ALEXANDRIA RAILWAY STATION
Alexandria as a city has different types of transport. The metro station is a popular option among the locals. Once you step out you will find numerous yellow and black taxis offering their service. We arrived at around 8:30 pm and chose to take an UBER instead. It was the known way out of the station and there were plenty of cabs available on the app. The driver was super friendly. He even called us back after half an hour to check and see if we had settled in okay or had faced any issues checking in.
If you are in Cairo and think that going from Cairo to Alexandria by train is difficult don't worry. It is actually pretty easy and even luxurious. Then again it probably depends on which coach and train you take. We were really happy with the Spanish train.
GETTING FROM ALEXANDRIA TO CAIRO
I'm just going to add a few notes about our journey from Alexandria to Cairo by train, so you have the full 360-degree view of how easy it is to use the rail system in Egypt. So, let's start with Alexandria station. The Alexandria station isn't quite as difficult to navigate through. Get in through the main entrance and you will find a huge sign with everything written in English. We half panicked because all the trains other than ours were on display. The security guards were very helpful in pointing us in the right direction. Rule of thumb: All the trains heading to Cairo depart from platform three. How do you know which is platform three? Cross using the underpass, it has signs detailing which exit to use!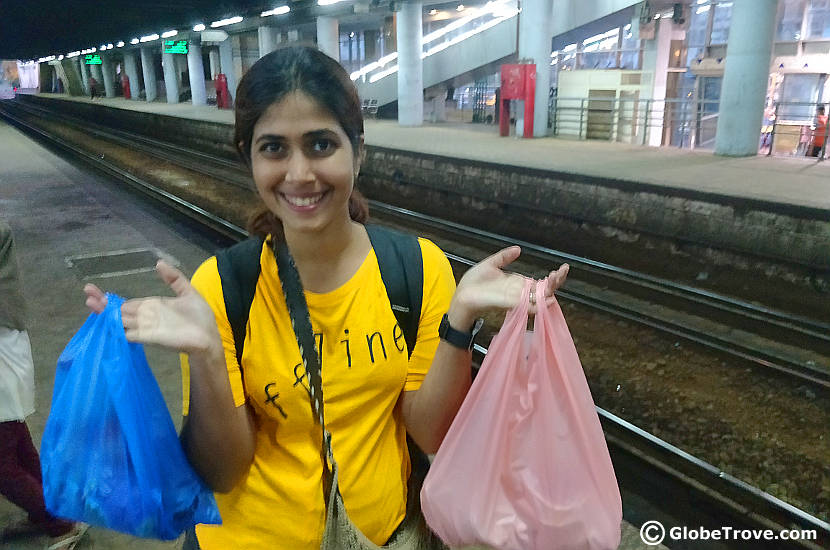 Our snacks on the train may have been a wee bit too much!
This time round we knew we would reach Cairo late. That meant that we needed food because we were travelling during the night. Instead of buying food on the train, we decided to catch a parcel outside the station. What did we buy? Being iftar time, the throngs of people buying food was a lot but there were people who saw the lost expression on our faces. Our menu was half a grilled chicken and big bowl of rice with meat in it. It came with a salad, pickled vegetables and two different delicious sauces. Grand total for the meal? EGP 55! Woah!
I wanted something to wash it down with a pack of chips in case well… Just to snack on while watching some movies on the way. Large bottle of coke and a pack of chips was EGP 13! Did it taste good? It was beyond delicious! It was scrumptious!
Food on the train isn't overpriced either. We got a cup of hot tea on the train and we paid EGP 6. Just a side note. Outside food is allowed on the train. We were worried initially.
With all that fluid in my system I had to use the facilities. The toilets in the train were nice and clean. I noticed that they cleaned the washrooms mid journey which definitely helped!
TRANSPORT FROM THE RAMSES STATION IN CAIRO
Getting a cab from Ramses station should not be difficult. It is the hub of the city, there are people everywhere… But it does take some patience. Stepping out from Ramses station was a rude awakening after coming back from quieter Alexandria. Even at 10:30 at night, the amount of activity around the station was mind boggling. Sure, you can pick up a cab from one of the numerous people offering their services, but we decided to call an Uber.
Fair enough but finding the Uber in the chaos took a bit of patience and certainly was a challenge. The first Uber cancelled out on us which was a bit of a relief for both of us because he spoke no English and we didn't understand Arabic. The second Uber was easier. The driver spoke fluent English. Remember, I said easier? It took us ten minutes to locate him even after he had arrived. It turned out that he was on the opposite side of the road which was a four-lane highway! So, don't panic. The chaos is all part of the experience!
Would I recommend travelling from Cairo to Alexandria by train and vice versa? Of course! The journey is pleasant, easy and safe. A big bonus is even luxury travel in trains is cheap.
*This post contains Affiliate links