The ever increasing hype around El Nido meant that it made its way onto our list as we planned our itinerary in Philippines. One of Shawn's passions is snorkelling and diving, so it went without saying that we wanted to El Nido bay and found that we had a variety of tour package options to choose from. A variety may be a bit of an overstatement. There are four tours that are offered. Each one of them has a different set of attraction. One of the nicest things about these tours is that the price is set no matter which tour operator you choose from. So, we didn't spend too much time trying to figure out which of tour operators were the cheapest. The Island Hoping tours in El Nido are grouped together in a way that makes it easy to choose what you want. Either cruise through the sea, kayak, snorkel or explore caves. I will get to that in just a bit.
ENVIRONMENTAL FEES INVOLVED IN THE ISLAND HOPPING TOURS IN EL NIDO
Every tour comes with an additional environmental fee that is laid down by the government to access these protected nature reserves. At the moment the fee is 200 PHP and once you pay this, you will find that the fee is valid for 20 days and can be used again and again when you head out on to other island hopping tours in El Nido. Just remember to keep the receipt.
Like I mentioned before, there are four main packages that are labelled Tour A, Tour B, Tour C and Tour D. The nomenclature is the same in all the different tour companies. Before I head into the details of our personal trip, let me talk a little about the different tours in order to make it easier for you to choose.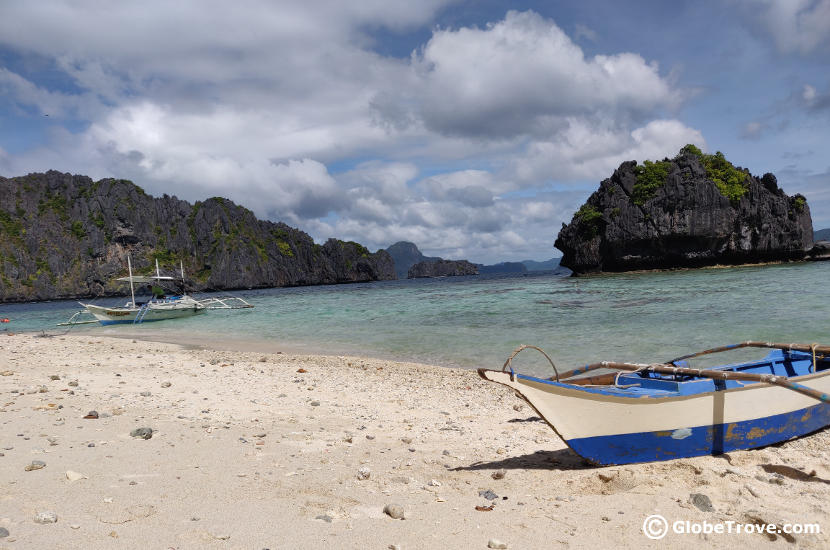 One of the beaches we stopped at in Tour A.
PRICE: 1,200 PHP/person
ADDITIONAL FEE: 200 PHP/ person for entrance into the Big lagoon.
250 PHP/ kayak which seats two
ISLANDS: Big lagoon/ Small Lagoon, Secret Lagoon, 7 Commando Beach, Shimizu Island and one additional island.
WHAT'S SPECIAL ABOUT THE TOUR?
This is the only island hopping tour in El Nido that focuses on kayaking. Note that you do have to pay extra to rent a kayak. Tour A also involves a bit of snorkelling but not much. Tour A like all the tours involves five different locations. Previously this included both big and small lagoon but a change was made recently wherein you can choose either one. The Big Lagoon comes with an additional entrance fee. There are also rumours that the Small Lagoon will also have a fee in the near future.
PRICE: 1,300 PHP/person
ISLANDS: Snake island, Cathedral Cave, Cudugnon Cave, Entalulu island and Pinagbuyutan island.
WHAT'S SPECIAL ABOUT THE TOUR?
Tour B focuses on the caves in the area. From what we heard, you get to see the caves from the outside. You can't kayak in them. It also includes a lunch on the beach.
PRICE: 1,400 PHP/person
ISLANDS: Secret beach, Helicopter beach, Talisay beach, Hidden beach and Matinloc shrine.
WHAT'S SPECIAL ABOUT THE TOUR?
Tour C is great for snorkelling. This was the tour that we decided that we wanted to take. Unfortunately due to the tides and the weather were not in our favour. We were then offered a chance to move to a different tour. Our choice? Tour A.
PRICE: 1,200 PHP/person
ISLANDS: Bukal beach, Pasandigan beach, Ipil beach, Paradise beach and Cadlao beach.
WHAT'S SPECIAL ABOUT THE TOUR?
Tour D takes you to a couple of gorgeous beaches. Some of which you can snorkel off. The issue with tour D is the fact that few people take it. This means that the tour companies find it difficult to fill up a full boat of passengers. Most people who take the tour take it on a private boat trip.
TAKING AN ISLAND HOPPING TOUR IN EL NIDO
Now that you know all about the different packages that are on offer, let's talk about the tour itself. I've been on a number of boat tours in South East Asia and I must say that the ones in El Nido rank very high on the list. There are many reasons why. One of the tope reasons is because the people who guide you on the boat are extremely friendly, thoughtful and helpful. They don't rush you and for someone who is rather hydrophobic, the ability to take my time and get into the water is a blessing.
One of the most unique experiences that the tours have is the beach picnic. Well it may not be a total picnic but it is interesting. While you are on the boat, you will catch a glimpse of your guides getting the food ready. From fish to roasted pig and fruits, they have all the bases covered. Lunch is on a quiet beach where the food is arranged and you can dig your toes in the sand while you indulge. The food is exquisite!
Another really nice thing that I noticed is the way they ensure that everything is kept clean. The waste is neatly segregated and taken back to the boat. In fact, one of the first things that we were told was that we should leave only footprints and take only memories. It was a motto that they stuck by throughout.
A COUPLE OF TIPS WHEN GOING ON ONE OF THE ISLAND HOPPING TOURS IN EL NIDO
We have a couple of tips that you probably would like to keep in mind when you go island hopping in El Nido. Most of them are common to all boat tours but we have a couple that are specific to the tours in the area.
CARRY A WATERPROOF BAG OR YOU WILL REGRET IT
A lot of people will give you this titbit of advice before you embark on one of the island hopping tours in El Nido. We were part of the collection of people who chose to ignore this bit of advice. Since we had been on a number of boat tours across south east Asia, we thought that our ziplock bag would do. Turns out we were wrong. One thing that we hadn't accounted for was the waves. They splashed in a lot. Secondly, we kept traipsing in and out of the boat which meant that there was water everywhere.
Another fact that we had not considered was that in most places (and in fact all!), the boat couldn't get close to the shore. This meant that you had to jump into waist deep water and walk to shore. Okay, I'm short so the water was waist deep for me but still you get the drift. Luckily for us one of the guides loaned us a waterproof bag and our phones remained safe. We immediately got ourselves a waterproof bag after that misadventure. It did come in handy especially when we went kayaking. That however is a story for another day.
CHANGE INTO YOUR SWIMWEAR BEFORE YOU START YOUR TRIP
One of the things that I wished I had done when we partook in one of the island hopping tours in El Nido was change into my swimwear from the onset. I hadn't realized just how deep the waters was and since I was short (and add the waves to the equation), I was drenched by the time I entered. That meant that the only thing I had dry was a towel which didn't stay dry for long. The water splashing meant that the clothes didn't dry during the day either. So do yourself a favour. Keep your dry clothes in a dry bag and put them on only when you reach back.
SUNSCREEN! DON'T GO WITHOUT IT!
If there is one thing that we have learned the hard way is to make sure that we carry sunscreen. Lately we read a couple of articles that talked about how important selecting your sunscreen is. Did you know that the chemicals in your sunscreen can harm the coral reef? We were horrified and that meant that we quickly changed our sunscreen. It is a bit hard to get a good reef safe sunscreen in India. We finally found one in body shop. It was expensive but in our opinion, totally worth it.
Getting in and out of the boat means that you are probably going to be drenched. While the weather is normally warm, it can get chilly if the day is overcast. Taking a towel (I sometimes just use a light sarong), to dry off is certainly helpful and it means that you will be more comfortable.
One thing that I can say is that I loved our island hopping tour in El Nido. We spent our day laughing and enjoying the sea. The coral were beautiful and the locations that we visited were gorgeous. It was an adventure and one that I am glad that we had.
Have you taken any of the island hopping tours in El Nido? Which one was your favourite? Let us know in the comments below.
*This post contains Affiliate links