We really needed a cheap vacation and we wanted to head for the hills. After a lot of research and some advance planning we found a lovely spot in Marayoor called Marayoor Holidays. Located at 40 kilometres away from Munnar, this spot was perfect for us. It allowed us to have our cat, it was cheap, peaceful and was also in the mountains. Since we had the car, it also meant that we could head out for a day trip to Munnar which was something that we really wanted to do. In retrospect, the decision was a good one as Munnar turned out to be quite the bustling town and we really enjoyed the quiet solitude that our accommodation had to offer.
We intended to start out early morning and head to Munnar from Marayoor. Unfortunately, we stayed up late into the night playing board games and we got up late in the morning. Nevertheless, we packed our cameras in the car and started out towards Munnar. Since we were in no particular hurry, we found ourselves stopping along the way to click photographs and have a couple of glasses of tea or 'chai' as it is more popularly known in India. We weren't too lucky with the weather since the sun had chosen to hang back behind the clouds. Every now and then, the sky opened up and rain poured down drenching us. Suffice to say that the warmth of the tea was welcome.
There are numerous things to do in Munnar but on a day trip with the skies opening up we found that we did not have much time. One thing that we did realize the moment that we entered Munnar was that the city was bustling. It wasn't a small quiet town and we wouldn't have expected anything else because it is a popular spot for local tourists in India. It's weather makes it a famous spot for people who want to escape the summer heat. I'll just take you through the things to do in Munnar so you can see what we did and what you could add to your list.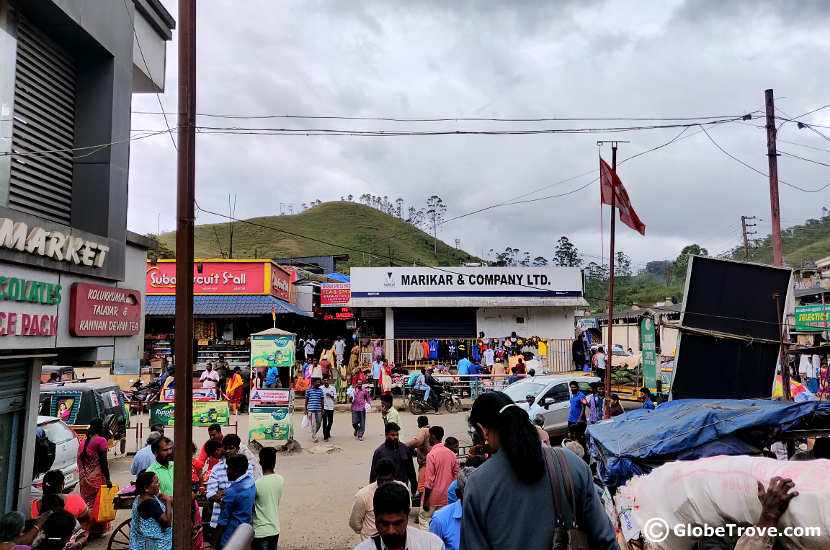 The market was one of our stops in our day trip to Munnar.
Munnar has a small market which is filled with people selling all kinds of wares from plastic bottles to vegetables and fruits. It is the typical, colourful markets that India has become so famous for. The only difference is that it is small and has a more local less touristic appeal. I love markets and I couldn't help but drag the men through this one. The fragrant aromas clinging to us as we passed through it. Things that you should keep an eye out for here are the soaps bound in biodegradable covering (leaves), lemongrass oil, spices and chocolate. We may have bought a bit too much on our way back!
INDULGE IN THE LOCAL CUISINE
We arrived in Munnar mid afternoon and suffice to say that we were famished! Kerala is famous for its food and we couldn't wait to dig in to some of it. One thing that we quickly realized was that food in Munnar was cheap. This is true if you eat the local meals. The food can get spicy if you aren't used to Indian spice. We picked one of the restaurants and had a full meal each with two extra bowls of beef curry and beef fry between the three of us. We walked off with a bill that was approximately 500 INR.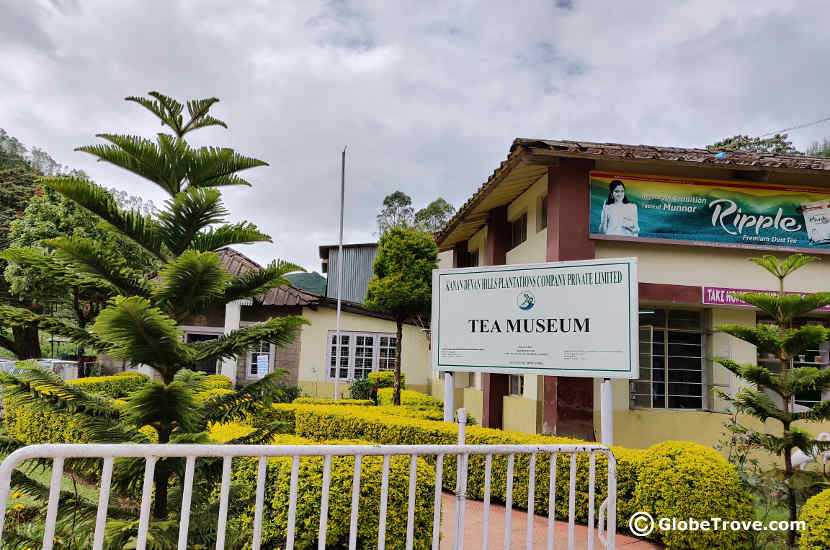 The tea museum was one of our stops in our day trip to Munnar.
One of the popular places to see in Munnar is the Tea Museum. The tea museum talks about how tea is produced and manufactured. It takes you through different gadgets that were in use. I won't talk much about it because we didn't go for the tour or the tea tasting because we were a bit short on time. If tea is what brought you to the city, you may want to add it to your list of things to do in Munnar.
The Munnar Headworks Dam is a tiny dam that can be crossed and accessed easily. It is close to the city but frankly it isn't worth your time in my opinion. That is unless you are headed out to a view point in that area. Be warned that the roads post the dam get very narrow and you often may have to reverse a good deal to let an oncoming vehicle pass.
BLOSSOM INTERNATIONAL PARK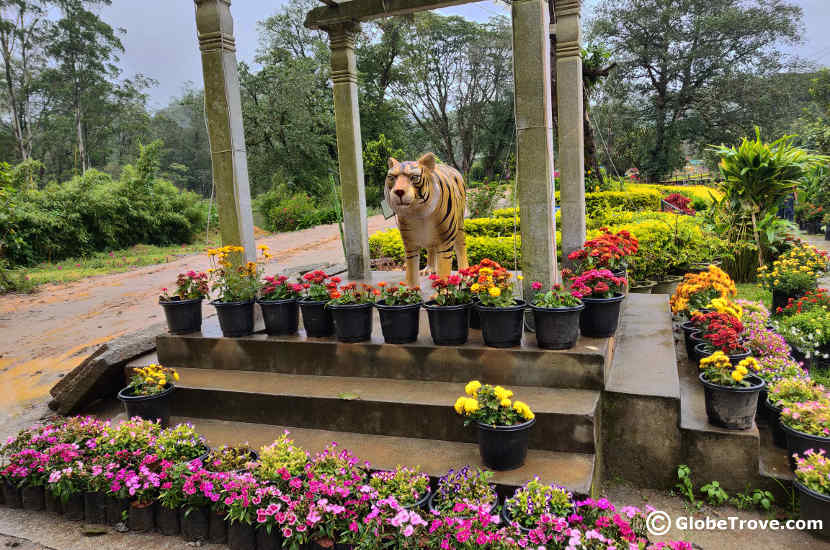 The gardens were one of our stops in our day trip to Munnar.
Blossom International Park wasn't really on our list of things to do in Munnar. We passed by it on our way to the Munnar Headworks dam and we noticed a number of people coming out of it. As you pass by it on the road, you catch a glimpse of the colourful park inside. In retrospect, I'm glad that we stopped and visited it on the way back. Blossom International park contains a variety of colourful flowering plants arranged strategically to form patterns. It has a few items like swings for children to indulge in. We found that the park made a beautiful backdrop for photographs!
We headed off to Pothamedu View Point and accidently went right past it. The point isn't much to look at, but it does give you a gorgeous view of the tea plantations that flank the hills. We stopped for a bit here but the weather took a turn for the worse, so we had to run back to the car and head on to our next stop.
TEA PLANTATIONS IN KANNAN DEVAN HILLS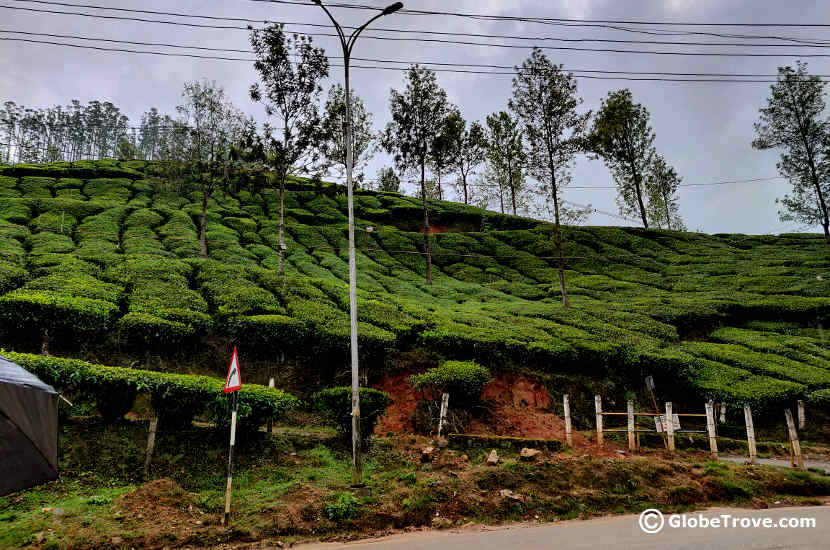 The tea gardens by the side of the road was one of our stops in our day trip to Munnar.
One of the top things to do in Munnar is to visit the tea gardens. The lush green leaves for the perfect backdrop for photographs. The Kannan Devan hills are a popular spot for tourists to stop and get those perfect photographs that they were dreaming off. The tea gardens span across acres of land and you can get the smell of the tea at every tea factory that you pass.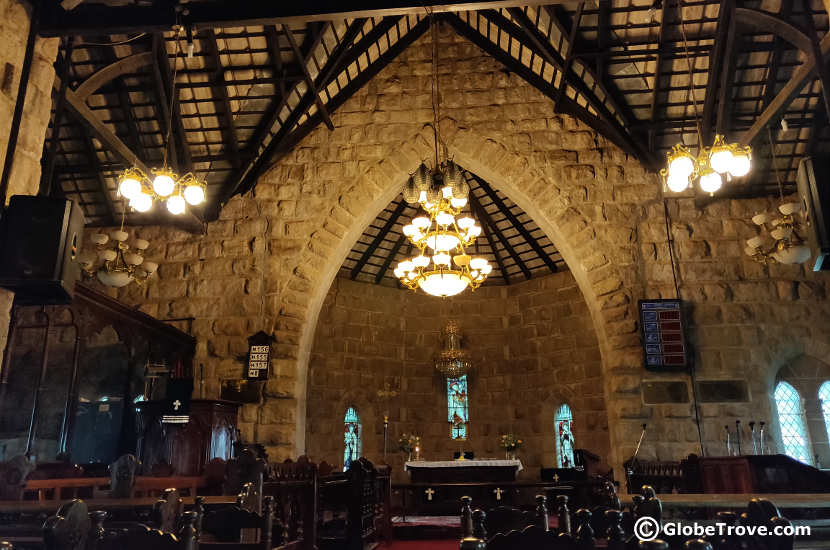 The C.S.I. gardens was one of the gorgeous stops that we made on our day trip to Munnar.
There are so many churches in the area and I highly recommend adding the C.S.I Church as one of your places to see in Munnar. It is a small church that is situated at the top of a hill. One thing that strikes you the moment you get close is that the church is made up of grey stone. The church is bare inside with a simple artistically designed altar. You also have a gorgeous view of the city from the top of the hill.
Lakkam falls was on our way back to Marayoor and even though we were a bit hard pressed for time, we decided to make a pit stop here. The falls are beautiful and you can dip your feet in the ice cold water. The best part about the Lakkam water falls is that you can get up close to the waterfall which is rather cool. Just watch your step because the rocks are rather slippery.
With Lakkam falls behind us, we headed back to our homestay. It was a lovely trip with a number of stops. What made it amazing is that we set our own pace and we did what we wanted to do as opposed to all the touristy things that everyone suggests. I personally was glad that I had finally made it to Kerala. A land where food is delicious!
Have you been to Munnar? We would love to hear about your experience in the comments below.
*This post contains Affiliate links