Living in the Arctic for me is the stuff of dreams but for some it is the fuel for nightmares. I guess it is all on perspective. Since I'm the one writing let's just shift the focus to the former because Murmansk was by far was one of the best experience I have had in my life so far.
WHY DO PEOPLE SHY AWAY FROM MURMANSK?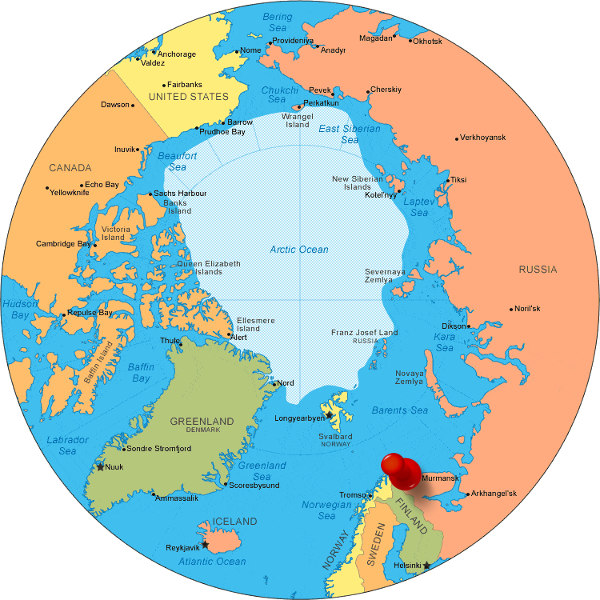 Many people are really afraid of heading up North for two reasons: It gets cold and most people don't speak English. Those who do head up to Murmansk usually take a tour. That is what made our experience so unique. We did it on our own and we had our own series of successes and misadventures. None of which marred our stay in anyway. If I had to comment I would say that it added to the flavor of the whole experience but I will let you be the judge of that.
All too often when a Russian heard that we were going for a holiday to Murmansk they shuddered. Too cold was the answer. Not something we would do said most. Murmansk however is a paradox. My geography isn't very strong but I soon learnt that the warm water brought in by the Gulf stream. That means that Murmansk is much warmer than other areas on the same latitude! This makes it the perfect place to visit the Arctic. That made it the perfect place for our living in the Arctic experience!!!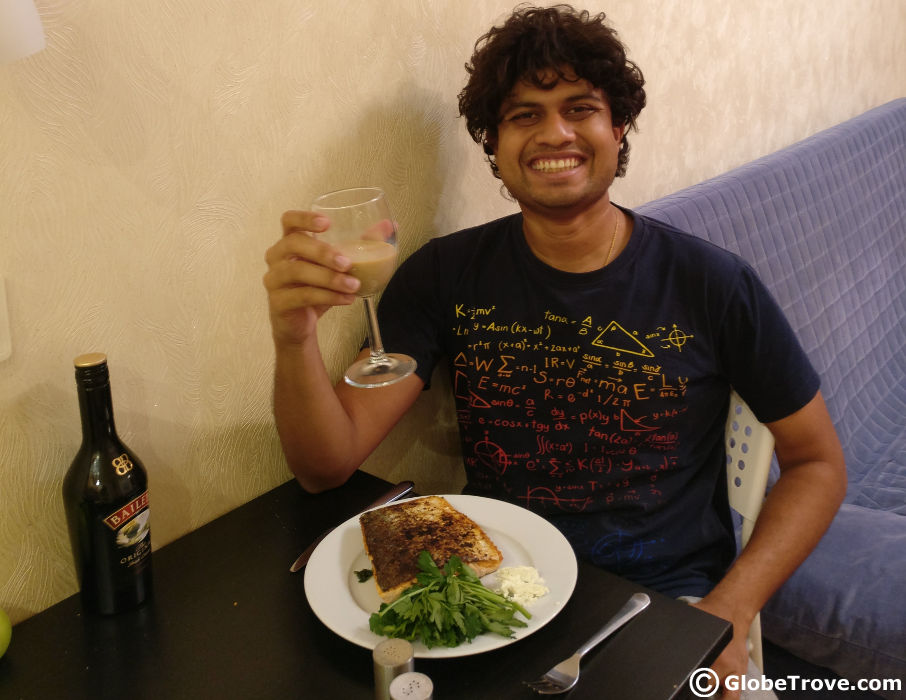 When life is all about good food!
Most people would assume that getting a hotel would be the best bet. We aren't most people so we rented out a small studio apartment. It had everything we needed. A kitchen, a washing machine, warm blankets and a bathroom. The downside is that we had to sleep on two different beds (one was the sofa) but it was very cozy.
The best part about everything was our ability to cook our own meals. That meant that we could spice it up. Grocery stores were plentiful and we found ourselves buying fresh salmon of the racks. A quick message to our Dutch friends ensured that we had our recipe right. I may be mistaken but I think that there is no place that can compete with how fresh the fish was there. Oh and don't get me started on the delicious pelmeni!
THAT'S ALL WELL AND GOOD BUT YOU HAVE TO COMMUNICATE TO SURVIVE!
Yes you do have to communicate and with just a week in Russia my conversational skills were almost nonexistent. Shawn hadn't picked up much either. That didn't stop us. Living in the Arctic in Murmansk is probably very different from other places in the world. They say that the extreme cold makes people work together as a community because you can't survive on your own.
Whatever the reason maybe we found the people very friendly. While very very few people in Murmansk spoke English everyone tried to talk to us. This meant that they would either talk very animatedly in Russian or they would talk really really slowly so we could understand. The common part was that they would keep repeating and gesticulating till you understood.
So keep Google translate handy. When you don't know the language that is the best tool you can carry. A few phrases that you should learn that really help are:
Hello: Zdravstvuyte
How much: Skol'ko
Thank you: Spasibo
Sorry/Excuse me: Izvinite
Goodbye (formal): Dasvidaniya
Goodbye (informal): Poka
Yes: Da
No: Net
These are the few phrases and words that took us a long way when traveling through Murmansk. It definitely made living in the Arctic more comfortable. Bear in mind that the words don't sound exactly the same when you read them as you would read English. I haven't learned the Russian lettering either. Use Google to get the pronunciation right.
THE DOWNSIDE TO THE LINGUISTIC HURDLE
Getting up the hill sometimes needs an extra pull!
The downside to living n the Arctic in Russia was not being able to speak Russian. This meant that things got a bit expensive. That's because you then need to take a tour guide who can translate for you. Now you don't need a translator at all parts of the way. The Sami village yes but not for the Northern lights or for the ski slopes.
The main problem that we faced was our inability to rent a car. Let me rephrase that. We could rent a car if we wanted to but we had no experience driving on ice and snow. Knowing the technicalities isn't always enough. We could put our lives and those of others at risk so we decided against. We wished that we could have but unfortunately it wasn't an option.
This meant that we needed to get a chauffeur. In order to reduce your costs we would suggest mailing local our companies and asking them to combine your trip with a bigger group. It gets much easier and so much cheaper. At first we tried using a translator and we were the only two people in the care. We got fleeced! We however realized that much later but in hindsight we did have a good experience.
The way we look at it is that these mistakes help us learn. They also help us tell people that the potential for these mistakes exists.
LIVING IN THE ARCTIC MEANS THAT PLANS CAN GET CANCELED!
Murmansk welcomed us with all her Arctic fury! Yes! That's Shawn walking in front of me at the beginning of the snow storm before we realized that we had to run for cover. Slip slide and scramble may be more accurate though!
Murmansk has a very volatile weather situation. The temperature rises and drops quickly so always ensure that you have enough of warm clothes on if you are staying out for long. Along with the temperature fluctuations comes the wind and the snow.
One of our biggest regrets was our inability to visit Teriberka. We had heard so much about it and were especially curious about its frozen waterfall. The first time we tried we were told that the road was closed because of the snow storm the previous day. Oh well at least I got to see what a snow storm was.
New learning! Walking down the hill on an icy path with high wind speeds and loads of falling snow is not a good idea. Then again we needed food and no snow nor ice nor hail was going to keep us on hungry stomachs!
We had another opportunity on the 15th of February when we were told that the roads were cleared and open. So we packed our gear and headed out to the meet up point only to be told that it had started to snow again! In the end we did not get to see Teriberka and I probably would head back to Murmansk something later in life to finish up all that I missed.
The aurora borealis is a large part of why we decide to take on the challenge of living in the Arctic for 5 days. This too is highly dependent on the weather. While our guide said that temperature fluctuations are necessary to see the aurora borealis, I can tell you that clouds are never welcome!
TRANSPORT THROUGH THE CITY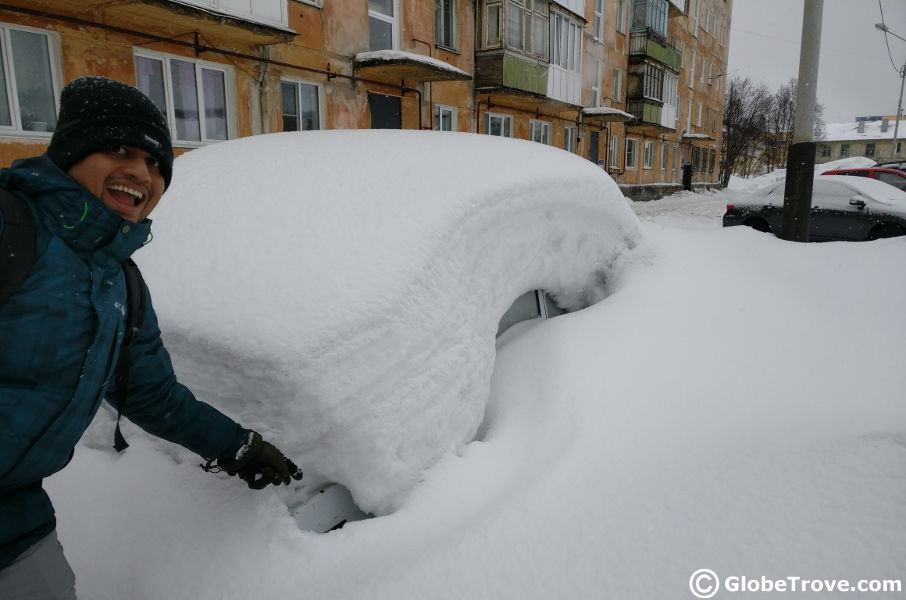 Not all cars look like this!
Honestly speaking there is a lot of different kinds of transport that is available throughout the city. There are electric buses that head to different parts of town and there is even an app called Yandex that functions there. I think this would work well in the city. We were on the outskirts and perched on a hill so it was a little hard to get a cab.
Be forewarned that when it snows or when its peak hours cabs are hard to get so plan in advance when you want to get back to the airport or the train station.
LESSON LEARNED: NEVER WANDER OFF THE PATH!
Living in the Arctic quickly teaches you that the snow is deeper than it seems. Paths are made for reasons and it is wise to keep to them. We however were unsuspecting naive travelers who were wandering down the side of a hill. It was park and no we did not see Shawn's elusive bear. We did however lose the trail. Honestly I don't think there really was one! It wasn't long before we found ourselves almost waist deep in snow.
Scrambling around on all fours got us out of the deep and we spotted a few locals on their way into town. Needless to say we followed them quickly footstep by footstep. It's amazing how fast you can get to civilization if you know where you are going. Lining in the Arctic does have its cautionary tales as you can see!
IS LIVING IN THE ARCTIC WORTH IT?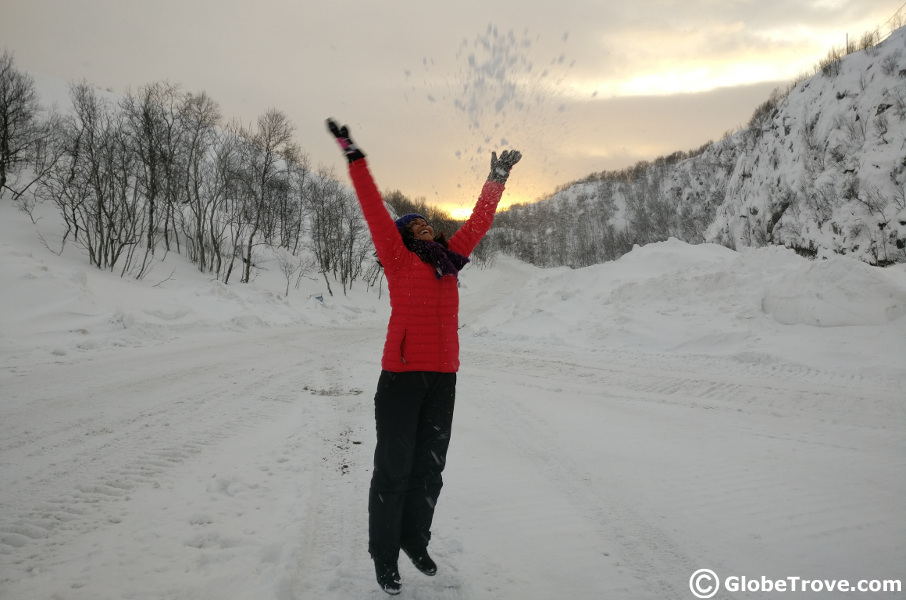 Sometimes you just need to let go of all your cares!
Well I guess this is a really personal question. I loved it! It was peaceful. It was remote and yet had all the amenities that I wanted. Internet speeds were fast…Good food, nice people and plenty of activities to fill our time. At first we were worried that we had too many days in Murmansk. As we left we were sad because 5 days were just not enough.
Yes! It can get cold. It can snow a lot. Then again it is the Arctic. What did you expect? We love experiences of all kinds. You will never know if you like it unless you try it. Me? I'm in love! Definitely a place I would make my way back to!