Sri Lanka has two marine national parks and we were lucky enough to visit one of them. Pigeon Island National Park is located off the eastern coast of Sri Lanka and is a popular place to visit when you are in the area of Trincomalee or Nilaveli. The gorgeous island boasts of beautiful blue waters and a myriad of marine life, which means that it should be at the top of your list of you like jumping in to crystal clear water. Heading to Pigeon Island National park was something that made its way on to our list the moment we decided to visit Trincomalee largely because Shawn can never keep his toes out of water. Me? I'm a happy soul if you put me on a boat and give me a bumpy ride through the sea.
GETTING TO PIGEON ISLAND NATIONAL PARK
To get to Pigeon island National Park one needs to get on a boat at Nilaveli beach. Now you can choose to stay at Nilaveli beach or somewhere close by. You could also stay at Trincomalee. Getting a tuk-tuk to take you to the beach is easy enough. We however chose to rent a bike so that we had enough flexibility to go and come as we wished. It also turned out cheaper in the long run. If you do choose to rent a bike, note that you need to get a temporary driving permit in Colombo  before you drive in the country. An International driving license does not work according to the Sri Lankan driving laws.
PERMITS AND COSTS ASSOCIATED WITH PIGEON ISLAND NATIONAL PARK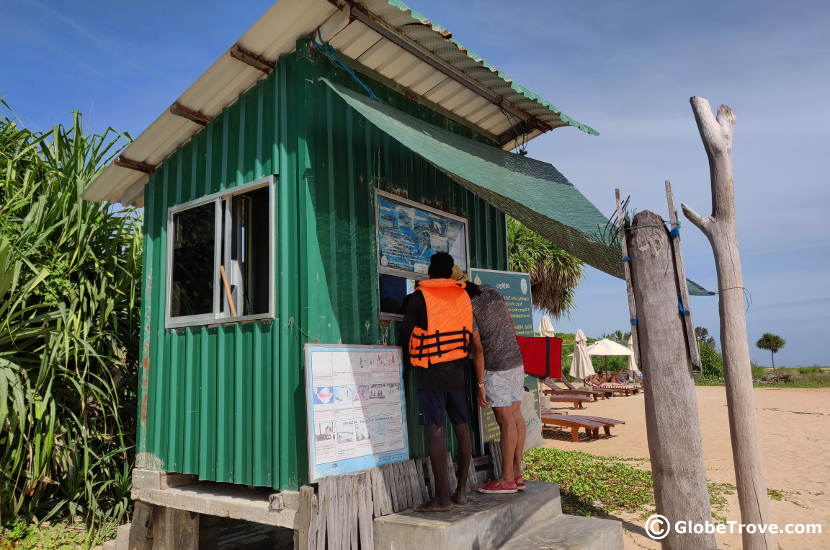 Ticket booth for the permit to Pigeon Island National Park.
Getting to Pigeon island can be a bit costly. This is because you need to get a permit to cross over to the island. Don't panic. The permit can be obtained from Nilaveli beach itself. There is a small cabin which issues it. On the down side, the permits are quite costly. We paid 2800 LKR per person for the permit alone. Once the permit is done, you need to hire someone to take you across by boat. Luckily the price of hiring a boat is fixed so you don't have to worry about bargaining. Most of the boatmen sit in the same cabin so one of them will definitely take you across. We spent 2000 LKR for the boat journey to and fro.
We were initially told that he would come back after two hours to collect us. That confused us a bit but after a few questions we realized that two hours was usually how much time the tourists spent on Pigeon island. So we asked him for his number and we told him that we would call him when we were ready.
THINGS TO DO ON PIGEON ISLAND NATIONAL PARK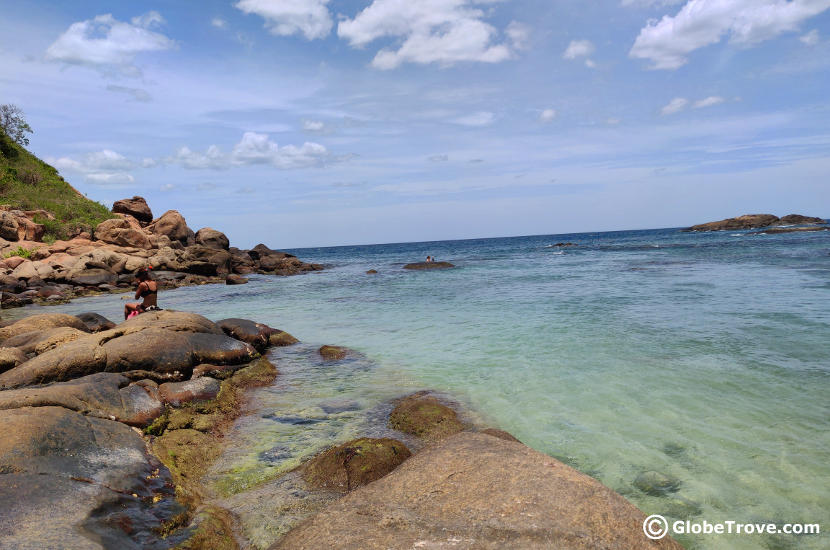 The rocky beach on Pigeon island national park.
Pigeon Island National Park is a rather small island. It has a shaded area where you can relax on one of the benches that have been provided. Two coves are popular spots for snorkelling where you can see a variety of marine life from colourful coral to turtles and reef sharks. You can rent your snorkelling gear from one of the boat men or you can carry your own. We have started carrying our own snorkelling gear because it is more economical and because it is also so much more comfortable to use a mask and flippers that you are used to.
There is a small sandy beach where the boats dock. A part of the swimming area is cordoned off so that swimmers don't disturb the coral that is in shallow waters. Even though the coral are protected, I must emphasize that swimmers should be careful when swimming in the non-cordoned off areas.
ETIQUETTE WHEN SNORKELLING
I'm not sure whether to call it etiquette but there are certain things that you should know when diving and snorkelling. One of the main things that really bugs me is how people have no consideration for the coral. Coral is dying out across the world. There are various organizations that are trying to conserve them. So make sure you don't stand on the coral when you swim. Stepping on the coral not only disturbs them but also means that you break of pieces from the coral which have taken years to grow. If you aren't comfortable swimming in deep waters, then use a life jacket. Another thing that many snorkellers do not realize is that the flippers can be painful when they hit a fellow snorkeller. So manoeuvre with care.
We managed to get robbed on Pigeon Island National Park. We however were fortunate to run into a kind thief. Shawn had withdrawn money a day before so he knew just how much he had in his wallet. When we got back to the Nilaveli beach and had to pay the boat man, Shawn realized that a 5000 LKR note was missing. We did the math and realized that it had been taken because it was definitely there when we paid the money for permit. The thief had removed the 5000 LKR note and left us enough money to pay the boat man. Plus the few stray dollars that Shawn had in his wallet were not touched. Thankfully we do not carry all our money in one spot! We were even more grateful for our rented motorbike or we would have been stranded on the beach after a rather long day.
Despite the money we lost, we found that we had a rather lovely time in Pigeon Island National Park. I highly recommend visiting it if you have the chance. It is clean, beautiful and well preserved.
Have you been to Pigeon Island National Park? We would love to hear about your experience in the comments below.
*This post contains Affiliate links