Unfortunately, even the best formulated plans are laid to waste when the weather plays truant. On our first day in the Singapore, the sky was dark, and the clouds frequently let loose droplets of rain. I have to admit that I was tempted to stay indoors. At the end of the day, I was in a new country and I wanted to explore. Wasting even a single day would be a shame. So, despite having seven days in the city, I set out to see what I could do. That's how I drew up this list of things to do in Singapore on a rainy day.
QUICK TIPS ABOUT THE THINGS TO DO IN SINGAPORE ON A RAINY DAY
Singapore is a very clean city. It has plenty of tree cover, paved foot paths and a well-connected metro system. So, if you do get caught in the rain, it is quite easy to find places to seek shelter. These are a few points you may want to keep in mind if you are planning on following through on some of the things to do in Singapore on a rainy day.
Carry an umbrella or a raincoat/jacket with you. It helps you navigate despite the bad weather.
Wear sensible footwear. Despite the awesome paved footpaths, things get slippery and you don't want to have a fall. Your nice leather shoes would probably also get soiled in the rain, so you may want to keep them at home.
Avoid the parks and gardens. While trees do provide a certain degree of cover, you will still get wet. The parks also have warnings regarding falling branches and lightning at the entrances which are wise to pay heed to.
Try to use the MRT, overhead bridges etc as much as possible because it helps you get around without being exposed to the rain.
With that said, lets check out some things to do in Singapore a rainy day.
EXPLORE THE MALLS IN SINGAPORE
Everyone loves shopping in Singapore. This is largely because you can find everything you need in the city. A rainy day is a great time to find the best deals because a lot of Singapore's shopping is indoors. To make the neighbourhoods more compatible for living, Singapore has at least one mall in each neighbourhood. This means that you don't have to go far. The MRT and the buses also help you get from destination to destination while still staying dry. Another thing to note is that these malls in Singapore and the shopping complexes are built to serve different budgets. While buying expensive stuff was not my game plan, wandering through the malls was a cool experience. Definitely one of the things to do in Singapore on a rainy day.
Casinos are a great place to have fun. I know because I love them. Unfortunately, I did not have the documentation and the time to get into the casinos in Singapore. They do however rank high on my list of things to do in Singapore on a rainy day. From what I saw, you need to carry your passport and your customs entry form when entering the casinos. If you are a Singapore permanent resident, then your resident card. Oh yes… You need to be above 18 years old. The two casinos that we wandered past were in Marina Bay Sands and in Sentosa.
HOP THROUGH DIFFERENT MUSEUMS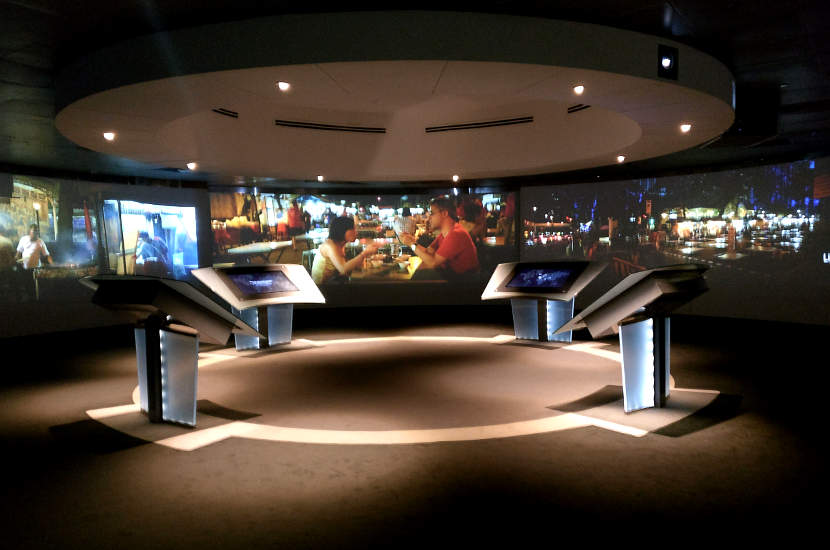 A glimpse of the Singapore City Gallery.
Singapore has a number of amazing museums. They cover different aspects. From history to arts to science. You can take your pick. I had a chance to visit one such museum: The Singapore City Gallery. It gave me an insight into Singapore, the thought that went into planning the city and so much more. Some of the museums allow people to enter for free on certain days of the week. I found this list of Singapore museums very enlightening. I probably will explore the options on my next trip to the country.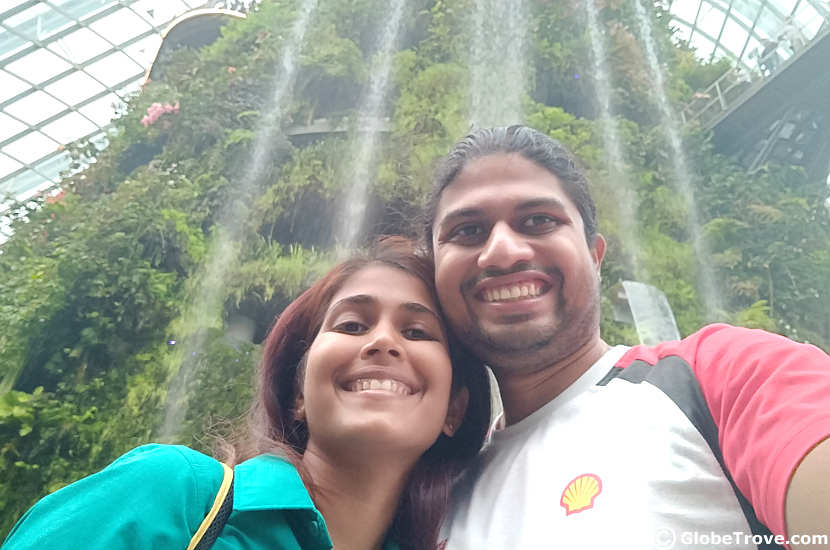 The indoor gardens are a great place to be on a rainy day in Singapore.
Singapore has no shortage of gardens and parks. Two gardens however stand out and despite the paradox. Visiting them are is one of the best things to do in Singapore on a rainy day. These gardens are located in the Gardens by the Bay. They are the called the cloud forest and the flower dome. Sheltered under large glass domes, these gardens are beautiful places to spend the day. In fact, the Cloud forest has a waterfall in side which makes it beautiful and magical.
PLAY AT A BOARD GAME CAFÉ
Shawn and I are addicted to board games. One of the most intriguing things about Singapore is the abundance of the board game cafes. Playing board games is a great thing to do in Singapore on a rainy day. Board games are a great way to meet new people. In fact, we browsed through so many different cafes that we landed up buying a couple of games to take home to India.
Singapore has the widest variety of different cuisines that I have seen in a single city. One walk down Clarke Quay and I spotted cuisines that belonged to Indonesia, Thailand, Malaysia, Singapore, Mexico, Spain, Vietnam… The list goes on. Clarke Quay isn't the only place that has a variety of meals to offer. Head to Chinatown to pick a cheap meal from the hawkers that line Chinatown's food street. Or head to near by mall. It doesn't matter where you go. Food is something that Singapore has in abundance.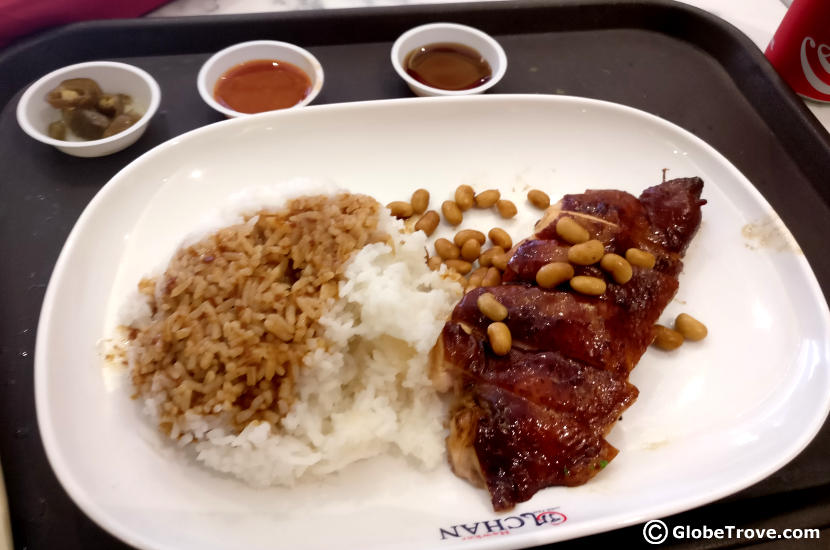 M Chan is a one of the best places to be in Singapore on a rainy day.
While we are on the topic of food, let's talk about the Michelin star restaurants that are available in Singapore. You can find the whole Michelin Guide and pick out a cuisine that you want to try. Surprisingly the cost of the meals varies greatly. My visit to Hawker Chan cost me a little over SGD 5 for a whole meal and a can of Coke. The ones that we saw in Sentosa could quickly burn a hole in your wallet. The choice however is up to you. It doesn't matter where you go, the food is worth it. It also is a great thing to do in Singapore on a rainy day.
One thing that I quickly learned in Singapore was that it can quickly turn cloudy. Sometimes but not always, it starts to pour. My first day was exactly one of those days. I had a choice. Either sit in or get out and make the best of the day. I did not want to waste a single day. It struck me that a lot of people visit Singapore for a short duration. What if like me they land up in Singapore and the rain joins the party too? With that in mind I decided that it would be wise to draw a list of things to do in Singapore on a rainy day. Hopefully it helps all of you heading over to Singapore.
Have you been in a Singapore on a rainy day? What would you suggest people should do in Singapore on a rainy day?
*This post contains Affiliate links