A lot of people think about taking to the roads when they travel. Whether it is riding a motorbike or driving a car, adhering to the law when we travel is important and that means having a valid license. Now if you ask anyone who travels they will say… No problem. Just get an international driver's license and you are good to go. While that may be true for most countries in the world, it does not hold true in Sri Lanka. If you are tourist who wants to drive a car or a ride a motorbike in Sri Lanka, an international license won't do. Surprised? We were too. So, does that mean that you shouldn't rent a vehicle? Or should you take a chance and hit the roads hoping that you aren't flagged down by the police? Luckily there is an easier way around all this. It involves applying for a temporary Sri Lankan driver's license which takes just about an hour to get. Maybe two if you are really unlucky and get stuck in lines.
WHERE CAN YOU APPLY FOR A TEMPORARY DRIVING PERMIT IN SRI LANKA?
At first, I did a lot of digging online. There wee a number of sites that talked about the fact that tourists needed a temporary driving permit in Sri Lanka. The information that I got from these sites was very vague about how to get the permit or where one needed to apply. A few sites even popped up saying that they helped tourists apply for it. A fee is attached obviously. It is the fee that makes the temporary driving permit in Sri Lanka feel so unattainable especially for a backpacker. Well, since there was a lack of information, I took it as a challenge to put up a post that would cover the entire process in as much detail as possible especially since a) it isn't hard to get the permit and b) we got caught by the cops and produced our permit, so all went well.
What I learned is that the process is easy and not as worrisome as most would be led to believe. To get the temporary drivers permit for tourists in Sri Lanka one needs in or around Colombo. The office that you need to approach is the Department of Motor Traffic in Werahera which is a 30-minute drive from the heart of Colombo. The department is closed on Sundays and holidays so check before you head out there.
BEST TIME TO HEAD OUT TO GET THE DRIVING PERMIT
I suggest getting to the Department of Motor Traffic early in the morning. The department is a government office and caters to the sanctioning the driving licenses for the Sri Lankans as well as converting foreign licenses to Sri Lankan driving licenses. Don't worry… You will have your original license. The driving permit for tourists in Sri Lanka is printed out on a piece of paper and has a 30 day validity.
When applying for the driving permit for tourists in Sri Lanka make sure that you take the required documents. It helps speed up the process. If you forget to take a required copy, you need to head all the way outside the complex to get it which leads to a lot of wasted time. Here were the documents that we had to produce.
Passport
Copy of the Passport
Copy of the Sri Lankan visa issued
A valid driving license from your country
Copy of the driving license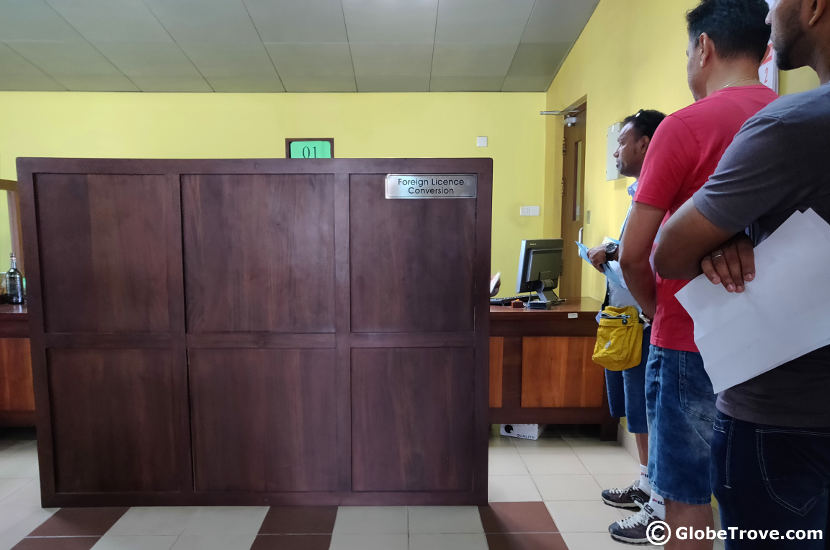 While it says Foreign license conversion it is also the first counter for a temporary driving permit in Sri Lanka.
The process of getting the temporary driving permit for tourists in Sri Lanka is rather straight forward and organized. As you enter the Department of Motor Vehicle complex you will notice that every building is labelled with alphabets. You need to head to hall 'H'. As soon as you enter Hall H take the door to your left. A security guard will probably ask you why you want to enter. State your purpose and you will be let in.
Rows of numbered counters exist on either side. You need to head to counter one. Note that people who are applying for their Sri Lankan license also move through some of the same counters and if you reach late, you can get stuck in the mixed lines so try to reach early.
Counter 1: Will verify your documents and see that you have everything in place. The person will then send you to Counter 17 – 20.
Counter 17 – 20: Pick the shortest line and head to anyone of these counters. Shawn had his documents scanned here.
Counter 31 (Or whichever one you get sent to): Make your final payment which is 1000 LKR. They then sent Shawn to Counter 14 -15.
Counter 14-15: This is where you get the final approval.
Counter 31: This was Shawn's last counter. It was also the counter where he made the payment. He collected his final print out and was done with the process.
The entire process took us about an hour. We got delayed because we forgot to take a copy of the visa on the passport and had to make a dash outside the complex to get it. All in all, the department was well organized, and we were glad that we applied for it. The bus stand to head out to Unawatuna was also close by which made the whole process less time consuming in terms of travel.
Have you applied for a temporary driving permit in Sri Lanka? What was your experience like?
*This post contains Affiliate links