While I have been in Bangalore for over a year, I've been lazy. I haven't stepped out to explore. My excuse has always been that I saw the highlights of the city when I was a child and when Bangalore was the old Bangalore. The pretty Bangalore. Times have changed, and the city has moved on to grow exponentially and somehow the charm that once attracted me to the city some fifteen odd years ago has died down. When our German friends Stephanie and Thoralf came to visit us, we knew we had to take them around. As we took our friends through the things to do in Bangalore, we saw the city from an outsider's perspective once more.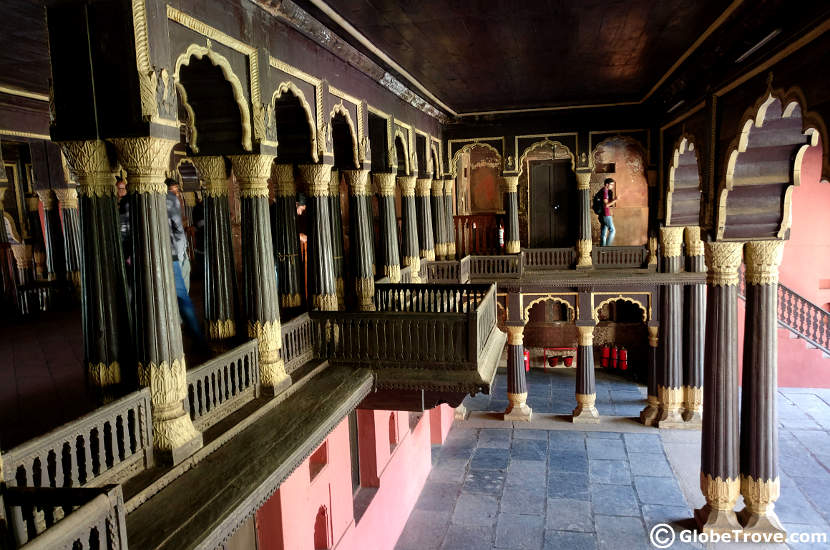 A glimpse of the palace from within.
We took the Metro and headed to our first stop on our things to do in Bangalore list: That was Tipu Sultan's palace. Tipu Sultan was one of the famous rulers of Mysore. The Tipu Sultan palace in Bangalore was his summer residence and is a popular stop for tourists. While the entrance fee for Indians is 15/- it is much more expensive (200/-) for foreigners. The palace is very small and there isn't really much to see.
The Tipu Sultan's palace in Bangalore is made up of wood. The wood was once decorated with intricate paintings. Most of the paintings are gone today. The restoration work on this monument hasn't been quite what it should be. If you look closely you will see some of the remnants of the art. Look up at the roof, that may well be the best preserved because it is out of reach of wandering hands. There are a couple of artefacts on display too. The most noteworthy being the king's toy tiger.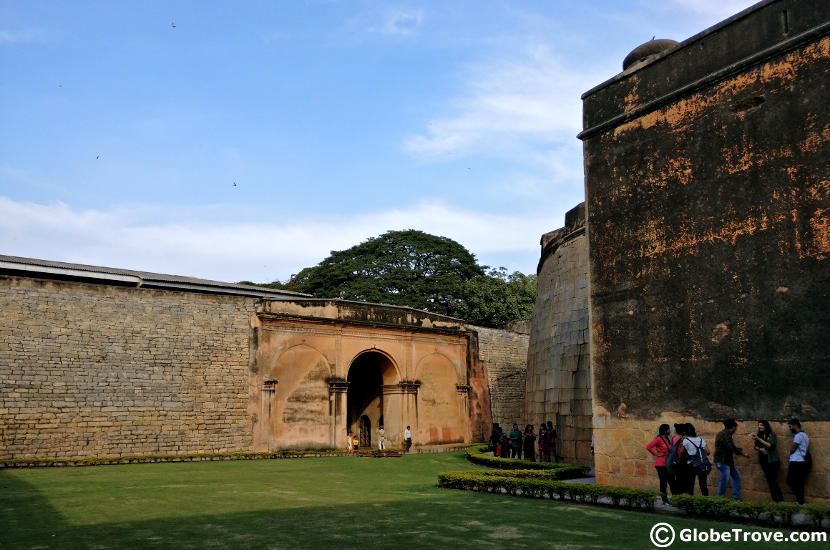 The Bangalore fort was prettier than I expected.
We've passed by the Bangalore Fort wall so many times as we drove around the centre of the city. To me it has always just been that… A wall! Since we were walking around we decided to head in and explore. I have to say that I was mighty surprised. The inside of the ginormous wall was beautiful. Manicured walls and even a little temple was nestled inside. The entry is free and even if it was not, it is definitely worth visiting.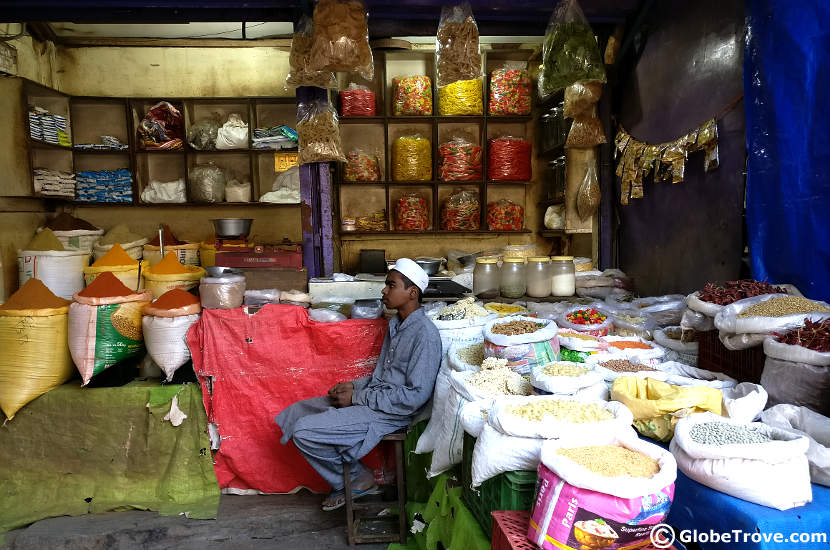 A young boy seated in a local grocery store.
Krishna Rajendra market is better known as K. R. Market or City market. I think everything that you can literally buy anything you want in this market. Stephanie wanted to see the Indian chaos and that is how K. R. Market was placed on our list of things to do in Bangalore. What better way to experience the buzz of a market than to head right into the midst of it?
One of the most interesting things to see in K.R. Market is the flower market. It was the first time that I had seen the Bangalore flower market and I found it hypnotic. The colours, the smells and the vendor's chants all merged together made me realize why people find India so interesting and intriguing.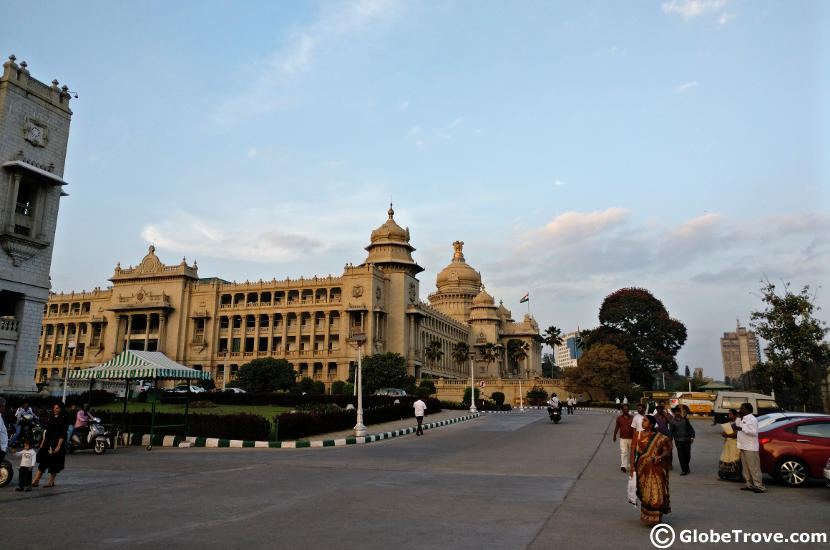 A quick glimpse at the impressive building from the outside.
Since we were in the vicinity we decided to stop by and show our friends the Vidhana Soudha. While we could not enter the building, we did get a chance to see it from the outside. A very friendly guard insisted that we should take a selfie and so we did. The Vidhana Soudha is famous as one of the things to see in Bangalore because the building is very impressive. It is also the seat of the Karnataka state legislature.
EATING KARNATAKA'S FAMOUS FOOD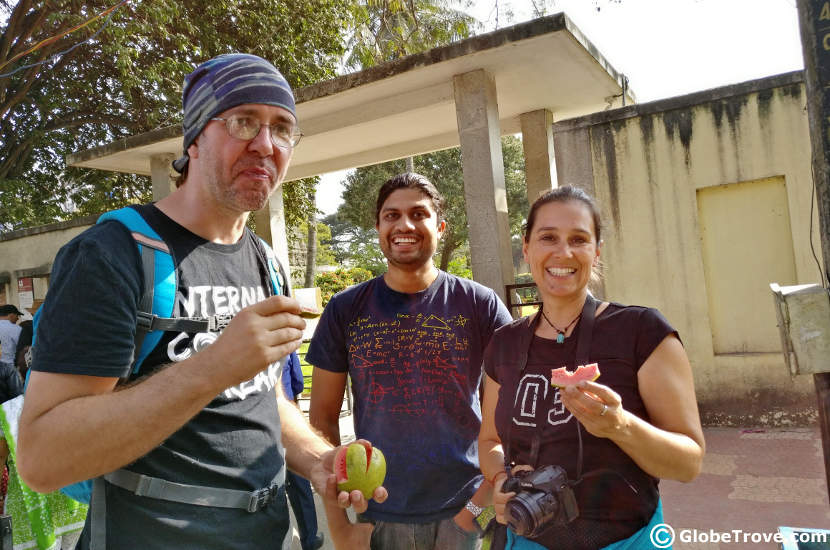 We stopped to eat some of the local fruit.
Our list of things to do in Bangalore would not be complete if we did not take our friends to try out the local cuisine. To do that we took them to one of Bangalore's famous spots: MTR! Stephanie was busy jotting down notes about all the things that she could eat because she wasn't used to the Indian spice. She did very well on her first day and so did Thoralf!!! Luckily, we had a quick guide to some of the food already up so we could share it with them.
RELATED ARTICLES: A Vistor's Guide To Snacks In Bangalore
There are a couple of things that are on the list of things to do in Bangalore, but we couldn't cover. Some of them we have done on our own before and some we have yet to cover.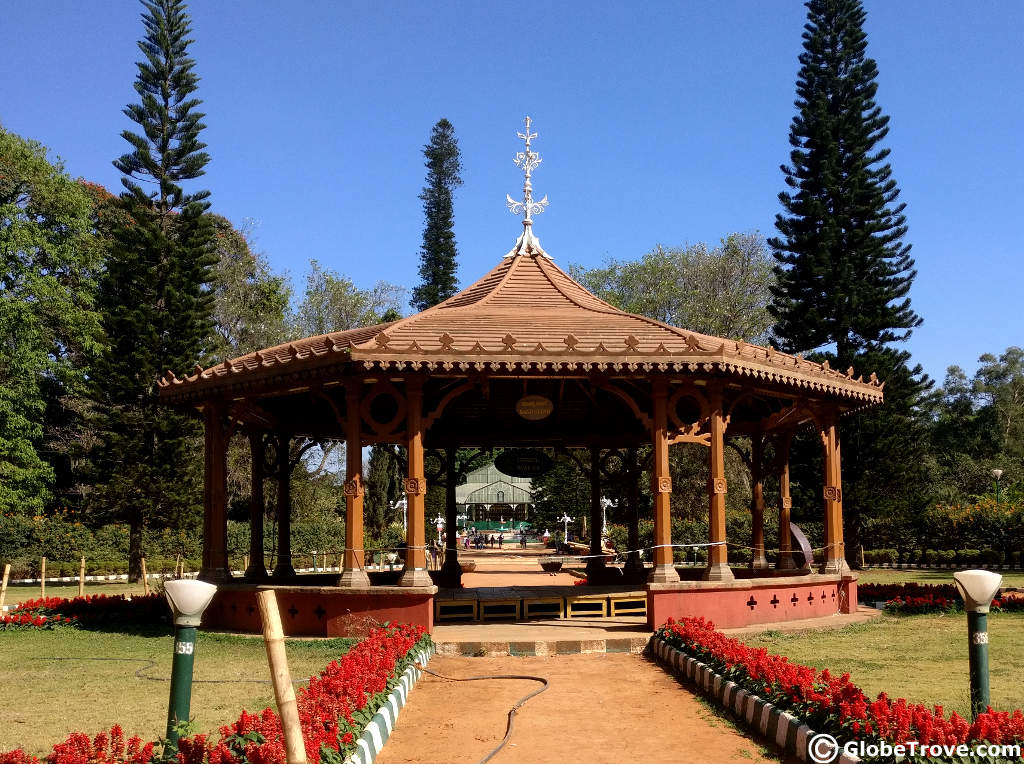 Lalbagh is a great place to stop and take a walk.
Lalbagh and Cubbon park are probably the most popular parks to visit but our time was running short and we were tired. So, we just showed them a glimpse of Cubbon park from the outside before heading over to Indiranagar for a meal.
RELATED ARTICLES: LALBAGH: Visiting Bangalore's Largest Garden
While I have seen the Bangalore palace it was years ago and I'm sure a lot has changed since I was child. Shawn hasn't been to it yet. The Bangalore palace has been on our list of things to do in Bangalore for a long while. Somehow, we always seem to put it off to another date.
BANNERGHATTA NATIONAL PARK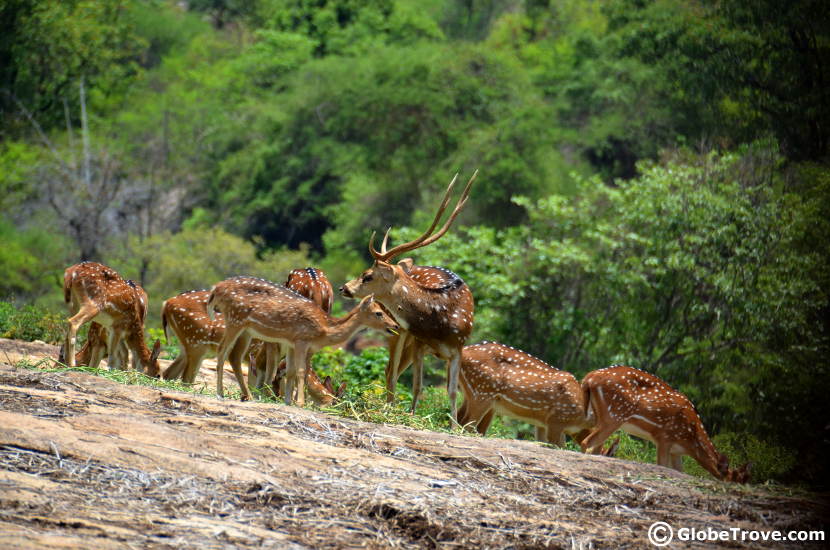 This photograph was taken so long back that I almost forgot that it existed!
Another popular thing on the list of things to do in Bangalore is the Bannerghatta National Park. While we have not been to it recently, we did visit the park almost five years ago. The entrance to each of the pens reminds you a bit of Jurassic park. Instead of viewing the animals from the outside of cages, you drive through big enclosures. The highlights of the trip are tigers and the butterfly park. Sadly, I've heard that the animals are not treated very well and my interest in visiting the park once more has dwindled.
While there are probably so many more things to do in Bangalore, these are the main ones that come to mind. There are a couple of things that you can do on the outskirts of the city. Those however are usually day trips from Bangalore. I do hope to keep this post updated as and when I find interesting stuff to do in the city.
*This post contains Affiliate links