The snacks in Bangalore are probably the thing that I love the most. To be honest, a number of these snacks can be found in different parts of India but there is a certain charm that the snacks in Bangalore present. When they are served with the traditional filter coffee in the steel glasses then you probably are going to have a foodgasm. I think my inspiration for this post stems largely from the fact that not many people know what you should try when you visit the city. Since I'm a foodie at heart, I thought I would talk about the snacks in Bangalore because well, it's the city I live in.
Note that these snacks are usually popular breakfast items.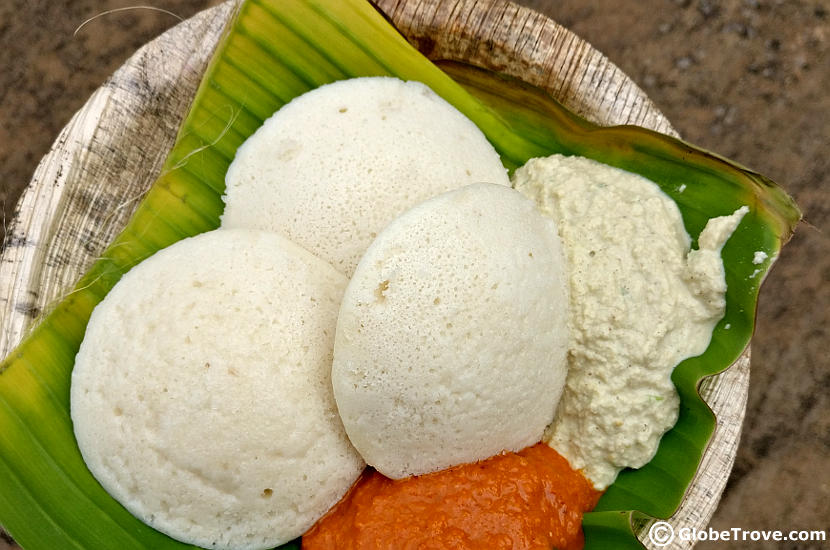 This probably the healthiest snack you could pick in Bangalore.
Idli is probably one of the healthiest snacks in Bangalore. It is made of fermented black lentil (urad dal) and rice. The thick fermented batter is steamed to form the idli. On its own the idli is bland. That makes it perfect for anyone who has a problem with Indian spice. Idlis are served with chutneys (a spicy to medium spicy paste which I will talk about a little later) and sambar. The idli is best eaten hot!
The idli has a number of different variants. A few months back when I visited a popular restaurant (MTR) I tried the rava idli which is hands down the best idli that I have ever tasted. Along with the usual idli batter it also had some herbs and cashew nuts added to the mix. That made it one of the tastiest snacks in Bangalore in my opinion.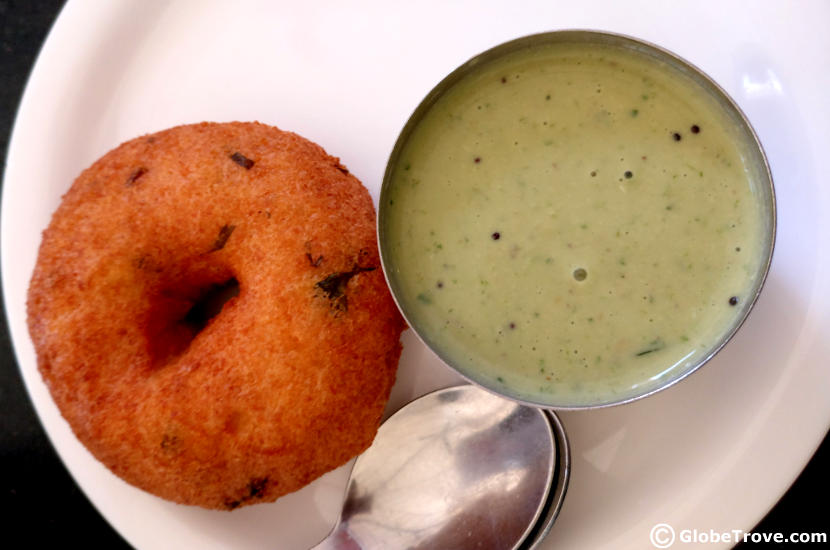 The hot and crunchy vada.
Another popular snack in Bangalore is the vada. Unlike its healthy counterpart (idli), vadas are deep fried and hence not the healthiest option in town but oh they taste so so good! There are different types of vadas that are made all over India. This particular one is called the medu vada. It has a whole in the center and is made of black lentil.
In most of the restaurants or road side stalls you have the option of choosing an idli vada plate. This means that you will be served one idli and one vada. It is a combination that many people find very satisfying. Like the idli, the medu vada is served with chutney and sambar and is best eaten hot.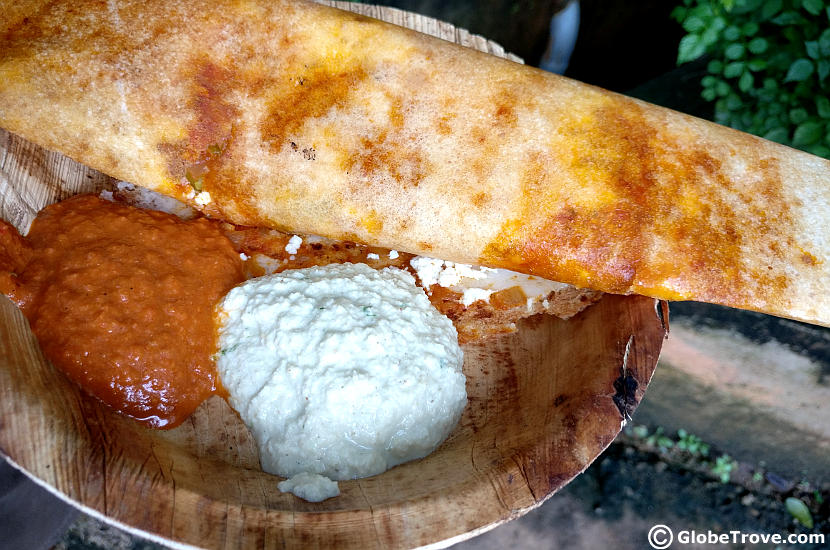 This is a paneer dosa that we get at the food truck near our house every weekend.
Now the south Indian dosa is nothing but perfection. There are a number of places that serves dosas as snacks in Bangalore but I wouldn't mind having it as a meal either! The dosa is a think circular… for lack of a better word… Pancake but it is anything but sweet. It is usually stuffed with a potato base filling. Dosas however come in different variants.
Masala Dosa: A potato filling is placed in the center and the pancake is rolled around it.
Plain Dosa: It's a dosa without the filling.
Paneer Masala Dosa: A dosa that is filled with potato and paneer (Indian cheese).
Paper Dosa: It's an extremely large dosa which usually is paper thin and my all time favorite!
Paper Masala Dosa: A paper dosa filled with potato filling.
I'm sure you are beginning to get the feel of what the different dosas are like. The Bangalore dosas are lip smackingly delicious and had to make my list of snacks in Bangalore.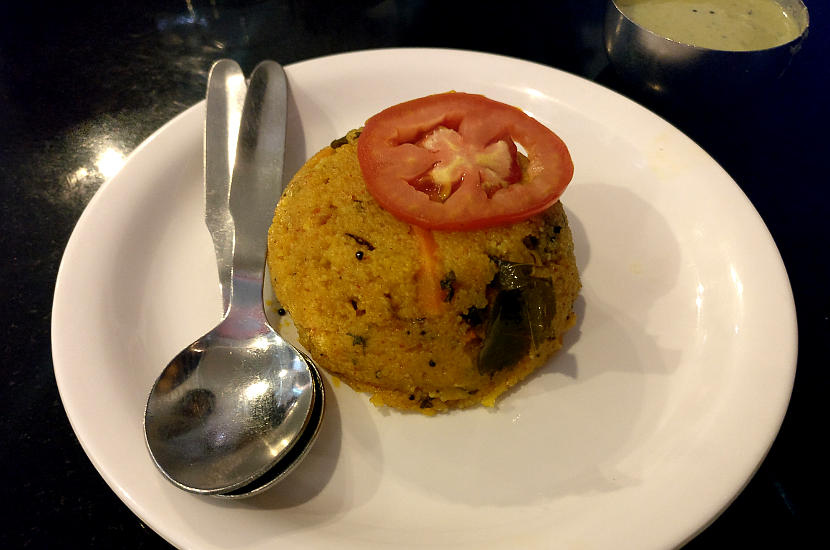 There is a first time for everything.
Khara bhat is made out of a type of semolina. Khara however means spicy though I never found the khara bhat to burn my taste buds. That being said, I'm Indian and my tolerance for spice is at a whole different level. I've never made Khara bhat at home but it always comes with an assortment of vegetables in it.
The sweeter alternative to Khara Bhat is Kesari Bhat. It is usually orange in color and is a famous snack in Bangalore.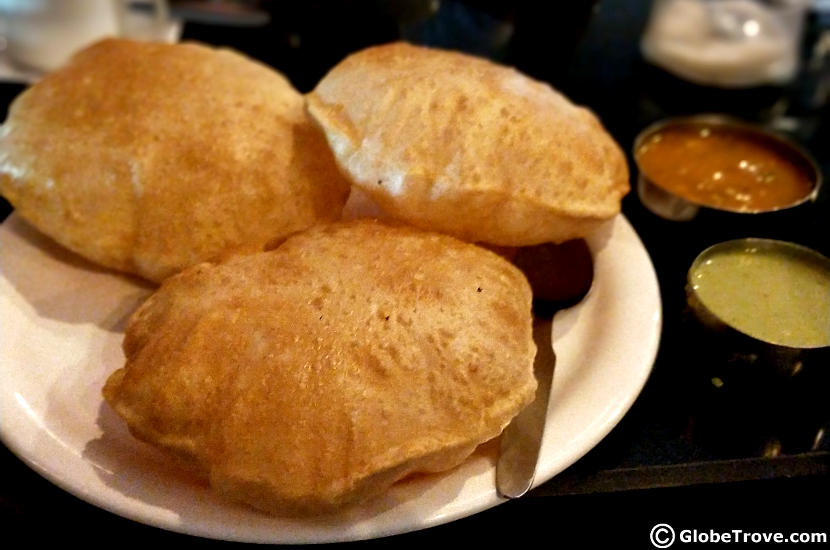 Deep fried and unhealthy but way too delicious to say no to!
Another popular item on my list of snacks in Bangalore is Puri Sagu. In order to properly describe this snack I think it would be best to split it into two separate words. 'Puri' is also spelt as 'Poori'. I had to actually look that up because I was a tad bit confused. I have had puris in almost every part of India that I have visited so to say that they are particularly special in Bangalore would be wrong. That being said, they are a popular snack/breakfast item. Many people eat them for lunch and dinner too!
A puri is a round puffed up deep fried Indian bread. If you have the chance to watch them being made you will see the dough being rolled out onto a flat surface. The round circles are then placed in hot oil where they puff up and get their classic texture.
These puris are served with 'sagu' or as 'bhaji' as it is called in other parts of the country. Sagu refers to a vegetable dish. The vegetable dish varied from place to place.
POPULAR ACCOMPANIMENTS WITH SNACKS IN BANGALORE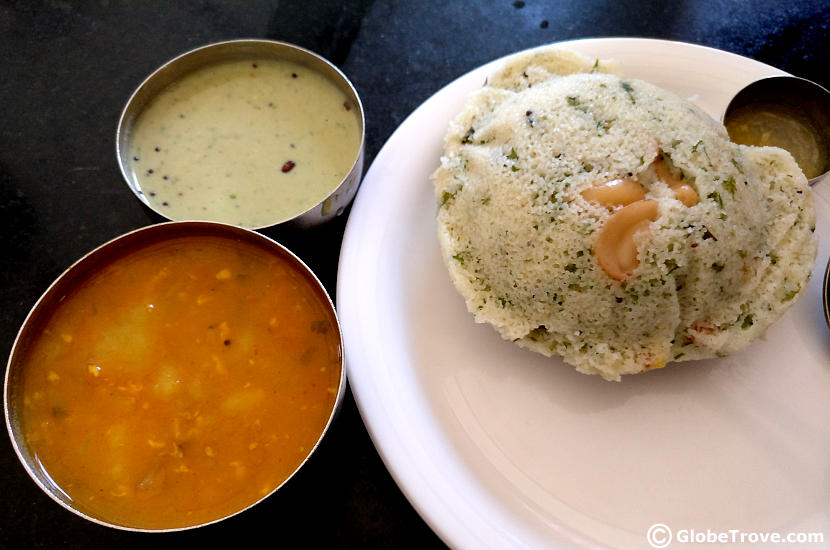 Chutney (white) and sambar (red) accompanying a rava idli.
Most Indians won't bat an eye if you tell them that their idli will come with chutney and sambar. They probably will give you a weird look because that is how it always arrives. But if you aren't from India you probably do not know what to expect. That's why I thought that a guide to popular accompaniments would come in handy to anyone who was visiting the area.
Chutneys come in various forms. Tomato, coconut, mint, tamarind… The list goes on. The most common chutney that you will find is a coconut chutney that is white in color. A lot of people say that chutneys are spicy so taste a little before you dunk your food in it.
Sambar is made of lentils. If you head over to Wikipedia, they refer to it as a stew. Somehow calling Sambar a stew doesn't sit right with me. Anyway, I digress. Sambar is a popular accompaniment served with snacks in Bangalore. It is non spicy and is perfect if you are looking for something bland. I must warn you though, some parts of the city turn the spice quotient up a notch or two.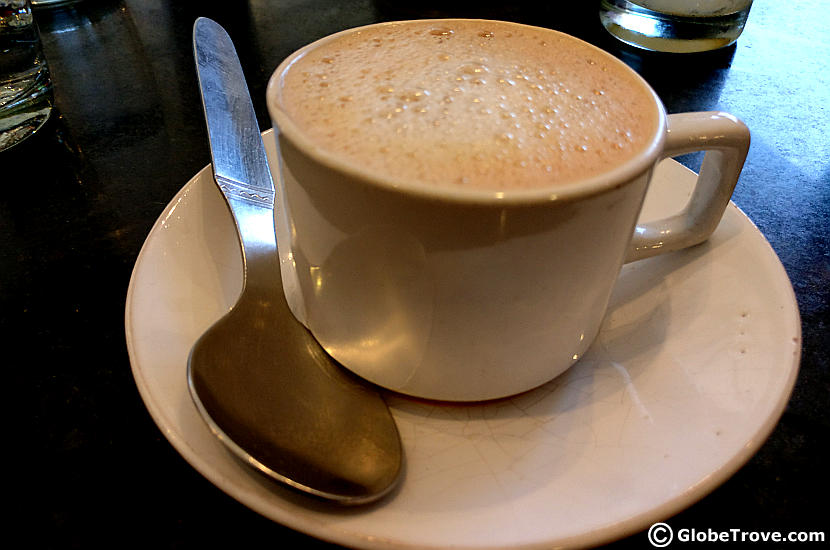 The aroma that wakes the people of Bangalore up in the morning.
One of the things that you must try is the filter coffee in Bangalore. No I'm not talking about heading into a swanky restaurant and ordering one of the famous international brands. To truly taste the coffee you need to head out to one of the breakfast shops that are scattered around town. If you are not comfortable with that, then head to the nearest MTR shop. While the filter coffee does not come along with the food, it is a popular accompaniment that is ordered.
There are so many different delicacies that are popular snacks in Bangalore. I have only covered the tip of the iceberg. Sadly even though I have spent the past three years in the city, I haven't indulged in the local delicacies as much as I should have. That is about to change. My new motto is to keep adding to this list every weekend: One snack at a time!