I have to be honest. I had not heard of Shivanasamudra till a couple of weeks ago. When I did read up on it, I couldn't but find the word a tongue twister. I still do. I stumbled across Shivanasamudra when I was doing my research for our weekend getaway to Mysore. During our road trip to Pondicherry last year, I learned that the best road trips always have diversions. Small stops on the way which invariably turn out to be highlights of the trip. So, in a bid to make things more interesting, I added Shivanasamudra to the list largely because of the waterfalls in the area. Though the flowing water of the Kaveri river is also an added incentive! Let's back up a bit and get a few of the facts in order, shall we? That way you can decide whether you would like to visit as part of a day trip, a weekend drive to Mysore or a part of another road trip that it would make a good stop at.
SHIVANASAMUDRA: Location and Getting There
Shivanasamudra is an island that lies bang in the centre of the Kaveri river. Don't worry, you won't be taking any ferries here. The island is connected to the mainland by a series of bridges both new and old. In fact, one of the bridges forms a picturesque place to take photographs of an old bridge from. Shivanasamudra is located approximately 138 kilometres from Bangalore and that is around a 3 hour drive in peak hour traffic though it depends on which part of the city you are leaving from. It is however much closer from Mysore at 77 kilometres and it takes around 1 hour 40 min to get there. Assuming you don't keep stopping on the way to see other attractions like us.
We had our own vehicle which we used to drive down to this intriguing spot. Alternatively, you can even take a bike. It makes a really scenic route and if you are a person who likes long bike rides this may just be a trip that you will enjoy.
THINGS TO DO IN SHIVANASAMUDRA
I was rather surprised by the number of things that were available for a person to do in Shivanasamudra. In fact, what surprised me even more was the crowds that kept pouring out to the area. Maybe it was because we visited on a Sunday but I'm not too sure. Like I said before, Shivanasamudra is situated on the Kaveri river and hence all its attractions are centred around it. Our main aim was to see the waterfalls and we got turned around quiet a bit.
On the way however we noticed a lot of people had perched themselves on the banks of the river and were enjoying a picnic. Some of the locals were offering rides on circular boats that looked interesting. We however did not stop for it. Before you frown we had a reason. In fact, multiple. The rain had caused the river to swell and the currents looked really strong. No life jackets meant that the risk was even more real. To top it all we had a cat with us and I could not see her being pleased at being put on a boat surrounded by water!
So, one the main attraction that draws tourists to this spot in Karnataka are the Shivanasamudra falls. Few people realise that there are actually two waterfalls namely the Gaganachukki falls and the Bharachukki falls. In fact, we did not realize it either. Shawn got rather turned around when we headed from one view point to another. We reached Gaganachukki falls first and were surprised to see the throngs of people, the numerous stalls and the immense amount of trash. To be truthful, the last part should not have surprised us as much.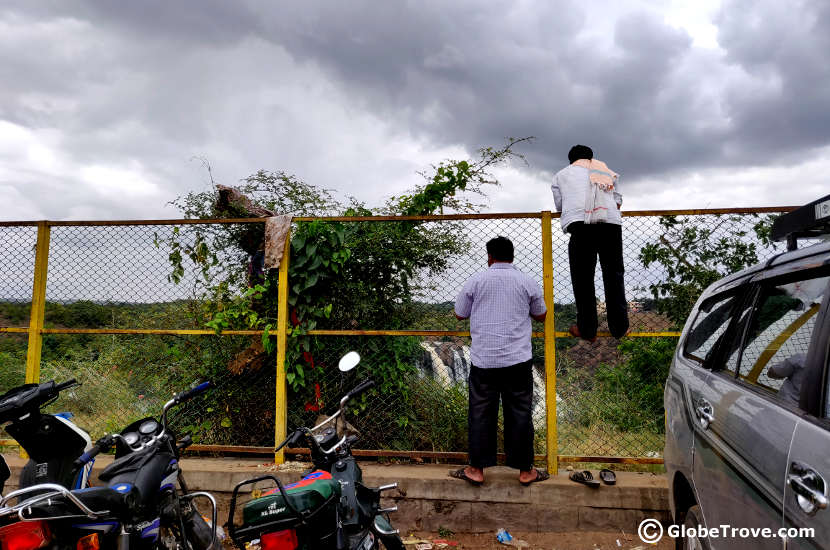 Catching a view of the falls can be so challenging.
We parked our car a distance away and followed the crowds rather confused. The fact that the sky kept opening up and pouring ice cold water on us did not help the matter. As we navigated through the throngs of people we happened to catch a glimpse of a small mosque. If it was left up to me, I would have turned back and left. Shawn however insisted on checking behind the mosque. After all we had come so far. We did, and we found a view of one of the famed Shivanasamudra falls. Honestly, we could see the falls but try as we might we couldn't ignore the chaos around us. We moved a bit away and found a quieter spot to check on the falls, but the rain got to us again. Jynx, our cat was screaming bloody murder because of the rain when a lovely Muslim family offered us shelter under their makeshift tent. One thing that I did notice was that there was another view point, we however did not make it there.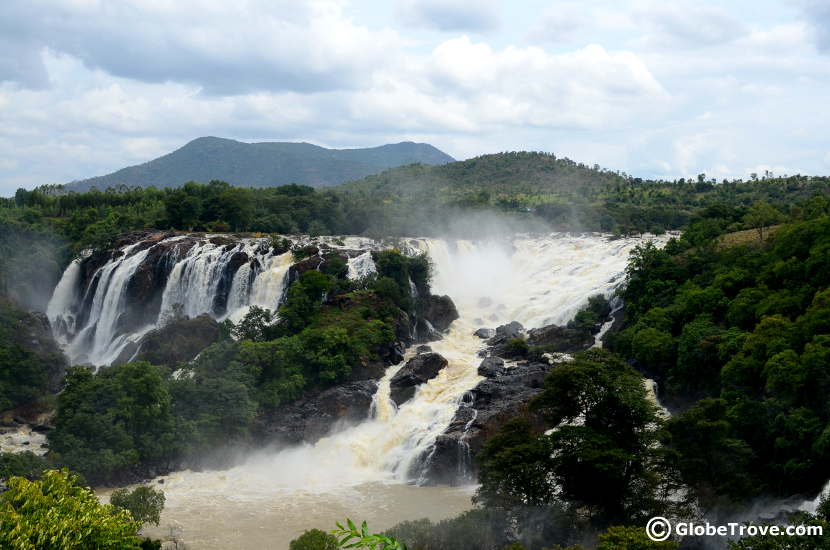 The Bharachukki Falls had a better view!
We were about to head back home and grab something to eat (Veeshan and Shawn were super hungry) when we noticed that everyone was heading to another view point. We weren't about to let that opportunity slide us by and we followed the crowd. I cannot believe that I just said that! But in this case, it did turn out to be a happy ending. We landed up at the view point for the second Shivanasamudra falls, namely the Bharachukki falls. The crowds were no less here but the view point was so much better. Unfortunately, sometimes people actually stuck an elbow into our sides. Sigh! That is to be expected though. Crowds will always behave like crowds. We got a couple of photographs and enjoyed the falls for a while before we headed on.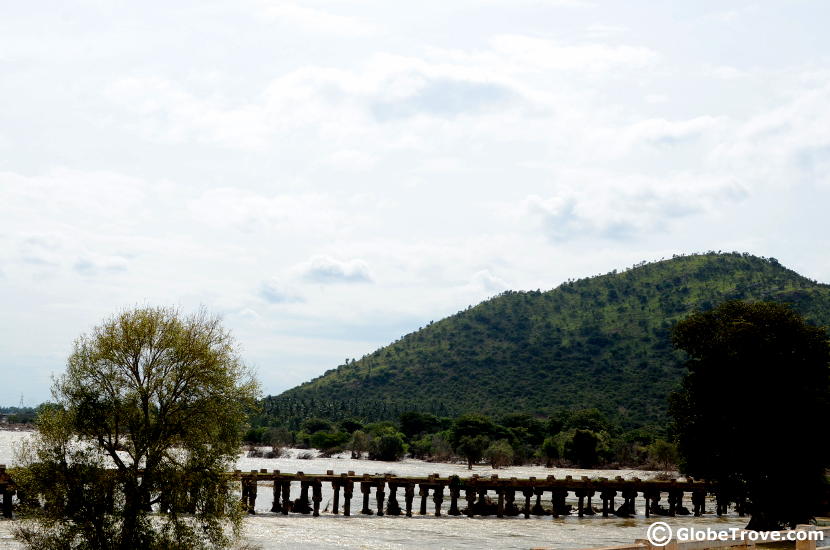 Gorgeous collapsed bridge.
Honestly, I have no idea what to call it. A single old bridge lay half collapsed, half standing. We had noticed it on our way to the Shivanasamudra falls. On our way back, Veeshan stopped so that we could take a few photographs. The bridge is so scenic with the turbulent waters under it that it is quite literally a photographer's dream. If only we weren't quite so hungry, I may have stayed a bit longer.
With all these items done we were quite literally collapsing from hunger. We found a nice restaurant run by a Muslim man with a huge smile. The food was delicious. Shawn and Veeshan had plates heaped with Biryani and a couple of plates of fried fish. Me… I stuck to dal and rice with some pickle that they kindly provided. Truth be told, I may have robbed a couple of pieces of fish from Shawn's plate.
Our stop at the Shivanasamudra falls was certainly unique. It had a crazy Indian feel to it and yet it was scenic. I love the hills so no matter how chaotic the world around me was, I found myself smiling. I think that it was also in large part due to the fact that we were out of the city.
Have you been to the Shivanasamudra falls? Was your experience as chaotic as ours? We would love to hear about your experience in the comments below.
*This post contains Affiliate links