Cairo is the capital of Egypt and it draws people from all over the world for a variety of reasons. Some people arrive hoping to explore history, some want a vacation and some land up in the city because of work. Oddly enough, we went to Cairo for all of the above reasons. It was always on our bucket list and we would have gotten around to planning a trip there eventually but the fact that Shawn had to work actually sped up the process. We aren't complaining. It allowed us to spend a lot of time in Cairo over the period of a couple of months and helped us gain a deeper perspective about the city. It also allowed us to explore the city a lot and in part is what inspired me to draw up this list of things to do in Cairo.
Before talking about all the places that you can visit from Cairo, I thought that it would be wise to talk about Cairo itself. Few people realize just how much there is to see in Cairo. One thing that is quite obvious at first glance is that Cairo is a huge bustling city. If you're heading to Cairo by flight and happen to catch a window seat, then look down before you land. You will see that the city sprawls out for miles on all sides. Let's take a peak at all the things to do in Cairo, shall we?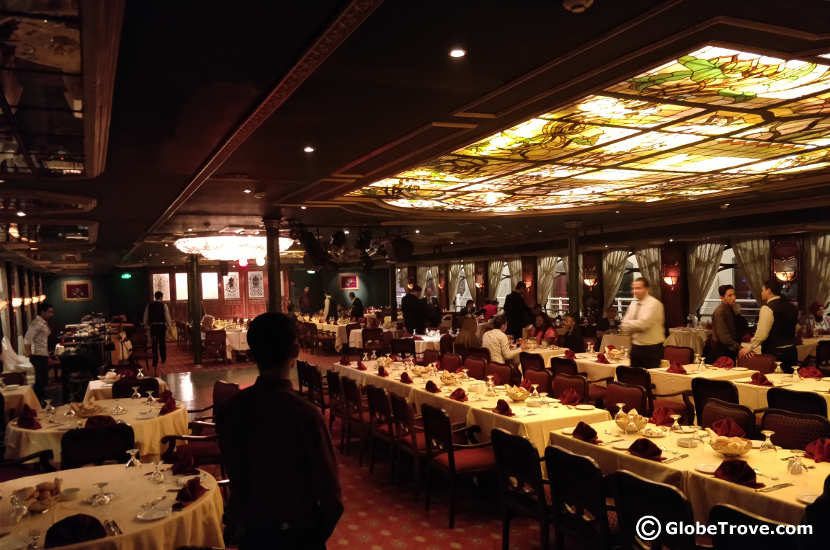 The river cruise should be on your list of things to do in Cairo.
One of the most amazing things to do in Cairo is the Nile cruise. We were wondering what we would do with our night and happened to discover that there are dinner cruises on the Nile. We called in to make a reservation for the 8 o'clock cruise since we were in the heart of town. As the time drew nearer we were getting more and more tired because we had a long day. In fact, we almost ditched out on it and in retrospect I'm glad that we didn't. Depending on the type of cruise you take, you get either an a la carte menu or a buffet. Live music in a variety of languages, belly dancing and other dances provide the entertainment. Topped with a bottle of wine, our evening was nothing short of perfect.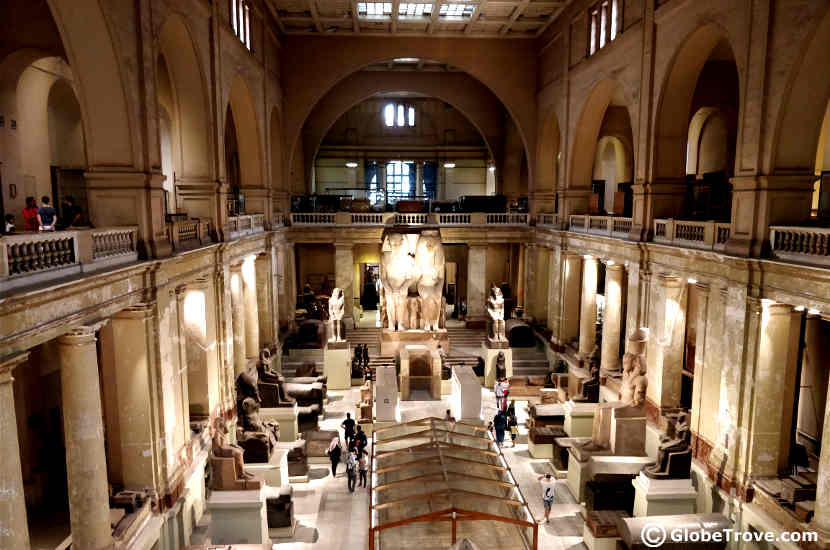 The Egyptian Museum is one of the amazing things to do in Cairo.
One of the first places I set foot on in Cairo was the Egyptian museum. I love everything to do with history. The Egyptian museum however was midway between its transit to the new complex in Giza. In my mind however it doesn't matter where the artefacts are housed. They are interesting none the lest. In fact, I have spent two days exploring the museum in Cairo. Each time I spent a minimum of four hours wandering through the halls. Now, you can move through it faster that I did but I would advise allocating at least two hours or you won't do the museum justice.
RELATED ARTICLES: Egyptian Museum: Glancing Back At Ancient Egypt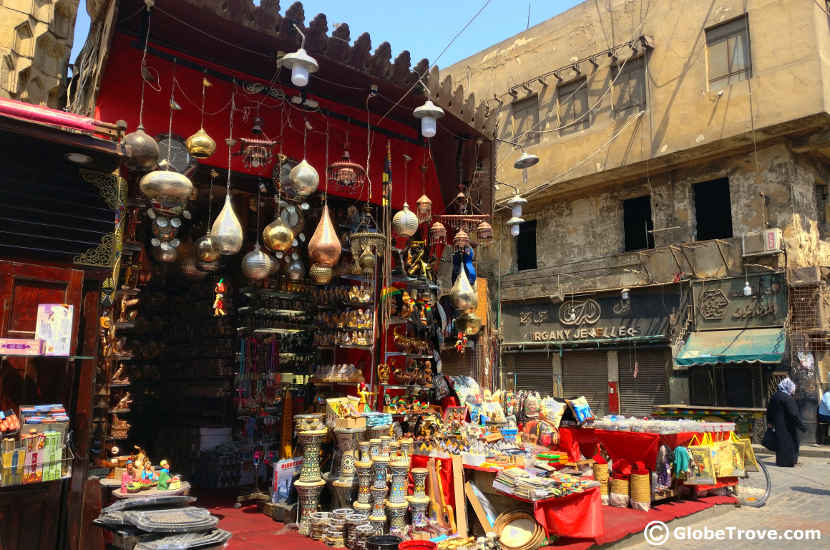 Khan El-Khalili is a one of the amazing things to do in Cairo.
One of my favourite things to do in Cairo is to head to the markets. Sure, Cairo has a number of them but Khan el-Khalili is one that captured my attention time and time again. It isn't just about what you can buy there. In fact, it is a lot to do with the ambiance. The numerous mosques that dot the landscape, the sounds of the busy streets, the smell of different local snacks and one cannot deny that the myriad of colours are pleasing to the eye. Khan el-Khalili is one of those places that you will want to click numerous photographs to adorn your Instagram wall.
RELATED ARTICLES: Khan El-Khalili: Sensory Overload In All The Right Ways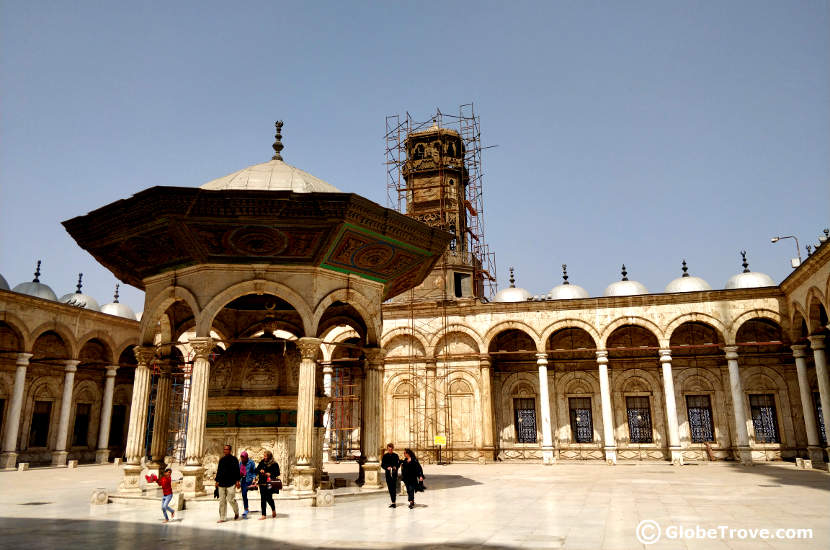 The Mosque of Mohammed Ali in the Saladin Citadel should definitely be added to your list of things to do in Cairo.
Somehow the Mosque of Mohammed Ali never fails to catch a person's attention. It may have something to do with the fact that the large imposing structure sits a top a hill and is visible whenever you pass by. Outside appearances aside, the mosque of Mohammed Ali sits inside a fortress and is gorgeous. The entrance fee isn't all that expensive and it is really worth it if you want to spend time wandering through the fort. Try to avoid going during mid-day however since the sun can get scorching.
RELATED ARTICLES: Saladin Citadel in Cairo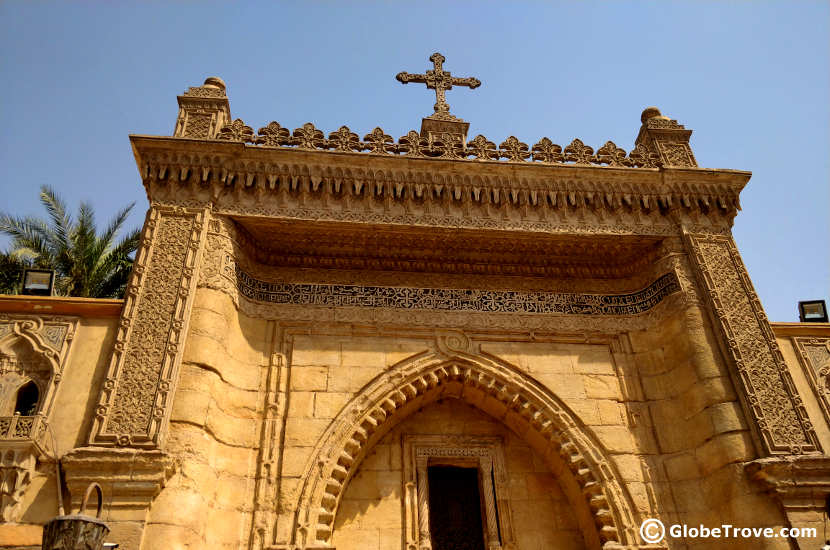 If you are looking for things to do in Cairo, think about visiting Coptic Cairo. 
While Egypt is known for people who follow Islam, you will be surprised to know that there are a number of Christians that live here. Considering the fact that Jerusalem (where Christians believe Jesus was born) lies so close to Egypt it shouldn't really come as that big of a surprise. Coptic Cairo is filled with churches. Each one of them has their own religious importance. One even has the crypt where the Holy family rested when they fled from King Herod.
RELATED ARTICLES: Exploring Coptic Cairo Without A Guide
Cairo has a number of parks which give a welcome respite of green pasture to the eyes. Most of the locals head to these parks in the evening. We happened to visit one during Ramadan and we noticed that it is also a popular place to break the fast. Not only are there restaurants (for all the price brackets), people are also allowed to bring their own food and have a picnic which is really nice. The parks have a nice family environment that is hard not to enjoy.
It would be remiss of me not to mention that there are a number of day trips that one can take from Cairo. Each of them are equally interesting and maybe even fascinating because they involve exploring a great number of pyramids. All of the pyramids are in Giza but when I say that I am not just talking about the famed Pyramids of Giza that everyone goes to. Giza in general is a state or a province of Egypt and lies on the west of the Nile. In general, the ancient Egyptians believed that anything on the west of the Nile symbolized death. Hence, they buried their dead on the west of the Nile. Pyramids are the resting places of the pharaohs or kings of that time.  That is why Giza has so many pyramids.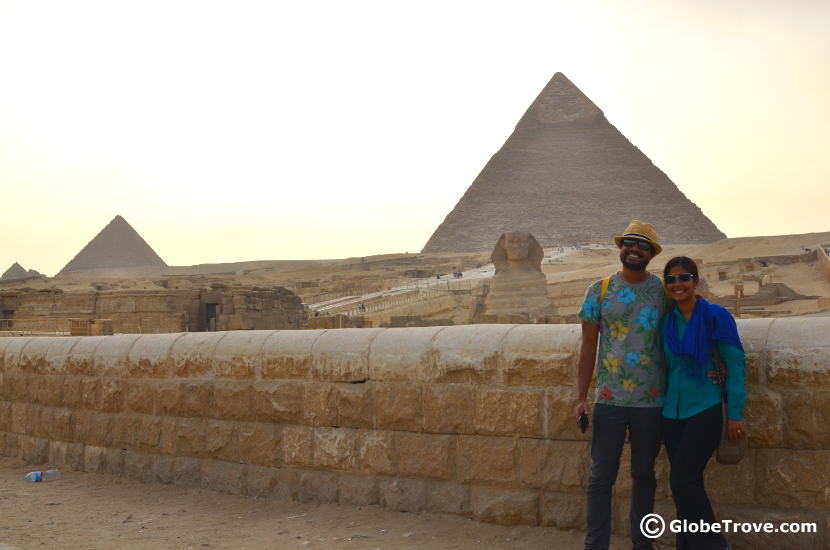 One of the top trips from Cairo takes you to see the Pyramids of Giza.
One of the most popular day trips from Cairo is to the Pyramids of Giza. The pyramid complex is huge and you can even enter some of the pyramids for a price. Since the Pyramids of Giza are the only surviving ancient wonder of the world, they are insanely popular. Expect to find lines of tourists waiting to enter. Luckily getting a ticket is pretty easy. Just make sure that you get the right one or you will land up paying extra at every monument. I won't spend time talking about it in detail because we have a post dedicated entirely to it. You can find the link to it below.
RELATED ARTICLES: PYRAMIDS OF EGYPT: The Only Standing Ancient Wonder Of The World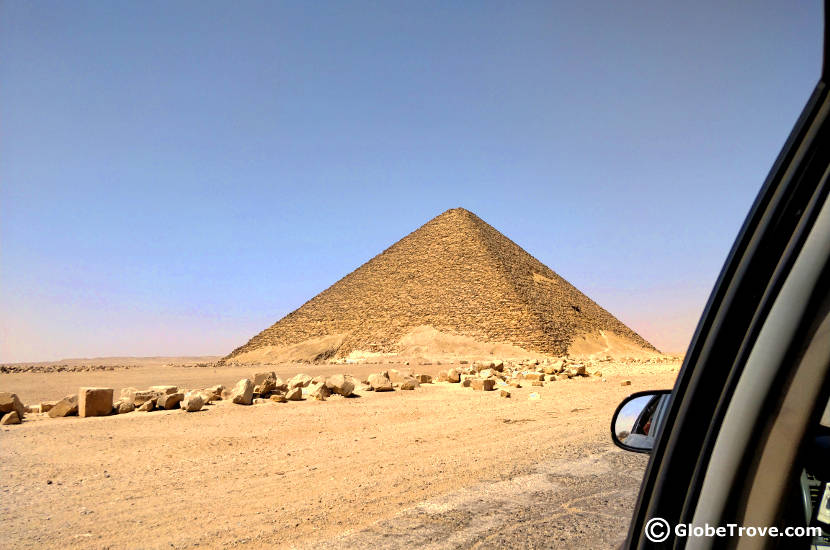 Dahshur is a great road trip from Cairo.
The Pyramids of Dahshur are much further away than their popular counterpart. Not everyone visits these pyramids. While they aren't quite as tall as their famous counterparts, I found them equally as impressive. One great thing about visiting these pyramids is that there are very few tourists around. In fact, there are hardly any people around with the exception of the guards and the caretakers. Dahshur has just one pyramid that you can enter. The lack of throngs of people makes this trek through the pyramid much more pleasant. If you are thinking of visiting Dahshur and want more information about it, head to the link in the related articles below.
RELATED ARTICLES: The Ancient Pyramids of Dahsur: Where Guides Seldom Go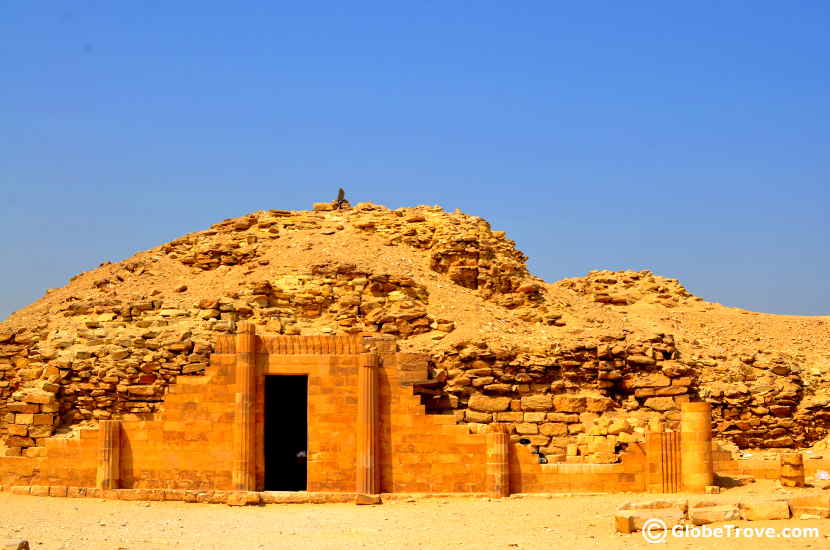 Saqqara is a great road trip from Cairo.
The third place that you can see pyramids in is Saqqara. Saqqara may not be as popular as the pyramid complex in Giza, but it certainly is more popular than the pyramids of Dahshur. Unlike Dahshur, Saqqara is a large complex with a multitude of pyramids and temples. It is here that one can trace the entire history as to how the pyramids came into being. One of the most popular attractions in this complex is the Step Pyramid of Saqqara. Unfortunately, unlike some of the other pyramids around, this isn't one that you cannot enter as there is restoration work that is currently in progress. There are however a number of attractions in the complex that will catch your eye instantly. If Saqqara is a day trip from Cairo that you want to consider, you may want to head to the link below to find out more.
RELATED ARTICLES: THE NECROPOLIS OF SAQQARA: Exploring Pyramids And Mastabas!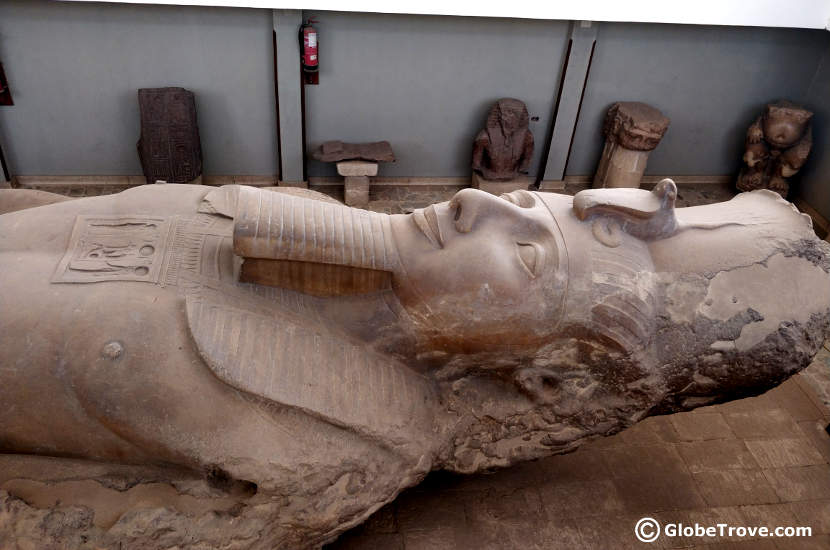 Memphis is a great day trip from Cairo.
When someone talks about walking through Memphis, I think most people's minds immediately head to the city in USA. Ironically, Memphis is actually a really old city that once existed in Egypt. The city of Memphis was once the capital of Menufer and was viewed as a very important city at that time. Today, the ruins can be found close to the modern day Mit Rahina which is approximately 20 kilometres away from the pyramids of Giza. This makes it an excellent place to visit as a day trip from either Cairo or from Giza.
Have you been to Cairo? Which are the places you visited? We would love to hear about your experiences in the comments below.
*This post contains Affiliate links