When people talk about Egypt, they imagine pyramids, desert and probably camels. You think about markets that overwhelm your senses with vibrant colours and smells. All true and that's why I'm taking you to one of my favourite places in Cairo: Khan El- Khalili. For those of you who don't what or where it is, let me explain. Khan El-Khalili is one of the most famous markets in Cairo. If you love shopping for trinkets, then this is probably the place you want to head to.
LOCATION OF KHAN EL-KHALILI MARKET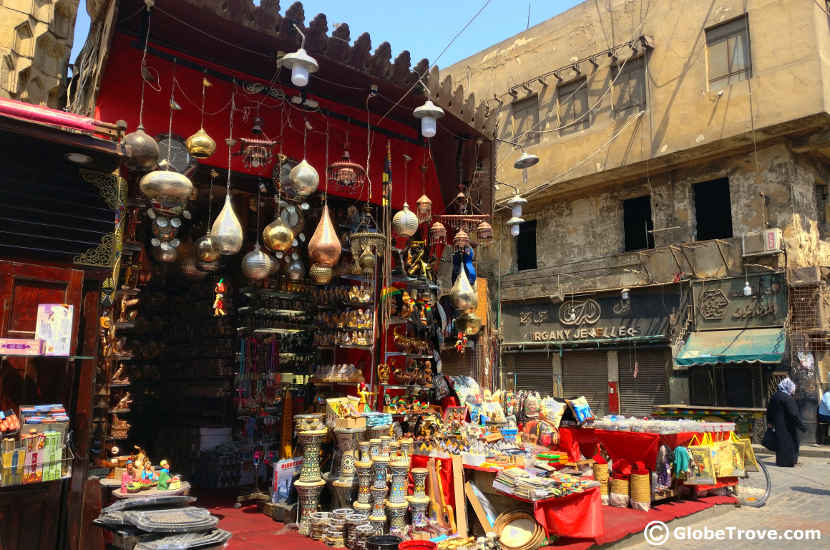 Lamps, trinkets, clothes… Almost anything you could want.
The Khan El- Khalili market isn't very difficult to reach. It is located in Cairo and is a landmark in itself. I would suggest using an Uber to get there. You can get down at the entrance of the market and walk in. The first time I visited the market, I was rather taken aback at the security. Armed guards, metal screeners and barricades probably come quickly into view. Don't hesitate. Just walk right up to them, get screened and walk in.
WHAT TO EXPECT IN KHAN EL-KHALILI MARKET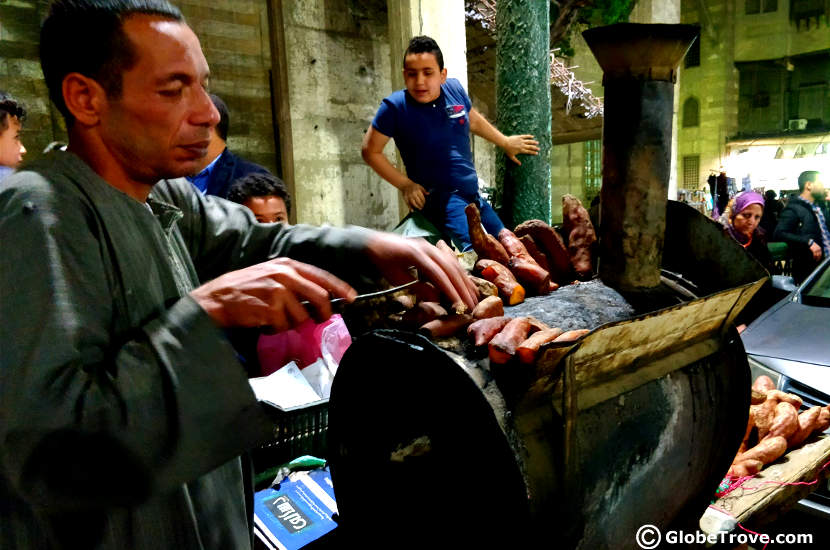 I'm a big fan of the street food!
Let me tell you the truth. When I first set out to visit Khan el-Khalili, I had no idea what to expect. Would the souk be like the ones that I had visited in Dubai? Would it be in a closed setup or would it be like the markets that I am used to in India? The market turned out to have the hustle and bustle of an Indian market but the scenery… That was what made it so different.
One of the first things that you will notice are the large old buildings and the mosques. No matter which way you turn, you will eventually stumble upon them. This makes it a really great place to click those Instagram pics that you've been thinking off.  Lines of shops and streets that get narrower and narrower are also part of the deal. It is said that this souk is one of the best places to buy your souvenirs to take back home. Remember to bargain! I will be talking about the souk etiquette in a bit.
Even though I've been there three times already, I can't really tell you where everything is. One thing I did notice. The streets are segregated. So, once you find the part of the market you are looking for ,your life gets much easier. For example, the moment you get into the cloth section of the market you will find yourself elbow to elbow with other shoppers and a seemingly endless line of cloth shops on either side. The same goes for trinkets, lanterns, metal work etc.
The market is usually less busy in the morning. You will find that the crowds start somewhere midday and then it gets bustling and hot. Evening is a great time to visit because it is cooler and while it is crowded it gives you the feel of what an Egyptian market is like. During Ramadan time, many of the shops close in the evening so people can break their fast. If you visit Cairo during that time you may want to keep it in mind.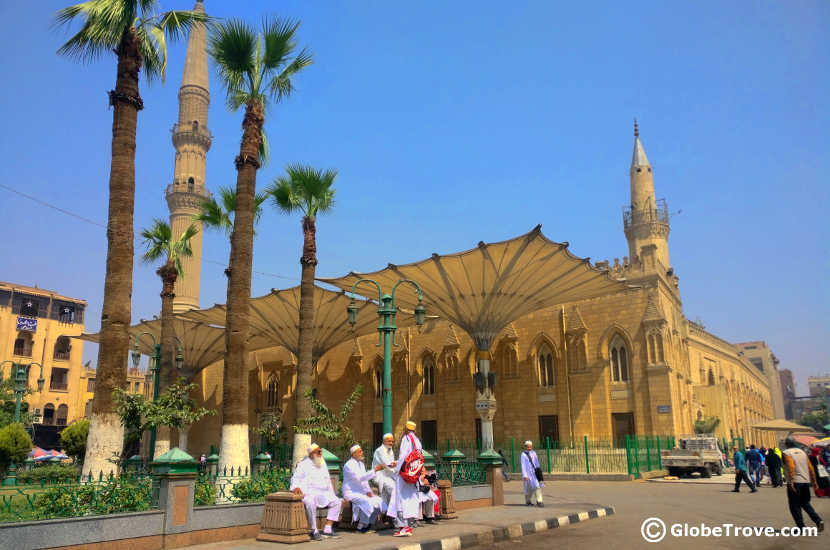 A lazy day outside one of the mosques at Khan el-Khalili market.
The souk has so many mosques in it. They are picturesque, old and make a beautiful background for pictures. You can even enter some of them. I've walked into a couple of them and their artwork and carvings simply wowed me. Women need to cover their head when entering. If you haven't brought a scarf don't worry, they usually will loan you one in the mosque.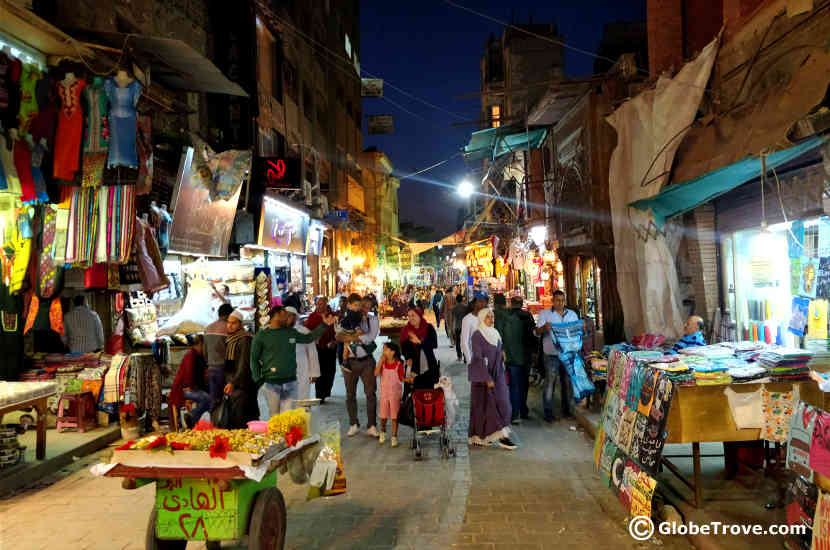 The crowded market at night.
I do not know all the proper souk etiquette but there are few things that I have noticed and few things that I have learned. In an effort to make your visit to the market much easier, I thought it would be wise to share a few tit-bits of information.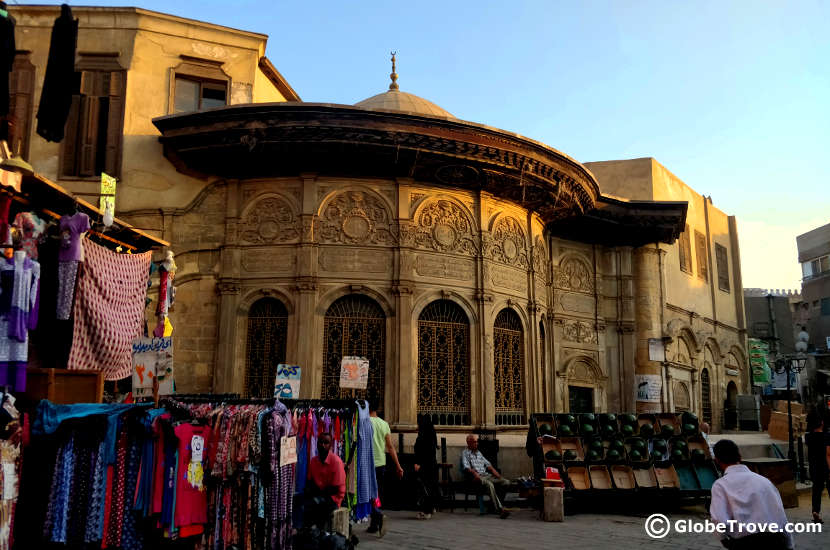 We kept wandering and marveling at the architecture around us.
Everyone loves a bargain and bargaining for your goods is expected in the Khan El-Khalili market. The sellers quote exorbitant (not always) prices and you haggle with them for a better and cheaper deal. The act of bargaining isn't just a part of the deal. It is more of a social interaction. He smiles, you smile. He quotes his price, you quote yours till you reach a price that you both find acceptable. If you don't then you head on your way.
While bargaining is expected, don't bargain without the intent of buying from the vendor. Ask the prices and move on if you must. Bargaining takes time and effort. At the end of the day, if the vendor is busy with you (who isn't really interested) he may miss out on an actual buyer. That being said, you don't have to settle for is price. If it is unacceptable then move on.
Egypt is a Muslim majority country. You don't have to cover up and use a bourka but you should try to keep your shoulders and knees covered. I found loose full-length trousers the most comfortable. As for covering the head. It isn't expected. A lot of tourists don't bother. I do receive a lot of cat calls without it, especially when I travel solo in the city. I decided to use a scarf to cover my head instead. It protects me from the sun and it also helps me slip by slightly unnoticed. For shoes I would suggest comfortable walking shoes. You can walk for hours in the Khan el-Khalili market so you may as well be comfortable.
To me the Khan el-Khalili market was an epic adventure. Its gorgeous architecture and the draw of clicking numerous amazing photographs just kept drawing me back. My fitbit was usually very happy whenever I visited it! In my opinion it is definitely one of those places that you must think of visiting if you are in the area.
What's your favourite part of Khan el-Khalili market in Cairo?
*This post contains Affiliate links