Things have changed a lot over time. We've gone from our weekend travel trips within the country to longer travel trips abroad. We've changed from luxury Emirates flights to cramped Air Asia flights. All this was to save a little money and to travel for a little longer. With the change in our traveling style came a big change in the way we packed our bags. The well worn oversized white Victorinox bag lay gathering dust under the bed. Amazon was consulted and a lighter more durable backpack was ordered. All these preparations were made so that we could pack efficiently and travel light.
Suitcase vs backpack: Our dilemma continues!
P.S: You can check out more details about the Suitcase and the Backpack by clicking on the highlighted links.
There are just so many reasons why it is important to travel light. Reasons that we discovered the hard way! The way you pack will typically define how you travel and vice versa. Luxury holidays mean that you can pack luxuriously. Whereas backpacking holidays mean that you need a backpack . While it looks all cut and dry not everyone is convinced.
In September, Shawn and I set out on our first backpacking trip. We were headed to Indonesia. Unlike most seasoned backpackers we tend to over plan. In some cases it worked to our advantage and in some cases it didn't. Anyway, I'm moving off the topic here. A friend joined us for a week on the first leg of our journey. He carried three bags: One on his back and two in his hands. This was a stark contrast to our method of packing. Shawn had one backpack on his back which housed our clothes and I had a smaller one which held our electronics.
WHY AM I TELLING YOU THIS?
The stark difference between the two different ways of packing helped me analyze first hand which one worked best. Sure, our friend had everything that he wanted in his bag but we didn't run short of anything (except sunscreen which we bought in the shop). It was also far easier for us to manage getting in and out of the ferries in Indonesia. If you've been to Gili Trawangan you will know that you jump into quite a bit of water when you get out.
A NEW IMPROVED BACKPACK
Indonesia certainly told us that we were carrying way too much! Yes! With two backpacks we still thought we were carrying too much. Our trip to Vietnam and Cambodia was closing in and we decided that it was time to order a proper backpack . We narrowed down on a Wildcraft bag that I really liked.
What made the bag different from the hordes that we see in the market? It had a front opening. This meant that you could lay it flat on the ground and opening it like a duffel. Definitely saved us time when unpacking and repacking. The numerous pockets helped us stash everything separately. We no longer had to carry our dirty laundry in the main compartment so that was a definite bonus point.
OUR DESPERATE ATTEMPT TO TRAVEL LIGHT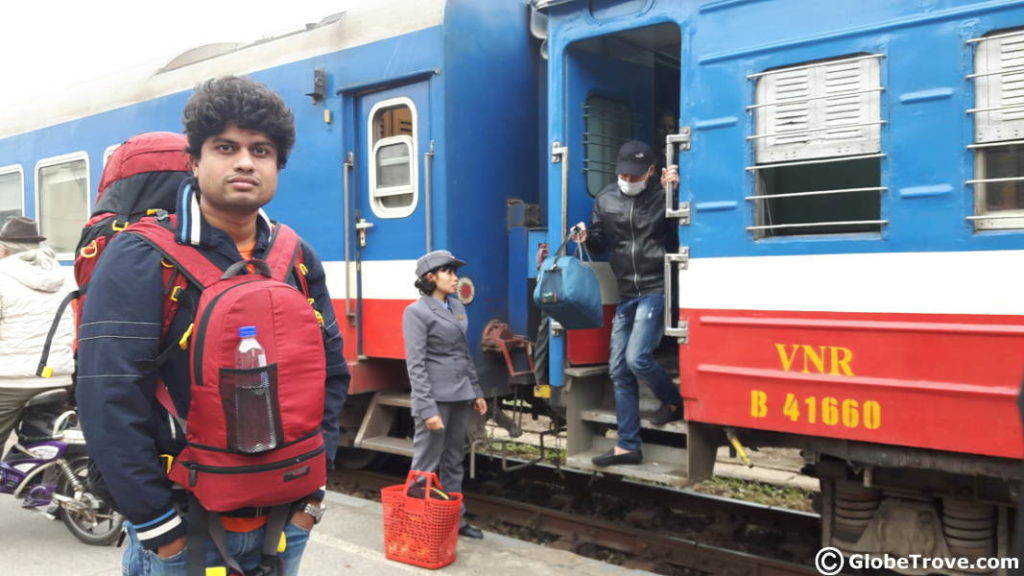 That's me after I ran to catch the train. Not something I could have done with a suitcase!
Getting a backpack was the least of our worries. We needed a way to compress all our stuff into one backpack and it had to be under 20 kgs. Now the weight was not a worry because our combined luggage rarely goes beyond 12 to 15 kgs. Space was a big consideration. We were going to climates that ranged from 4oC in the North to 33oC in the South. That meant that we needed warm clothes as well as loose cotton clothes.
We solved our dilemma quite easily. Each of us packed a jacket but the jacket was tied around our waist. We needed a pair of jeans to help us keep warm. So we wore those. That put two bulky items out of the way. Next the thermals went in. Instead of packing thick layers of clothes a single layer of thermals helped immensely. A few t-shirts each and shorts were the last items of clothing to get into the bag.
DID WE ULTIMATELY SUCCEED IN PACKING LIGHT?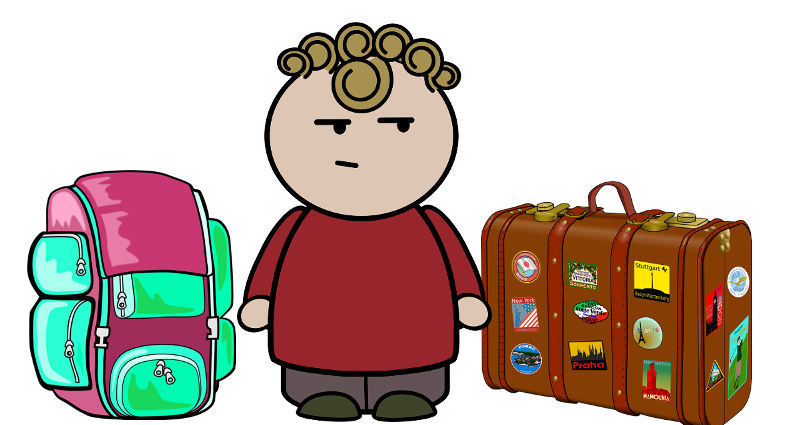 Our efforts at packing light were a definite improvement if not an all out success.
We left with two thirds of our bag full. Unfortunately when we reached Sapa we went on buying spree. We needed warm clothes for our upcoming trip. Since we packed light we managed to fit two fleece jackets and a pair of ski pants in without much trouble. At the end of the trip we could still travel light.
The airport scale measured our luggage at 15 kg! We couldn't have been happier. Some people say that they can never travel light. I say that to travel light you need to make choices. Choose what is important to you and keep the rest at home.
Life is far too short to carry unwanted baggage!
TIPS TO TRAVEL LIGHT
We aren't the absolute best packers but our single large backpack does tend to stun people. I try to explain that the electronics are in my backpack but most people say that it doesn't count. Irrespective if you want to travel light you need to learn the art of packing. Here are a few tips that help us.
TAKE JUST WHAT YOU NEED
It is very tempting to pull out the best things in your wardrobe and pair all sorts of outfits together. I've done that and I've realized that most of the clothes are brought home unused. Instead pick out 4 or 5 tops and choose a variety of colors. It will make your choices seem wider. Two sets of shorts and a pair of jeans are my standard but if you have a pair of cargos, then pack the cargos. They would do well to replace your jeans as they are lighter, they occupy less space and they dry faster.
GET YOUR LAUNDRY DONE ONCE A WEEK
It is wise to accumulate your clothes together and head to a laundry. Most places wash clothes by the kilogram. It isn't that expensive to wash your clothes once a week. It also helps ensure that you don't pack extra and in turn you travel light.
VERSATILITY IS THE KEY
It is important to pick items that are versatile. I absolutely love my crocs for this reason. They are slippers at home, shoes when I hike (Yes! I hike with them!), flippers when I snorkel (definitely protect your feet from sharp rocks and coral.) and to top it all they are comfortable. It doesn't matter that they aren't extremely fashionable. Okay! Shawn calls them clunky but I love them anyway.Take a jacket that can be used for warmth as well as for rain. This means that you are well protected. If you can afford one of those funky Colombia jackets that roll up into a tiny ball then you are good to go. I'm currently saving for one that will take me to minus 20! It's amazing and I'm in love!
SHARE WHAT YOU CAN
This is extremely useful if you are traveling as a couple. There is so much of stuff that Shawn and I share. By this I'm talking about the cosmetics. We use the same shampoo, soap, conditioner and creams. Hey! We aren't picky and if we didn't it would just occupy double the space in our bag.
*This post contains affiliate links.