I was traveling through the Cambodia and after visiting grand Angkor Wat temple complex, it was time for some beach time. We traveled by road for
Sihanoukville from Siem Reap, it was a long and tiring journey. We reached Sihanoukville at late night and crashed in our hotel near
Otres beach, which is little outside the city. Next morning we woke up early and went to the beach for sunrise. The sun rises from the opposite site of the sea so, the view is not really great but the beach was empty and clean. There was a garden area developed next to the beach and trees provided us a place to sit in shade.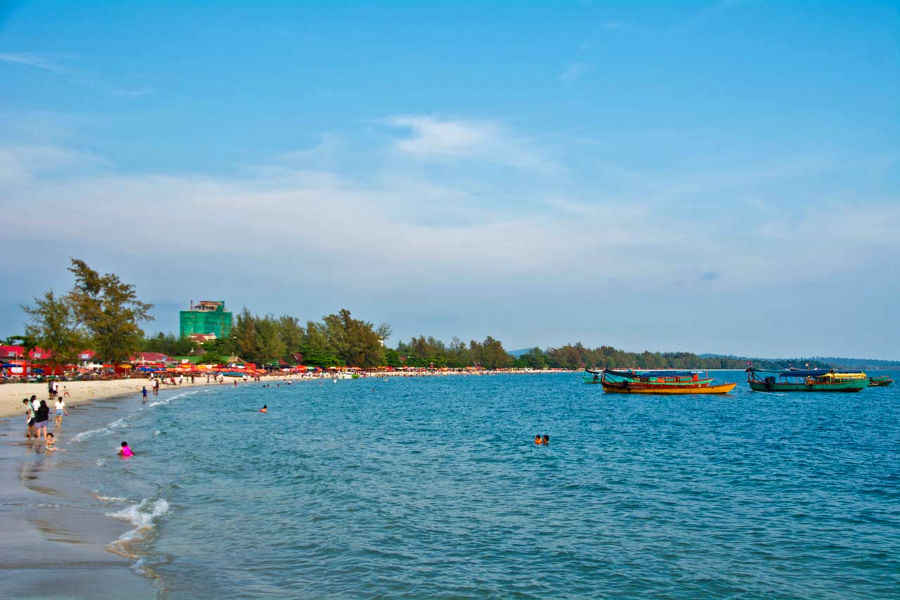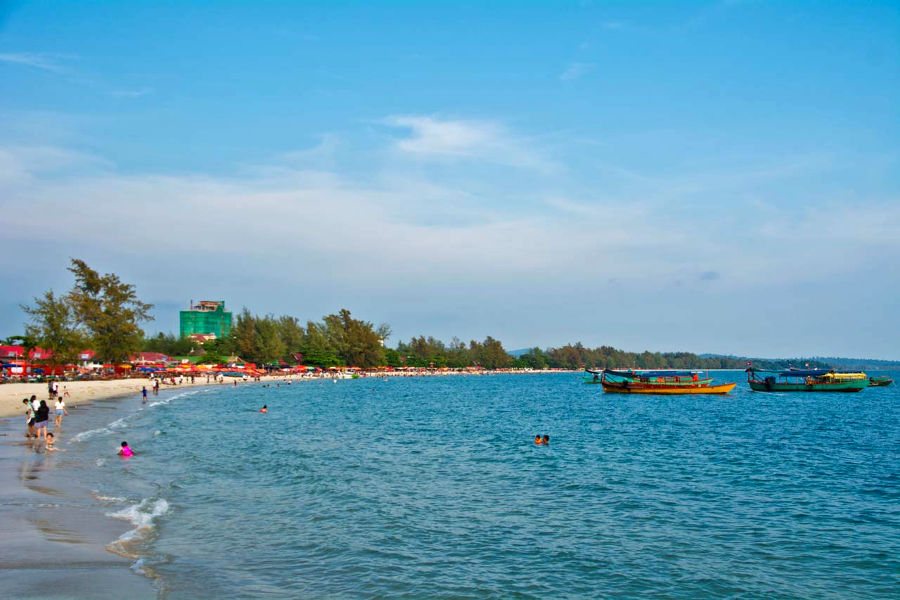 A place of untouched beauty
After coming back to the hotel after sunrise, we decided to go to Serendipity beach for rest of the day. It is one of the most popular beaches in Sihanoukville and there are many shops & shacks. The beach was full of activity, we settled in a restaurant by the beach for lunch and drinks. The food was yummy though a bit expensive than other parts of Cambodia. We spent rest of the day had to relax at the beach doing nothing and it was a welcome respite after a hectic schedule. Later that evening we went to Casino for some entertainment.

Next day we went to Otres beach's market for breakfast and spent a relaxed half a day exploring the market. Later on, in afternoon we went hired a boat for Island tour. We did snorkeling but the water was muddy and we could not see anything but boat tour to the island was good. We decided to spend a relaxing evening and came back to our hotel

While we were coming back from Serendipity beach to Otres beach we saw
Golden Lion Roundabout. It is one of the most iconic landmarks in Sihanoukville and there are some good restaurants & bars around it.
I could not go to Kbal Chhay Waterfall due to lack of time but it is a good place for a day picnic. It is seven kilometers from the center of Sihanoukville. If you have hired a bike then ask direction to go to the waterfall and if not then hire a Tuk-Tuk. It is a perfect place to spend time in untouched natural beauty. We spent two days in Sihanoukville and next day morning we left this relaxed town for our next destination.
There is nothing special about it but if you are interested then buy some souvenirs from gift shops. Some shops sell gems and decorative items or jewelry made from sea shells etc. Beachwear is also available in small shops around beaches.
It is beach town and most of the activities revolve around beaches.

 If want to spend time in quiet then walk towards the far end of Otres beach. If coming from town then cross the market area on the beach, which is closer to the city.


Serendipity beach is most popular in

Sihanoukville and there are many activities.


Take a tour of islands from the jetty at

Sihanoukville, do bargain.
Food at the beach is a bit expensive but view and quality of food make up for it.
Hire a bike/two wheeler to explore Sihanoukville

, it is most convenient and economical way.




Avoid snorkeling and scuba diving, water is not clean and Thailand has better options.

It is better to do kayaking, windsurfing, and kitesurfing though prices are a bit on higher side. Bargain hard to get a good price.

There are some good Casinos in the area for night out.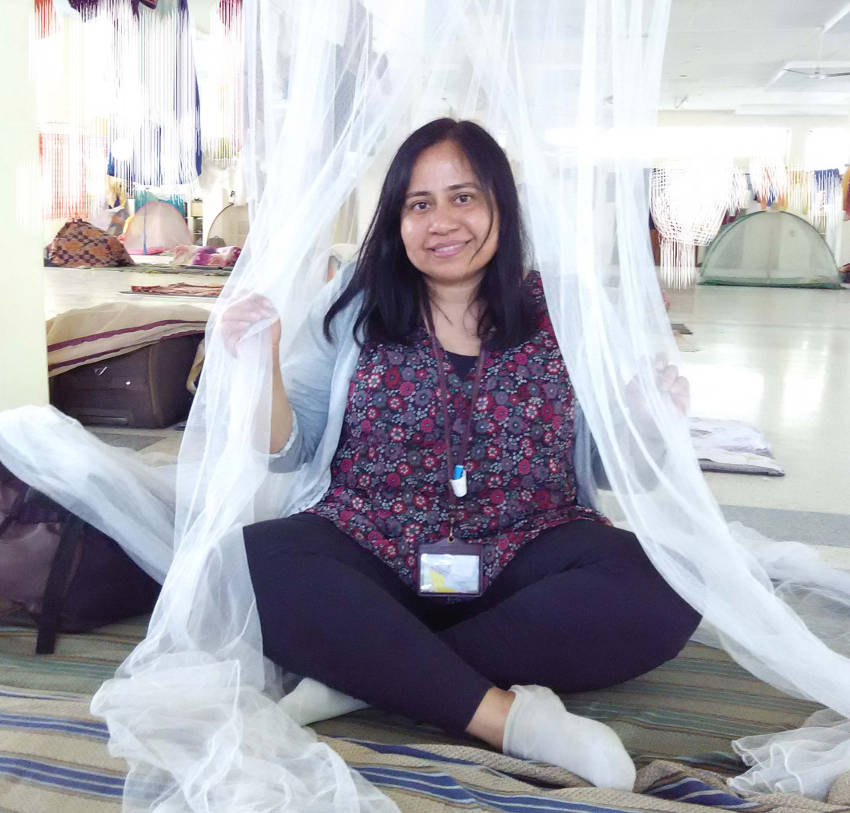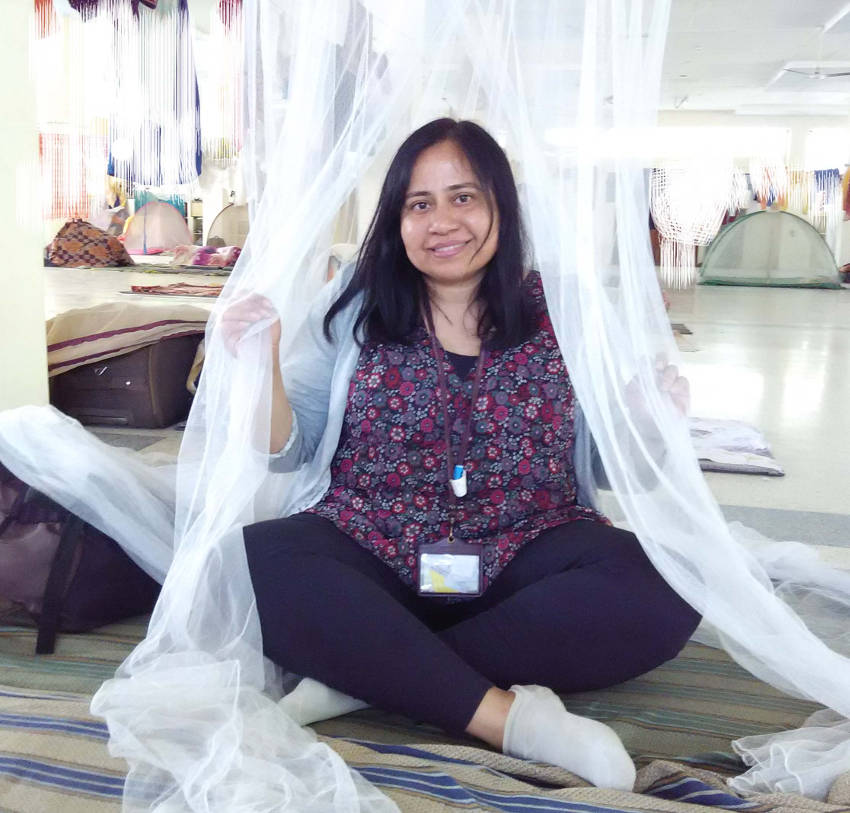 ABOUT THE AUTHOR
Sapna is a travel blogger from India, who in her previous life was working with international fashion brands sourcing from India. Her blog is focused on her travel experiences and how she traveled. She has traveled solo, with friends & family as well as with groups. Sapna likes to see monuments and converse with local people to get the feel of the place. She prefers to go out and sit on the beach or on banks of a river or in some cafe or roam around on streets instead of lazing around in the hotel. Apart from travel, she loves food and while traveling she prefer to eat local food.
She likes to add a lot of pictures in her post because she strongly believes that "A picture is worth a thousand words"
You can get read her work at My Simple Sojourn or get in touch with her on Twitter or Instagram
* This post contains affiliate links.
** Photographs and pictures have been provided by the author for use in this  post and do not belong to Globetrove.