If you think that you are going to see all of India in one holiday you are sorely mistaken. India is vast and it doesn't come as a surprise that Indian holidays barely cover much of the expanse of the country. We've been traveling so much outside the country that we thought it was about time that we planned a few holidays in India. To kick start our Indian holidays we decided to plan a 5 day Tamil Nadu and Pondicherry road trip. Our starting point was Bangalore (in Karnataka) and it was an epic journey from the beginning to the end.
TAMIL NADU AND PONDICHERRY ROAD TRIP DAY 1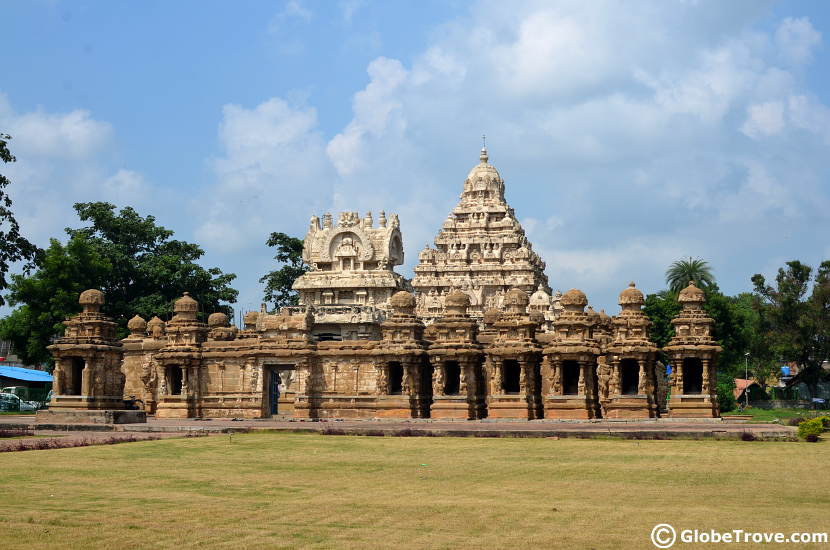 We were supposed to leave Bangalore at 5 am but unfortunately we slept in. By the time we got the car on the road it was 6:30 am. If you live in Bangalore you know why leaving early is imperative. The traffic in the city can get crazy and you want to head out before everyone starts out to office. We caught a bit of traffic on the way but it was not too bad. Thank God! Phew!
PIT STOP 1: IT'S BREAKFAST TIME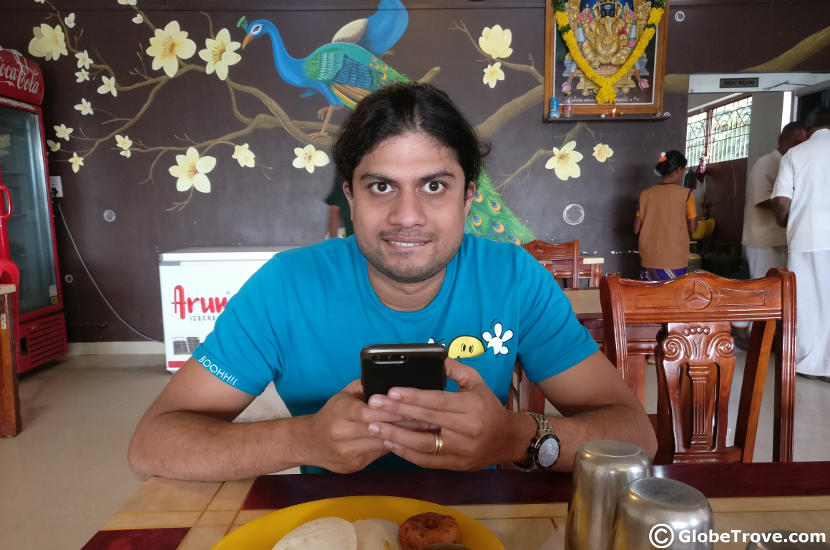 The first meal on our Tamil Nadu And Pondicherry Road Trip
One of our favorite things to do when heading out for a road trip is breakfast. So it goes without saying that our Tamil Nadu and Pondicherry road trip started out with a hearty breakfast the moment we crossed the border between Karnataka and Tamil Nadu. It was our first meal in Tamil Nadu and I loved it immensely. I even tried Pongal for the first time! It was the perfect start to our Indian Holiday.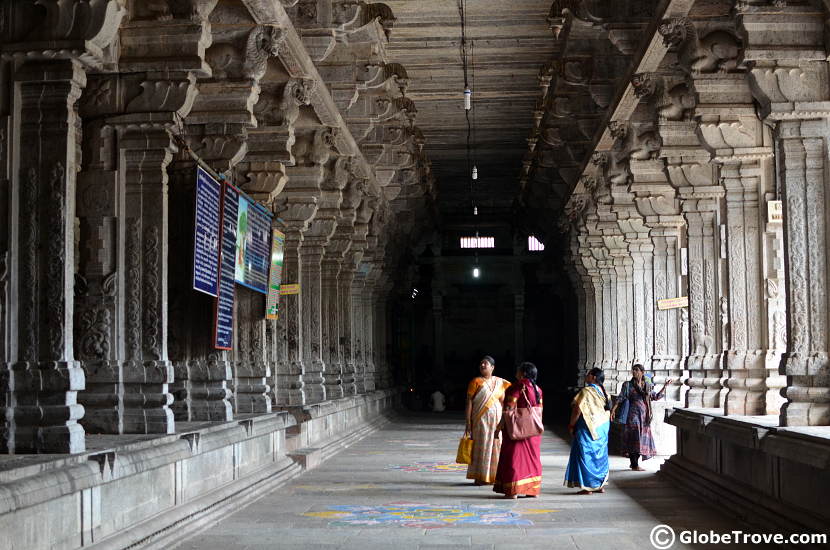 Inside of the temples in Kanchipuram.
Kanchipuram was a great place to make our second pit stop on our Tamil Nadu and Pondicherry road trip. The city is famous for its Kajeevaram sarees and we got to see the actual loom that is used to make them. The city is also a famous temple city in India. In fact it is a popular destination for those Indian holidays where people want to perform a pilgrimage. The number of temples in Kanchipuram really surprised us. We even got a guide who showed us around and told us about the history of the temples in the city.
RELATED ARTICLES:
FINAL DESTINATION: MAHABALIPURAM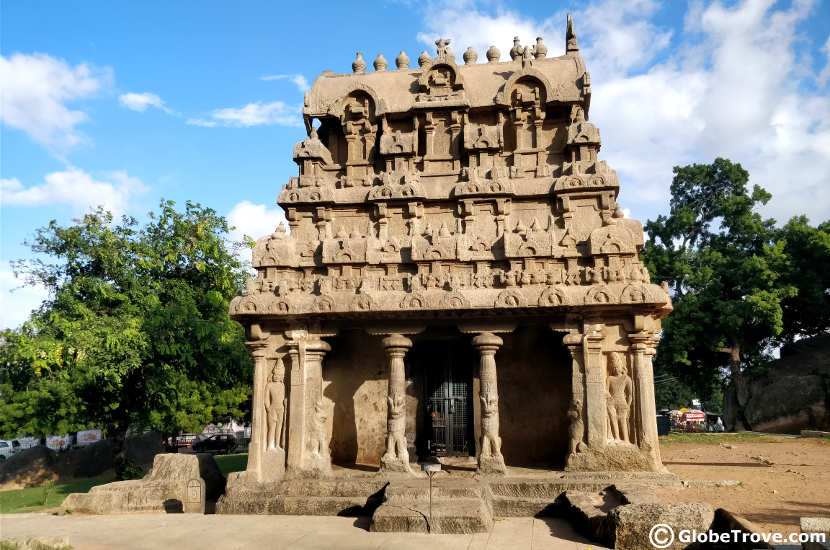 One of the temples in Mahabalipuram.
We reached Mahabalipuram somewhere in the early hours of the evening. Our accommodation, the Rajalakshmi Guesthouse was fairly easy to find. After asking the staff where to park we found a great spot for ourselves. After a quick break to freshen up we headed out to explore the city. A lot of restaurants line the streets of the city. We were at a walking distance away from the beach so there were no guesses about where we spent the evening.
TAMIL NADU AND PONDICHERRY ROAD TRIP DAY 2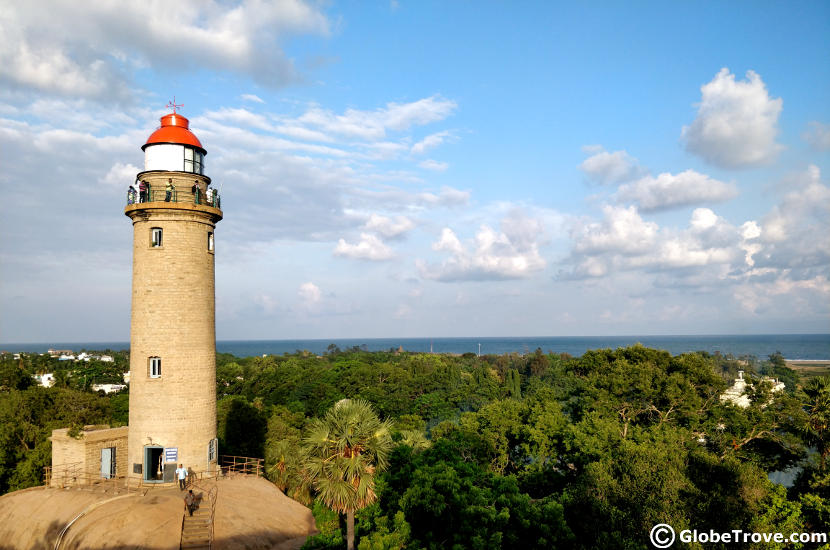 Our second day of our Tamil Nadu and Pondicherry road trip was spent solely in Mahabalipuram. Our day started at 5:30 am with us watching the sunrise. The view was made even better because of the spectacle that the Shore temple made in front of us. It was peaceful and I couldn't help but think that this was what great Indian holidays should be made off.
The rest of the day was spent visiting the museums and other archeological sites in the city. We drove around since I was ill but a lot of it can be done on foot. I want bore you with the details because I have already written a post on it. You can check out the details by clicking on the link below.
RELATED ARTICLES:
TAMIL NADU AND PONDCHERRY ROAD TRIP DAY 3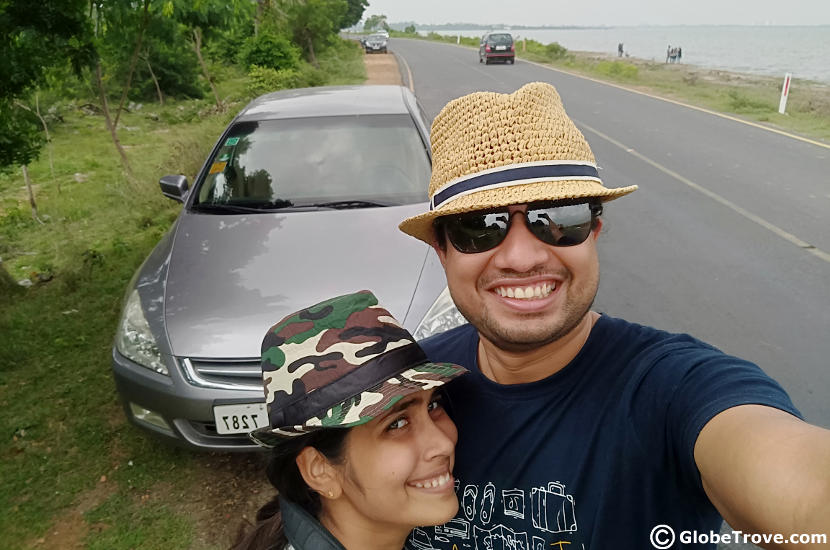 We left Mahabalipuram at around 10 am after a nice heavy breakfast. With just about 100 kilometers to go, we weren't too worried about the time. Our final destination was Pondicherry but we made a couple of interesting pit stops on the way. I think those pit stops added a lot of flavor to the journey. It definitely made me rank this particular trip as one of our best Indian holidays.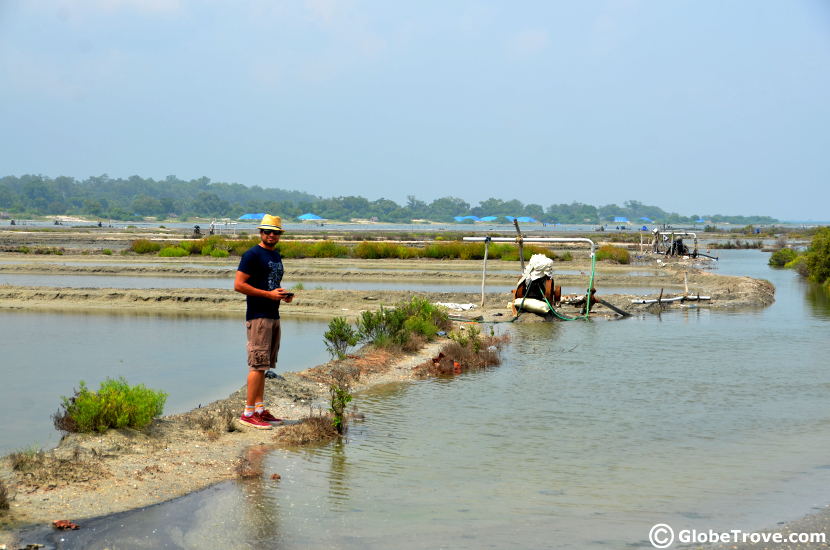 The salt fields in Marakkanam.
Marakkanam was a small town that we passed through as we drove towards Pondicherry. A friend had mentioned that the town was famous for its salt fields. Since we were in the area we had to get down and take a look. It was fun to see the birds swooping around and it was great break too.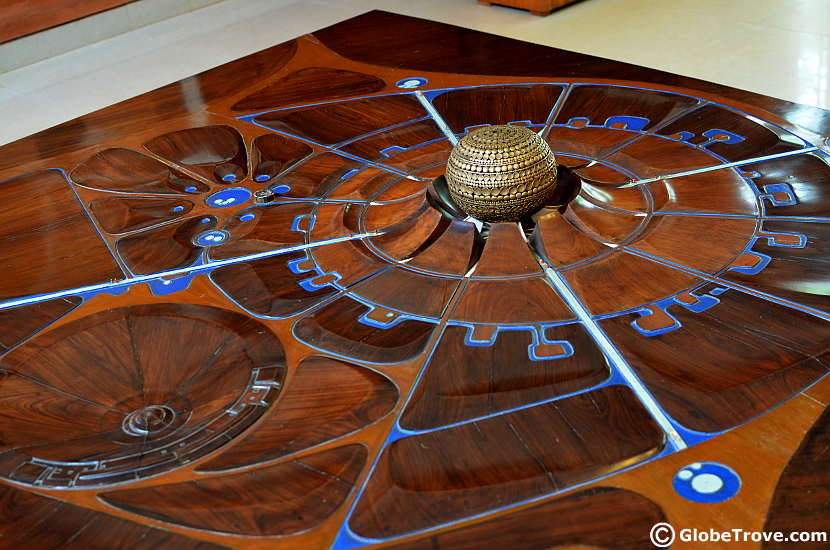 Auroville certainly is a place to calm down and reflect.
Auroville is an almost self sustaining city that is around 15 kilometers away from Pondicherry. It was however directly on the path that we had marked for our Tamil Nadu and Pondicherry road trip. We had plenty of time so we stopped and spent some time in the city. Auroville strongly believes in unity and equality. The people living in this unique city hail from all over the world. After our visit to the Matrimandir we had a spot of lunch before leaving.
RELATED ARTICLES: AUROVILLE: The City Of Dawn
PIT STOP 3: SERENITY BEACH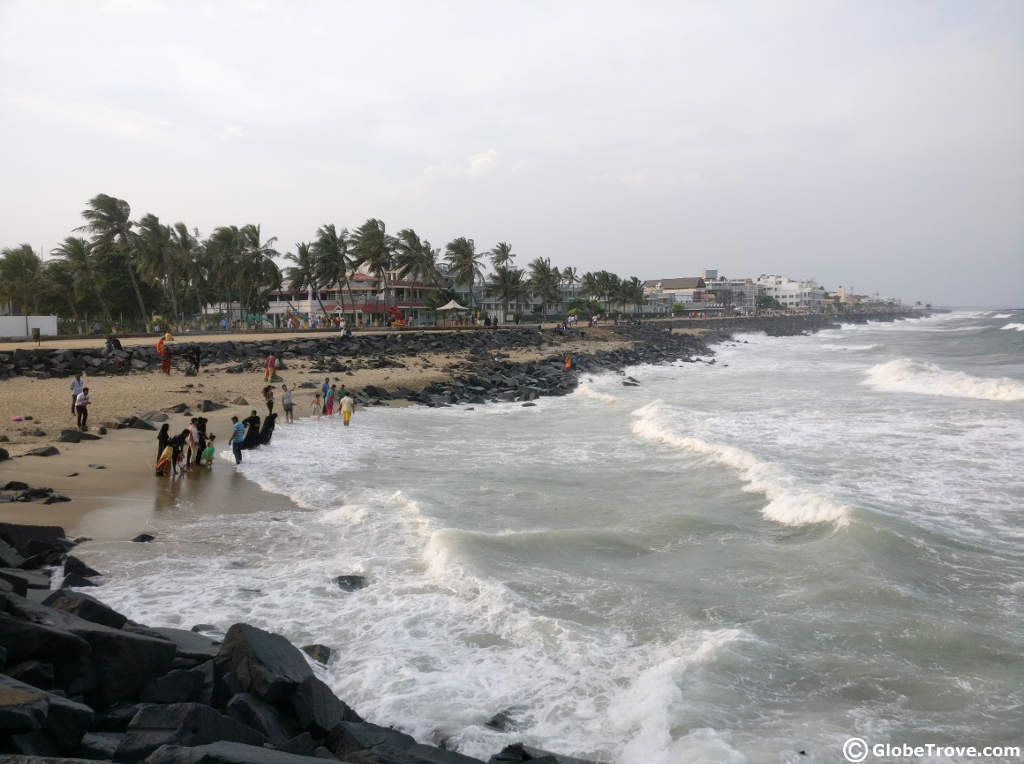 A pit stop at Serenity beach.
Like I said before, the pit stops along the way added a lot of flavor to our Tamil Nadu and Pondicherry road trip. As we were heading towards Pondicherry we noticed Serenity beach on the way. Curious we decided to stop and we were so glad that we did. The beach was not very crowded and relatively clean. We spent a little while listening to the lapping of the waves before we reluctantly decided that it was time to head on our way.
FINAL DESTINATION: PONDICHERRY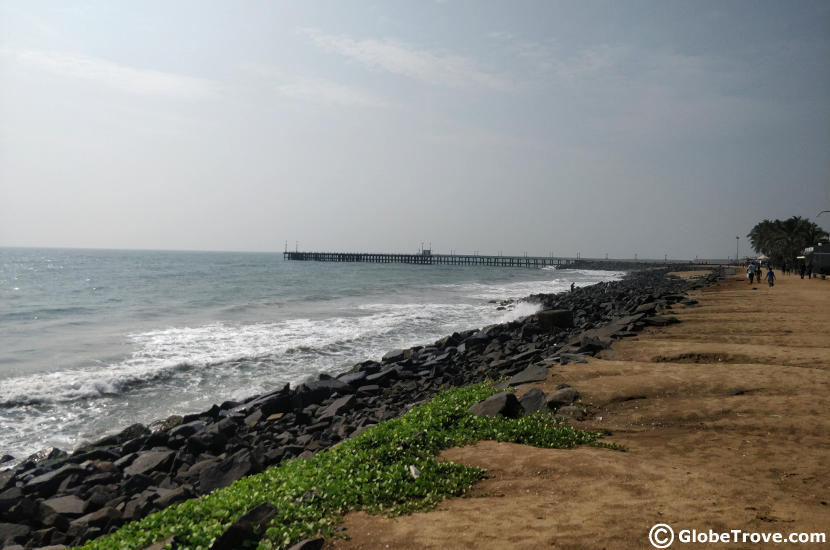 Many people will tell you that chilling at the beach is what Pondicherry is all about. That and good food!
We reached Pondicherry somewhere in the evening. The little French city was relatively quiet when considered to other Indian cities. We found our accommodation at the Aadhaar guest house easily enough. We did have a bit of trouble figuring out the parking space initially but that was soon sorted. The guest house was perfect because it was just what we needed to kick back and relax.
We spent the evening wandering through the streets of Pondicherry and savoring the French deserts. It was an interesting experience. We headed back to the Aadhaar guest house in order to sleep off the journey. We still had one more day to experience Pondicherry.
TAMIL NADU AND PONDICHERRY ROAD TRIP DAY 4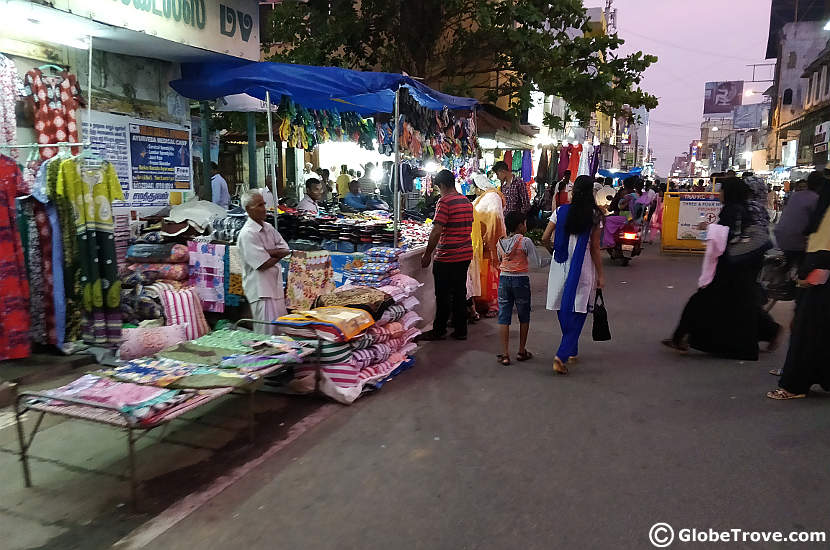 Our day in Pondicherry was pretty relaxed. It was one of those Indian holidays that were dreaming off. We wandered around on the beach, enjoyed snacks at the boutique French cafes and took in the scenery. We even made time to go out for a nice romantic dinner. The peaceful day certainly gave us enough time to recuperate for our trip back to Bangalore the next day.
RELATED ARTICLES:
TAMIL NADU AND PONDICHERRY ROAD TRIP DAY 5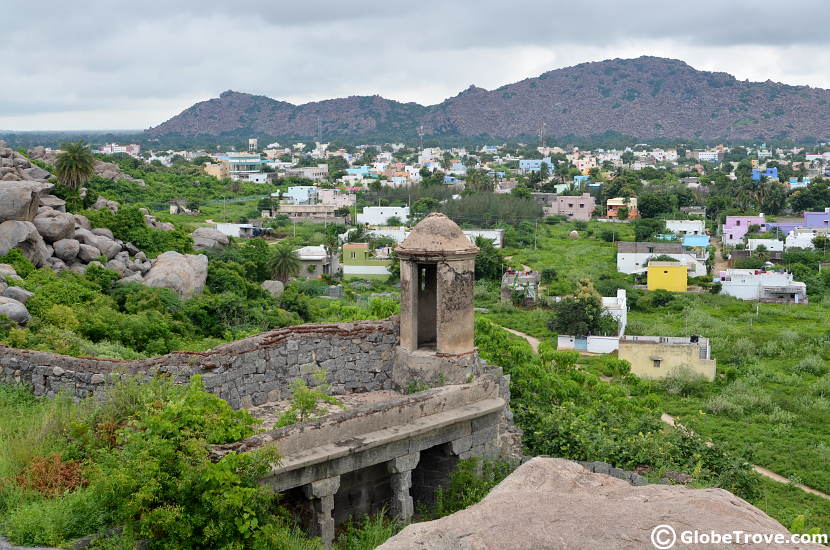 We left Pondicherry at around 7 am. We were a little delayed because we had to clear our bill and then fill up on fuel. Just as we were leaving the heavens also decided to open up and shower us with their choicest blessings. Now one may be tempted to think that this would ruin an Indian holiday but it didn't. We managed to outpace the storm and left it far behind.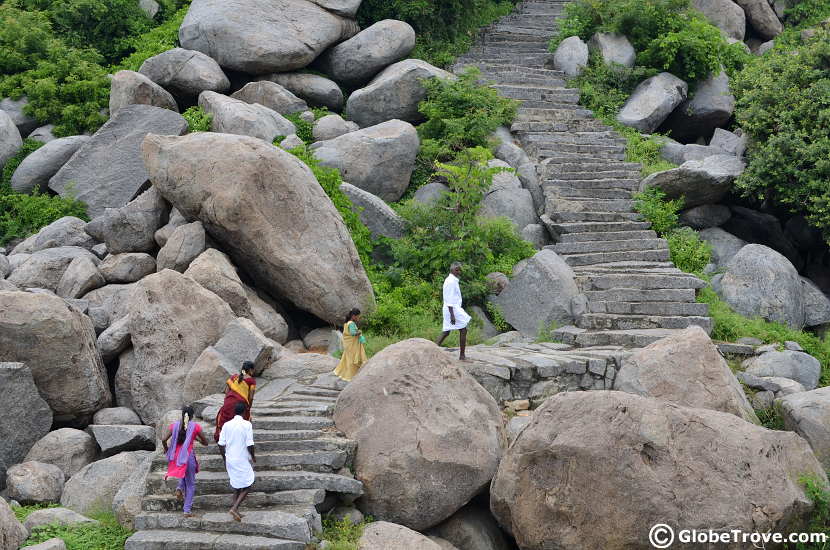 The walk up to a part of the Gingee Fort.
Ever looked at the map and instantly decided that you wanted to stop because something looked exciting? That's exactly what happened to us when we passing by the Gingee fort. We thought we would step out and have a look but we landed up getting so tempted that we climbed up one of the hills that the fort is based out off. Mind you there are three in total!
RELATED ARTICLES: GINGEE FORT: The Troy Of The East
PIT STOP 2: TIRUVANNAMALAI
Meals on the road are always good!
Let me be honest with you. I had never heard of Tiruvannamalai before. Google maps directed us through it on the last day of our Tamil Nadu Pondicherry road trip. We wouldn't have paid much attention to the town if it wasn't for the angry growls that our stomachs were giving. It turned out that Tiruvannamalai is an excellent place for people who love to trek. There is a huge temple (we didn't have time to visit it) that is noteworthy in the center of the city.
We had lunch which was an unlimited vegetarian thali for just Rs. 60/-. That is less than a dollar and boy was it delicious. We also caught a cup of tea and cookies at a German bakery because we just couldn't help ourselves!
While we were pretty comfortable and had already drunk our share of tea, we couldn't resist stopping on the way. There were quaint little stalls along the highway that sold cups of tea and coffee to tired travelers like us. It was just a stop for around 5 minutes but it was fun.
FINAL DESTINATION: BANGALORE
We hit traffic as we entered Bangalore which was rather unfortunate. That meant that getting into the city was tiring but that is something that everyone who lives in Bangalore usually accounts for. It can't be helped unless you are really lucky. That however is life.
Our Tamil Nadu and Pondicherry road trip was definitely ranked as one of our best Indian holidays. We came back home feeling relaxed and happy. Getting out of the city into green lands of the country was definitely blissful. We need to do it more often. Who knows where our next destination will be!
*This post contains Affiliate links