Island hopping from Alona beach is a pretty common activity. Luckily unlike in El Nido, there is just one trip to choose from. With a typhoon on our heels, we had rather bad weather during our days in Bohol so when the sun finally peeked out from behind the clouds, Shawn all but dragged me to the beach for one of those famed island-hopping tours. Luckily we had asked about the prices before so we knew what to expect and we could negotiate when we reached.
People just walk up to you waving their laminated flyers and quoting their price as you walk down the road towards Alona beach. While it initially sounded 300 PHP only we soon realized that all the add-ons brought it up to 1000 PHP/ person. We arrived at around 8:30 am and started negotiating with the first guy to walk up to us. I was surprised when he was happy to go down to 1300 PHP for the two of us. Now mind you, we were late for the dolphin watching which leaves at 7 am so that wasn't part of the package. It may have been the reason why.
THE BOAT FOUR OUR ISLAND HOPPING TOUR FROM ALONA BEACH
We were herded into a boat with two passengers and despite being told that we would leave at 9 am (and the boat being almost full) we had to wait for four late arrivals. That meant that meant that we left an hour later. Normally I wouldn't have minded but there was a distinct gasoline smell that came from the engine of the boat which made us nauseous. When we did get started, the motor roared to life and it was to put it mildly deafening!
THE ISLAND HOPING TOUR FROM ALONA BEACH
The island hopping tour from Alona beach usually includes dolphin watching, snorkelling at two sites off Balicasag Marine sanctuary and it culminates at the Virgin island of Pangalao. Since the dolphin watching was crossed off our list, we headed off to Balicasag Marine sanctuary directly.
AT BALICASAG MARINE SANCTUARY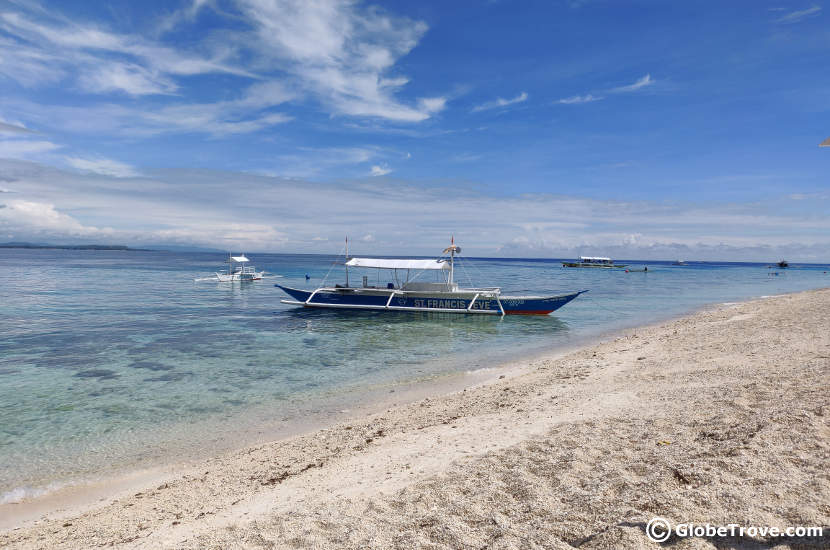 A view of the beach at Balicasag Marine Sanctuary.
As we neared the Balicasag Marine Sanctuary, the captain of our boat cut the engines since the reefs were quite shallow. It was interesting to watch how he and another man guided the boat to shore with a long bamboo pole. The man in front served as is lookout for rocks. Once we had safely landed on Balicasag, we had to hop off and were asked for a piece of paper that gets handed out to the tourists who book the tour. We did not have one since we did not know but they did not create an issue about it. I would however suggest ensuring that you have it since it is a permit to enter the island.
We were hustled to a seating area where we were asked to keep our valuables. From here on forth, you get to carry your waterproof cameras and your snorkelling gear. While we always carry our own snorkelling gear, you don't have to worry since you can rent them from the island too. I think they charge around 150 PHP for the snorkel and the same amount for the fins.
Since I don't swim very well, I carry my own life jacket. Shawn however doesn't need one because he is a fish in water. The guide came up to us and asked us whether we needed to rent a lifejacket and we declined as did everyone else in our group. We were then lead down to a tiny little wooden fishing boat which was a total new experience for us. This time six of us (including the guide hopped in and the guide paddled us out to sea. The boat was surprisingly steady despite the number of us crammed into it.
We had hardly floated off when the guide then announced that everyone had to wear lifejackets. Turns out that it is mandated by the coastguard. So he angled into shore and everyone was provided lifejackets for free this time. He also insisted that everyone had to wear the lifejackets when swimming which id not go down well with many of the swimmers. The story behind the rule however was that an American man who claimed that he was a master diver had gone snorkelling in the reef a couple of months back. He had a heart attack while in the water and died. The coastguard then enforced the rule. The guide did get rather lax later on telling the group that he would throw the lifeguard in if the coastguard came by.
With the lifejackets sorted, everyone was then told to jump off the boat at the first point which was popular for turtles. I have to say that it had the most number of turtles that I have ever seen in a single spot. The guide proceeded to shout and direct everyone around like a herd of cattle. Being rather nervous in water in general it didn't help my nerves because I have been put on a timer in the water so catching up with the stronger swimmers was rather tough. Luckily for me Shawn was around and I don't panic as easily as I used to.
The second snorkelling spot was to see fish. This one was rather easier and calmer because he just allowed us to do our thing which was reassuring. Without the continuous shouting and herding, it was almost peaceful. The fish in the area are plentiful and it was fun swimming with them. After about twenty minutes in the water we were called to the shore where we could choose to buy refreshments and then we were on our way to the Virgin island of Pangalao.
THE VIRGIN ISLAND OF PANGALAO
This pic was taken after we walked out to sea in warm ankle deep water. How cool is that?
The Virgin Island of Pangalao is situated on the Pangalao reef. The island is more of a sandbar and it is really fascinating. The elevated part of the sandbar has a couple of make shift shelters which offer you barbequed meat and seafood. You can even try eating a sea urchin here. I loved the caramelized banana and sweet potato though I have to say that I am partial to the banana. You can't snorkel around this island. You can walk however walk quite far out in just ankle deep water which is more hot than warm on a sunny day. We stopped here for thirty minutes before heading back to shore.
All in all our trip was around 5 hours long. Aside from the herding at the snorkelling point and the deafening sound of the motor of our boat, it was relatively nice. Would I recommend it? I'm a bit conflicted on that one. If you are in the area then take the tour because there isn't much snorkelling of the beach. Come all the way to snorkel there? Maybe not. It is however a better place to dive though or so I have been told.
Have you been on one of the island hopping tours from Alona beach? What was your experience like?
*This post contains Affiliate links