I quite literally dragged Shawn 100+ kilometres across Brunei for a few hours in Bandar Seri Begawan to explore the city. One of the things that we had at the top of our list was Kampong Ayer. The question however was that since we left late and arrived in the evening, would we have enough time? Luckily the answer was yes! I think an hour is enough to explore Kampong Ayer by foot but I will get to that in a bit since there are different ways to explore this tourist attraction. Before we go any further, let's talk a bit about Kampong Ayer and its significance in Brunei's history.
I have to be honest, I had no clue what the significance the water village held and why did it start. A part of me initially believed that it was filled with people from the lower earning classes in Brunei and I couldn't have been more wrong. Kampong Ayer literally translates into 'water village' and it is home to 40 stilt villages that were built on the banks of the Brunei river.
These traditional stilt houses can be viewed from the waterfront of Bandar Seri Begawan. At one point in time, this village was known as the Venice of the East. Today if you looked across and said, it doesn't look like Venice you can't be faulted. I guess, the name came largely due to the waterways between the stilt houses that small local boats ferry you to and fro. It may not have the scenic value of Venice but Kampong Ayer certainly has its own charm.
While I was reading up, I learned that water village was once the defacto capital of Brunei. More than half of the population lived here at one point of time and for centuries (extending a bit into the British colonial rule) this was a way of life. Over time, people moved away from the water village to move to other areas and to land. The area occupied by the villages shrank to what you see today.
GETTING UP CLOSE TO KAMPONG AYER
There are three ways in which you can get up close to Brunei's famous water village. All of them require a boat. What changes however is how much you pay and what kind of an experience you are looking for. I plan on exploring each and every option in as much detail as I can. Since I will be exploring it one way at a time, expect this post to get updated frequently. Anyway, here are the different ways to explore Kampong Ayer.
WALKING THROUGH THE WATER VILLAGE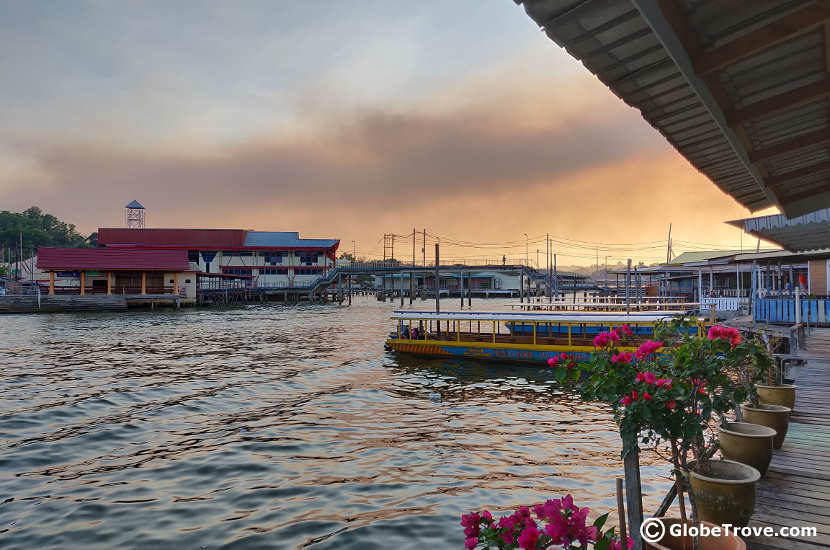 Yes! You can walk through Kampong Ayer and it isn't hard to do it. This is the cheapest way to explore the village and it I find it extremely peaceful. My advice would be to head out late evening or early morning since the hot sun can be a deterrent. The village is connected by wooden and concrete platforms which makes the walk interesting. You can explore for as long as you want unhurried.
You can take one of the local water taxis across. The cost is $1 per person for a short ride. Where do you hail them from? Try the small jetty next to Kaizen on the waterfront. Numerous men on boats will immediately come across to take you to the other side. It's a one minute journey and a bumpy ride so hold on to your hats. Did I mention that it is a load of fun too? The water taxis ply 24 hours a day so you don't have to worry about being on time to head back. Worried about getting back? Just head back to the stop where you were dropped off and one of the taxis will pick you up.
THINGS TO DO WHILE WALKING AROUND KAMPONG AYER
You may be surprised at all the things that are there to do while walking around. The water village is rather self-sufficient. It has its own school, shops, restaurants and mosque. It is an interesting place to stroll in.
Take A Lot Of Photographs
The boardwalk that connects the houses is rather well constructed and it can lead you to a myriad of different types of housing. From the well to do to the lower socioeconomic housing. This forms the backdrop for a lot of gorgeous photographs.
Watch The Local Boats Go By
One of my favourite parts of the whole walk was watching the boats go by. They move so fast and dash in between the pillars supporting the boardwalk at a rather mind boggling pace. I half expected them to just go kaboom at some point of time but the people navigating them are pros.
Catch A Bite To Eat
As you walk through Kampong Ayer you will find small little restaurants with delicious smelling food within. You can stop at one of these for a bite or just have a Kopi or Teh (Coffee or tea) while you watch the world go by you. You will be amazed at how relaxing the place is.
CRUISING AROUND KAMPONG AYER WITH THE LOCAL BOATS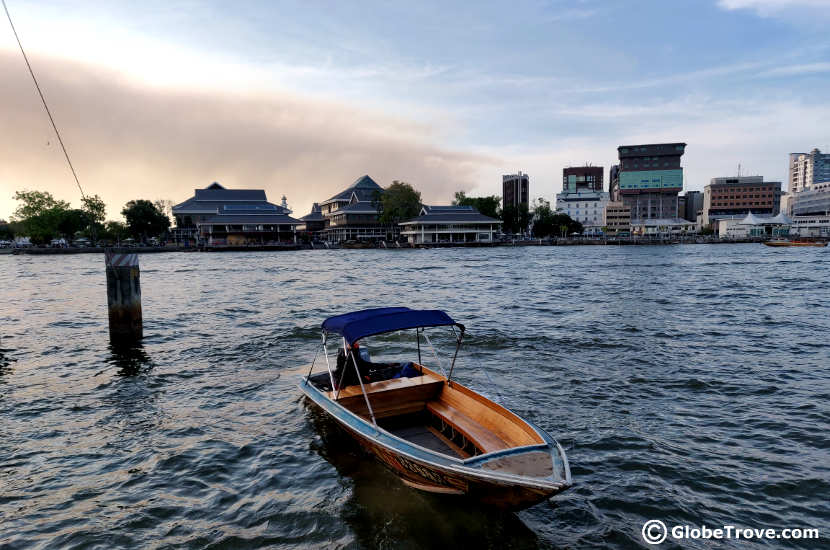 Another way to explore the water village of Brunei is to take a cruise with one of the local boats that also act as a ferry to and fro. For $20 they will take you around and show you the sights. We haven't done this yet but the kind boatman told us that it was an option. At $20 a boat it is a much cheaper option compared to the yachts that ply around and it is a different experience. I will update this section a bit later after we have personally done the tour.
LUXURY CRUISES WITH OR WITHOUT DINNER
Luxury cruises around Kampong Ayer are the more popular way for tourists to explore the water village. From the information that Shawn found out, these cruises take you up and down the river for around 2 hours. You get to see the water village and also get a chance to spot the proboscis monkey as they cruise further down the river. The luxury cruises come with air conditioning which is can be a great reprice if you aren't used to the heat and it is a different experience. Luxury however comes with a cost. At $20 per person for just the cruise and $40 per person with either lunch or dinner.
Should you visit Kampong Ayer? In my opinion you should. How you decide to explore the water village of Brunei however is up to you. Which option would you pick? Let us know in the comments below.
*This post contains Affiliate links