Vietnam is a narrow, but very long strip of land, located on the west coast of the South China Sea. So it is not strange that most of the places of interest are at the sea coast. Many of them are resorts and I found one of them particularly unique. The place was none other than Mui Ne. On our first trip in Vietnam, we put Mui Ne was on our itinerary. We didn't know too much about the place, but we have been informed that it is just one of the resort towns of Vietnam and that it has some nice sand dunes. So we just expected to go there for relax on the beach. However, when we arrived there, it was surprisingly beyond our expectations
Mui Ne consists of two main parts. The eastern part is located in a small peninsula and most of the local residents live there. The western part is the main resort with a lot of hotels, restaurants, shops, bars, as well as travel companies. As a whole you will find that Mui Ne is backpacker oriented. Yes, there are a few more luxury hotels, but most of the rest are cheap and affordable accommodation. In other words, it is a place for adventurers, travelers and sport lovers. Exactly what we most like.
Mui Ne is located in Phan Thiet district, between Ho Chi Min (Saigon), Nha Trang and Dalat. The best way to go there is by Sinh Tourist bus (as we did, from Nha Trang). There are a lot of buses from all directions, usually every 20 mins. However, be ready to buy tickets one day earlier, from some of the travel offices (there are really a lot of travel offices everywhere in Vietnam's tourist destinations), otherwise you have to wait a few hours for the next bus.
We arrived there at night, by a Sinh Tourist bus, from Nha Trang, another city resort in Vietnam, famous mainly with its luxury, island cruises and some historical sites. When we woke up on the next day, we went to the beach. It was January, and there was a strong wind, raising not too high, but furious waves.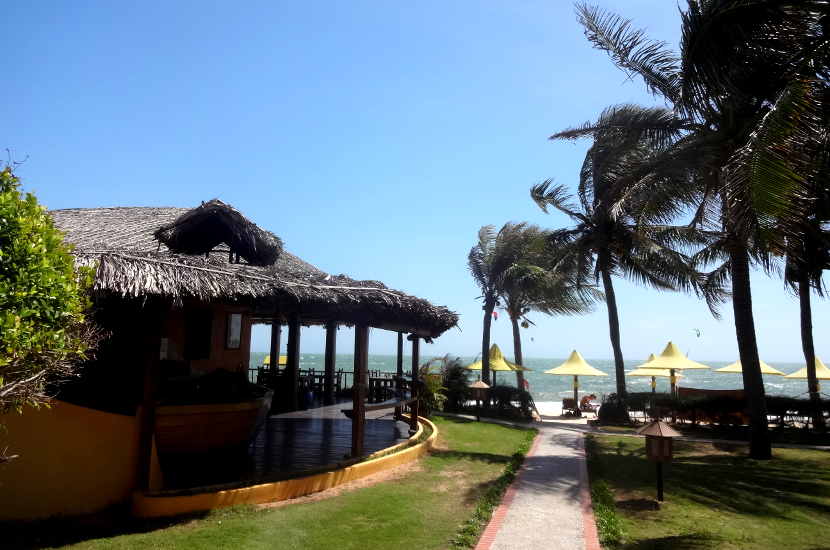 The gorgeous views at one of the accommodations in Mui Ne
Mui Ne has a lot of interesting accommodation. Here are some of the hotels and other places of accommodation that we saw in the time that we stayed there. We have categorized them according to how expensive the accommodation is for you to navigate through them more easily.
Sand dune Hotel: We spent two nights in this hotel. It was not particularly noteworthy that time- since there was a lot repair work going on in some parts. They may have improved it a little. It however is a budget hotel..
Orianna resort: It is a nice bungalow resort right to the beach, so you can feel the sea wind. Again- very cheap.
Thanh Truc: A small budget hotel on the main road in the west part of Mui Ne. It provides a very nice atmosphere with a lot of flowers on its balconies.
Victory Guest House: A very cozy cheap guest house in the same area with friendly staff and clean comfortable rooms.
There are some more expensive hotels between 15 and 40 USD range:
Mui Ne Sunlight Villa, Mui Ne Garden, Mui Ne Hills Bliss hotel, Mui Ne Hills Budget hotel, Xin Chao hotel and many more.
Although Mui Ne is backpacker paradise, there are some luxury accommodations available. Most of them are bungalow complexes very like the mid-range options with more extras addons like spa, fitness centers, golf playgrounds and other facilities. The price is mainly between 60 and 200 USD per night. Some examples are Amaryllis Resort & Spa, Mia Mui Ne Resort, Blue Ocean Resort, Sunny Beach Resort & Spa and more.
There are so many things to do in Mui Ne that it is often hard to choose from the list. Here are a couple of activities that piqued our interest.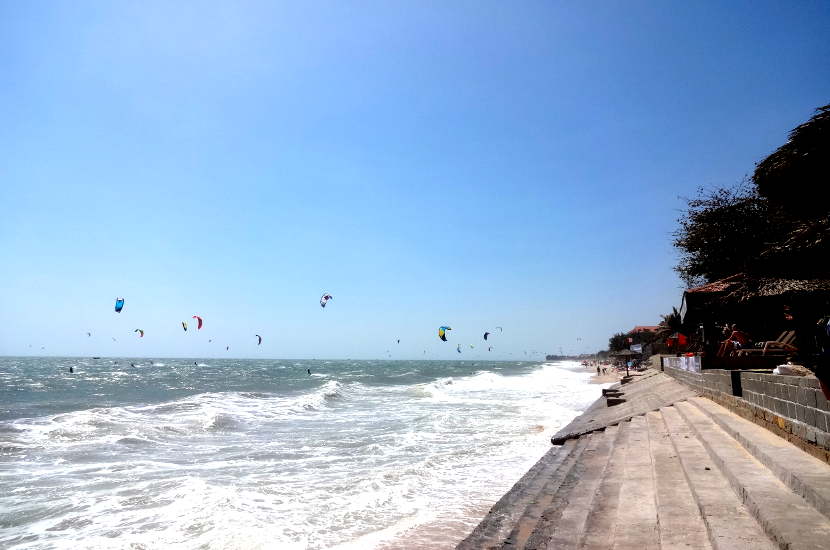 What we saw was a cloud of kites. Most of the visitors in Mui Ne were young people with a sporty image. There were a few kite surfing schools which offered equipment and lessons on the beach but it were not cheap. Renting all equipment was 40 USD for 1 hour, 100 USD for a day, 220 USD for 3 days and 350 USD for one week. A surfing board for 1 hour was 12 USD.
We walked around the beach, and the sand grains blown by the strong wind painfully hit our legs. Anyway it was really beautiful and exciting. It was different than the quiet (sometimes even boring) luxury resorts that we have been before. We passed one of the accommodation complexes with bungalows, built under the waving coconut palms and back to the main road. It was time for the famous sand dunes of Mui Ne.
RENT A MOTORBIKE IN MUI NE
Mui Ne has two main sand dunes areas: the Red Sand Dunes and the White Sand Dunes. The Red Sand Dunes are located on the northeast end of the town, and the White Sand Dunes are further away to the northeast. We hired a motorbike for 5 USD (the cheapest option that we found, usually the price is between 5 and 10 USD for one day). In Vietnam, you can't drive a vehicle without a local driving license, but for motorbikes the rules are not as strict. You will find that they offer motorbikes without a problem.
VISIT BINH THUAN- THE DESERT OF MUI NE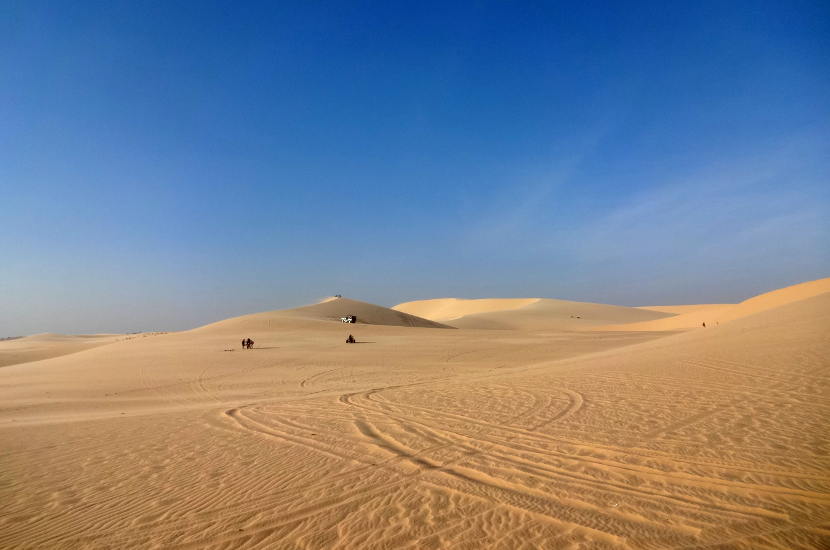 The vast expanse of  the sand dunes.
We left for the White Sand Dunes. But since I really like strong waves, we decided to find a good place, to stop our motorbike and go to swim in the raging sea. Although the waves were quite strong, if we were careful and did not go too far from the shore, it was safe. This is the normal image of Mui Ne during this season- from October-November until April. During the rest of the year the wind is weaker and Mui Ne is not such adventurous, but still interesting.
We proceeded further to the White Sand Dunes. After an hour driving, we arrived and what we saw was more than we expected. The White Sand Dunes of Mui Ne are not just a normal "beach dunes". In fact, it is a real desert! Yes, same as Sahara, Gobi, Karakum or any other large sand deserts on the Earth. But just this desert is a very small in area (not larger than an average big city), compared with its "big brothers". The local name of the White Sand Dunes is Binh Tuan. And it is a real desert, due to the local micro climate of the area- this part of Vietnam is the driest place of the whole Southeast Asia with an annual rainfall less than 100 cm.
We parked our motorbike in the parking lot and payed 20 000 VND entrance fee (for two). Then we entered on the dunes of the desert. The wind was still very strong, raising sand grains and forming the dunes. There were many ATV (for 300 000 VND per hour), wandering the dunes. We walked to the highest dune with the strongest wind. Then we descend to the lowest place between the dunes and were surprised to find no wind there. We enjoyed the dunes of the desert until evening, then headed back to Mui Ne.
In evening the wind gradually decreases, and it becomes calmer. We returned our motorbike to the rental place on the main road and then enjoyed a nice dinner with seafood in an open-air restaurant.
So as I said, the best time to visit Mui Ne is between November and April. This is the time when you can feel the real uniqueness of this place- strong winds, strong waves, with dry and hot air without rain. And generally, there are four best things to do in Mui Ne:
Enjoy the beach, the wind and the waves, by kite surfing, kite boarding, or just playing in the waves.

Visit White Sand Dunes of Binh Thuan desert and feel like in Sahara of Southeast Asia- by ATV or just walk.

Visit Red Sand Dunes of Binh Thuan desert and play sand boarding.

Visit the Fairy Stream- a small canyon, descending from the desert to the west resort part of Mui Ne, with amazing landscape views.
There are also many other things you can do in Mui Ne, like flying by hot air balloon, watching fishing show or just enjoying the night life of the resort. 
We left Mui Ne on the next day and headed to Ho Chi Min (Saigon). Normally I always like heading to new places but Mui Ne really impressed us. It remains a destination which we want to visit again.
Have you been to Mui Ne? What were you favourite things to do in the area? We would love to hear about your experiences in the comments below.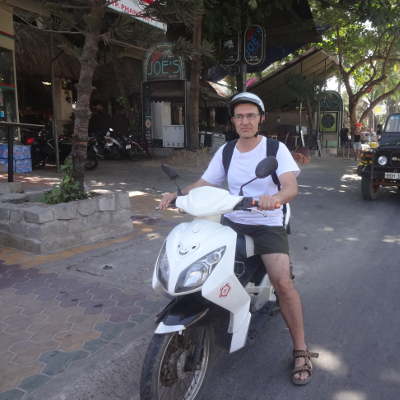 ABOUT THE AUTHOR
Krasen Jelyazkov is a traveler from Bulgaria. He currently lives in China in the Guangdong province with his travel and soul mate Ying Ying and their children. They have explored a lot of destinations. Most of them are off the beaten path and are adventurous rather than standard vacation packages. So far they have been to Bulgaria, China, Israel, Kyrgyzstan, Vietnam and a number of other countries. Guangdong province in China is now a "base camp" for their trips. When they are not traveling, Krasen works an English teacher in a few local Chinese kindergartens. Together with Ying Ying they started their travel blog Journey beyond the Horizon, where they share about their travel experience and a lot of useful information and tips, mainly about the exploratory and geographical side of travel.
*This post contains Affiliate links
** The photographs in this post are not the property of Globetrove and have been provided by the author.