To tell you the truth, we hadn't realized that the bus journey from Tissamaharama to Ella would take just two and a half hours. Needless to say, we were glad because that meant that we would have more time to spend in Ella. Our bus arrived in Ella around 11:30 in the morning and after dumping our bags in our accommodation, we decided to head out. Why waste a day right? Our top pick was the Demodara Nine Arch bridge. Okay… Technically the bridge lies in Demodara and is part of the route that the train takes to Demodara which is how it got its name. That and the nine prominent arches that help form it, but the latter part was rather obvious.
At first, we decided to do head to both Little Adam's peak and the Nine Arch Bridge. Google however warned us that the weather forecast was thunderstorms. Yikes! Since we had the time, we decided to cover just one place that day.
THE DEMODARA NINE ARCH BRIDGE
Not many people will tell you that the Nine Arch bridge near Ella is also called the Bridge in the sky. I found that on Wikipedia when I was trying to figure out why the bridge was so popular. The bridge isn't new. In fact, it dates back to when Sri Lanka was still a colony and it can be seen in the characteristic loopy arches that you often see in European bridges. The bridge seems like a closer trek from Ella, but it is actually located Demodara. The bridge quickly became popular because of its scenic position in the valley and because it is every photographer's dream destination. Which means that it got pretty popular with the Instagram users.
LOCATION OF THE NINE ARCH BRIDGE AND GETTING THERE
A side view of the Nine arch bridge.
It has become a habit to use Google maps for directions whether it is while walking or while driving. It makes navigating so much easier. So, we punched in Nine Arch Bridge into our app and were shown the path. It told us that we were 3.7 kilometres away from the bridge and that it would take us 45 minutes to reach there. Google was probably right but we got side tracked. Once you reach Ella you will understand why. The scenic routes are always more tempting than the faster routes. I have to admit that given a choice I would have done it the same way all over again.
The best time to head to the bridge is either early morning or in the evening. While Ella may be situated at a height compared to the coastal parts of Sri Lanka, you will be surprised to find that the afternoons can get incredibly hot. Which is why you should not forget your bottle of water at home. Alternatively, there are a number of local stores which you can get a drink to refresh yourself with.
The undulating slopes of Ella make the distance to the Nine arch bridge a little harder to cover but the gorgeous views of the tea gardens make the walk so worthwhile. If you punch in the direction in Google it takes you to a small tea shop where you then make your way off the road on a tiny path to reach the train tracks. Shawn however spotted an alternative scenic route (which got us a bit lost) which involved a lot of trekking on paths that aren't really made for tourists. The one good part about this off the grid trek was that it brought us to Asanka Cafee. The café has a gorgeous overhead view of the Nine Arch bridge, it has a clean toilet if you need one and it has shade to sit and chill in. The view that the Asanka Cafee provides may be on your list especially since drones are banned in the area due to the bees. You can get to Asanka Cafee quite easily from the train tracks below and if you aren't in a rush, I highly suggest heading there.
In my opinion knowing the train timings is very important for a multitude of reasons. One of them is safety. If you head to the bridge, you are invariably going to walk on the tracks. You don't want to be on the train tracks immediately before a train arrives. In fact, you don't want to be on the bridge when the train arrives either. Another reason is because the train also forms a part of many great photographs. So, you want to be ready to capture it as it passes. A great way to know when to expect the train is to ask the local vendors around the place. We asked the stall owner at Asanka Cafee and managed to catch two trains while we were there.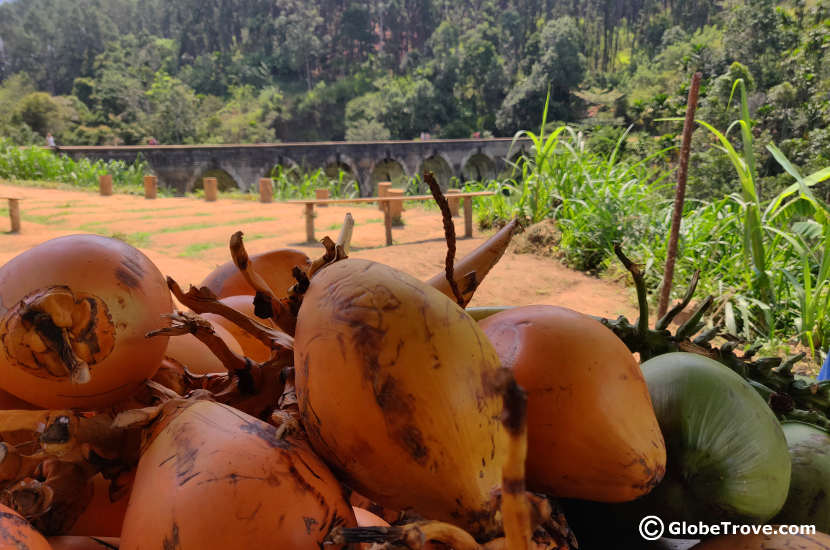 Catch a drink of coconut water at Nine Arch Bridge.
So, what does one do at the bridge? Ironically there isn't much to do at the bridge other than click photographs from different angles. A tunnel through which the train passes makes for a short walk through although there isn't anything to see in it. We sat with some of the locals selling coconuts nearby and drank coconut water. I found that siting at the Asanka Cafee was the best place if you want to avoid the crowds, stay in the shade and enjoy the view.
A lot of people head on from here to little Adam's peak. We however saved that for another day since we had time. Instead we stopped at Ella Flower Garden Resort where we enjoyed a meal and some lovely tea. The best part about the place was the view that came with it. While it was a bit more expensive than many restaurants I highly recommend stopping there on your way back.
All in all, our visit to the Nine Arch Bridge was uneventful and peaceful. We enjoyed looking around and talking to each other as we walked.
Have you been to the Demodara Nine Arch Bridge? What was your experience like? We would love to hear from you in comments below.
*This post contains Affiliate links