Trincomalee was our last stop on the trip and one that was meant to relax the soul. Located on the east coast of Sri Lanka, Trincomalee is famous for its pristine beaches and laid back atmosphere. You probably know that Shawn loves the ocean and snorkelling/diving is something that he tries to indulge in every time he can. So far in our journey we had lugged our snorkelling equipment every where hoping that we would take the plunge, but the opportunity just hadn't arisen. Shawn's luck turned in Trincomalee and boy did he have fun!
Trincomalee is a large city that is situated on the north east coast of Sri Lanka. It doesn't come as a surprise that the city is well connected by land. You can catch a bus from any of the big cities and head out to Trincomalee. We caught a bus to Trincomalee from Dambulla and it was a surprisingly pleasant journey. The Trincomalee bus stand is huge and bustling. It is was the place that we were dropped off and was also the place where we caught our bus from Trincomalee to Colombo on our way back home.
ACCOMMODATION IN TRINCOMALEE
There are numerous places to stay in the city. You can choose to stay near the bay or in the city. We however chose to be a little different because we did not want to spend too much time exploring another city. That was why we headed to the outskirts and stayed next to the beach. Our choice was a place called Natraj hotel that was close to the beach, budget friendly and quaint. We even managed to rent motorbikes from the accommodation itself which was a big bonus.
Click edit button to change this text.
There are different ways in which you can get around the city. There are numerous public buses that ply across different parts of Trincomalee. Tuk tuks are another popular mode of transport and you need to ensure that you bargain before you get into one or at least make sure that they have the meter running. You can also hire a cab to take you everywhere. We chose to rent a motorbike and explore the city. It turned out to be much cheaper and we liked the freedom that it gave us. If you do decide to drive a vehicle in Sri Lanka, I would need to warn you that international driving licenses are not valid in Sri Lanka. You need to apply for a temporary driving permit in Colombo before taking to the roads.
THINGS TO DO IN TRINCOMALEE
While Trincomalee is a bustling city there isn't that much to see or do. In fact, it may just be us but I think that Trincomalee is a great place to head to if you want to get away from the hustle and bustle of life. Don't get me wrong. The city definitely deserves a visit but not because it has ancient ruins or popular landmarks. Rather because it is an amazing place to kick back and relax.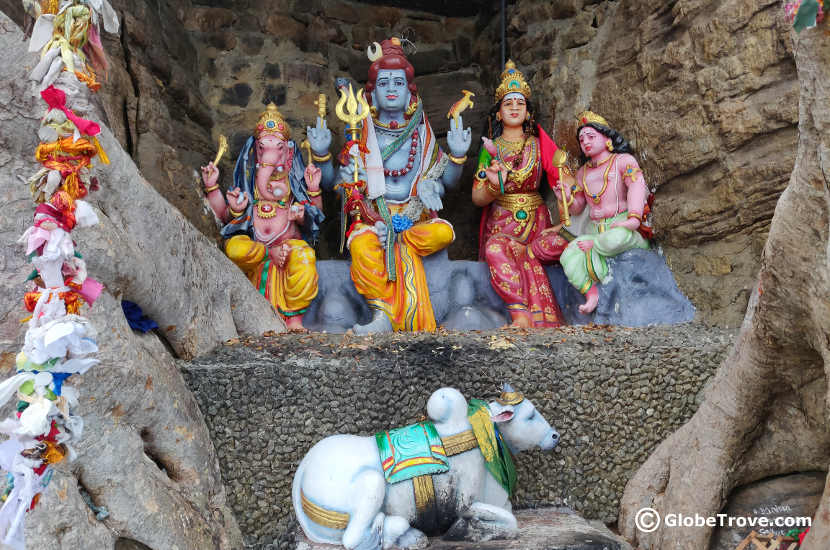 Koneswaram temple is one of the things to do in Trincomalee.
The Koneswaram temple is a small temple situated on top of a cliff face in Trincomalee and is popular because of the tall golden statue that is instantly visible as you approach the temple. The Koneswaram temple is an active religious site which is dedicated to the Hindu God Shiva. When we visited the temple, the golden statue was undergoing a lot of repair work. Our trip however was not all in vain. If you circle around the temple, you will find that there are a number of places where you can get a great view of the waves lapping at the sea below. Colourful idols are placed at different places. The inside of the temple is gorgeous, and the walls are extremely colourful.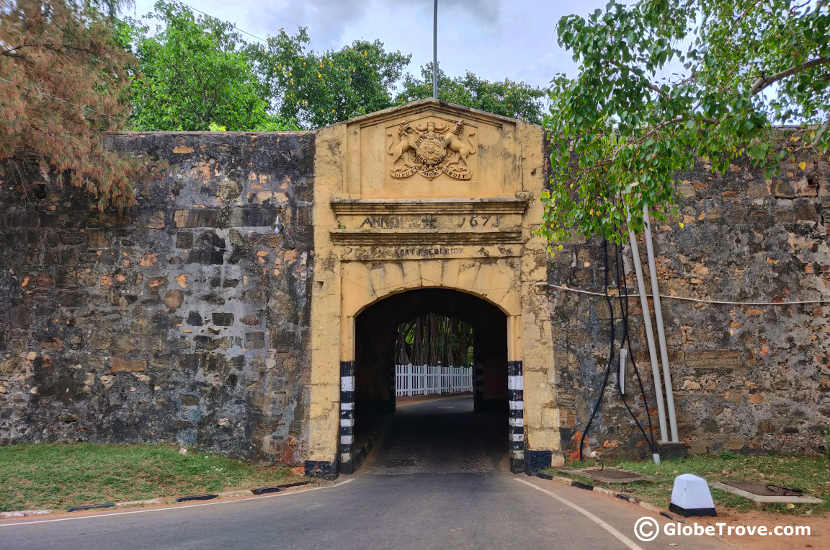 Fort Fredrick was a one of the gorgeous things to do in Trincomalee.
In order to reach Koneswaram temple, one has to enter Fort Fredrick. This fort is also known as Trincomalee fort and was built when the Portuguese occupied this section of the country. Unlike Galle fort there really isn't much to see. You can catch a glimpse of the fort wall when you enter. As you walk up to the temple, you will catch sight of deer and even peacocks. I found the walk up rather peaceful and would recommend it if you are heading that way but only if you are in the area because there really isn't much to see. It is just a pleasant walk.
Once you are done wandering around the fort and the temple, make sure you save a few minutes to stop at the Koneswaram beach. This public beach was rather gorgeous and I was surprised by how well kept it was considering that it was so close to the city. A lovely pavement borders this beach and you can even catch an ice cream from a vendor. Just remember to put your trash in the bin. I saw some tourists not doing that and it infuriated me. Respect for your surroundings is something that we all need to learn.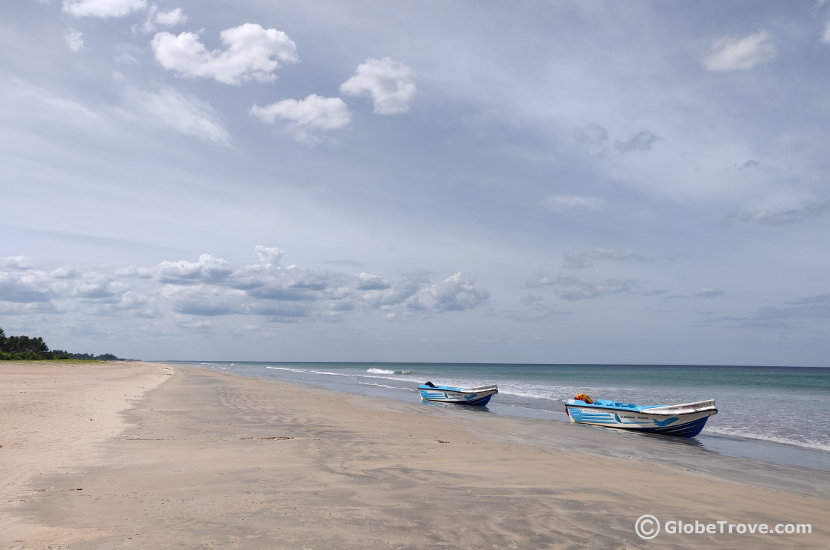 Nilaveli beach is one of the gorgeous places to visit in Trincomalee
A little away from the city, lies a gorgeous stretch of sand called Nilaveli beach. While the accommodation on this stretch of land may be a bit more expensive that expected, it is a really lovely place to relax and enjoy the sea. Just because it can get costly to stay there doesn't mean that you can't enjoy the beach as it is open to public and easy to reach from the city. It does get very hot in the afternoon, so I would suggest visiting either in the morning or evening when the sun isn't quite so bright.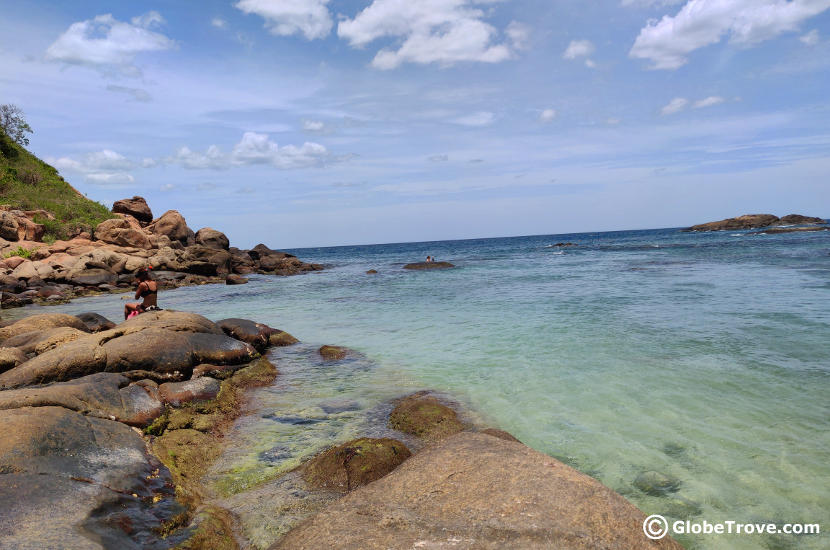 Pigeon island is one of the things to do in Trincomalee
I think that one of the best things to do in Trincomalee is to visit Pigeon island national park. Located off the eastern coast of the country, there are regular boats that can take you to this island. It is gorgeous place to snorkel and enjoy the marine life. You do need to pay for a permit to visit the island and then hire a boat to get there but it is definitely worth it. Keep a watch on your valuables as we were robbed when we were there.
RELATED ARTICLES: Pigeon Island National Park And The Kind Thief
There are a number of things to do in Trincomalee but we quickly realized that the best part of this little city was to chill and enjoy the beach and that was just what we did. It refreshed us and made the end of our time in Sri Lanka rather memorable.
Have you been to Trincomalee? We would love to hear about your experience in the comments below.
*This post contains Affiliate links