Some of Shawn's colleagues in Brunei love their treks and he often gets invited to join them. One particular one that he did not get to join on since he was sick was the Nine hills trek in Bukit Shahbandar Forest Recreation park. That is how we heard of the trek in the first place. Somehow it stuck in our head and we decided that we wanted to check it out. After all, there were easy treks and difficult ones, so we could pick what worked for us. What made the whole trek more fun was that our friend Rohit joined us.
BUKIT SHAHBANDAR RECREATION PARK
Located right across the Empire hotel in Jerudong, the Bukit Shahbandar Recreation park is closer to Bandar than it is to Seria or Kuala Belait. That means that if you want to head out for this trek, you have to rive 100+ kilometres to reach the park first. It is a long drive but if you love nature, it is definitely worth it in the end.
GETTING TO BUKIT SHAHBANDAR RECREATION PARK FROM KUALA BELAIT
We started out our journey from Kuala Belait at 7 am and it was fairly easy to find the park on the map. You probably won't get much information if you search for 9 hills trek. If you are confused, just look for Bukit Shahbandar Recreation park which is exactly opposite the famous Empire hotel in Jerudong. That is where you want to head to. We however took a small diversion on the way for breakfast. At the end of the trek we were really glad that we had stopped to fill our stomachs.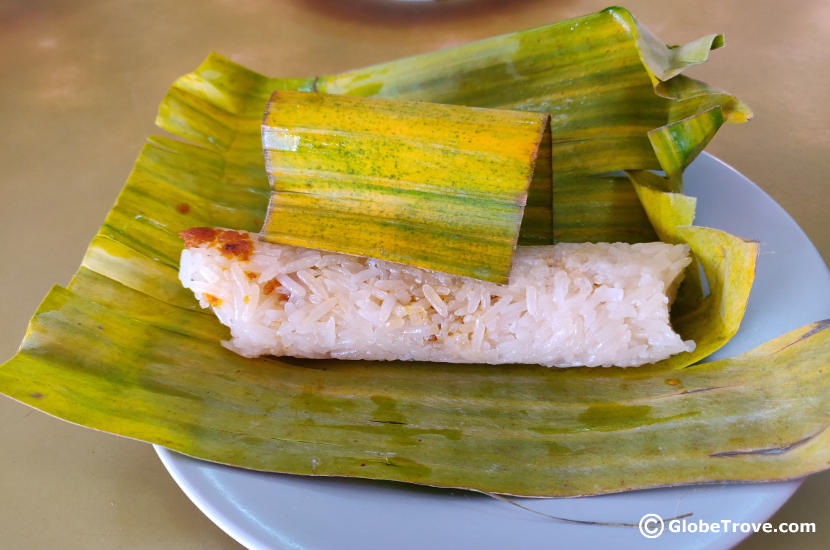 We stopped at a restaurant called Mei Fang in Tutong for breakfast. I had read up about how they are famous for one of the local Bruneian delicacies called panggang, a roll of rice stuffed with either shrimp or beef and steamed. Only in this case, it is grilled. I have to say that we were not disappointed. The restaurant opens as early as 6 am and closes at 6 pm. If you are going for the panggang however make sure you reach before 8:30 am or they sell out. They do have other breakfast options too.
THE DIFFERENT PARTS OF BUKIT SHAHBANDAR FOREST RECREATION PARK
The Bukit Shahbandar Forest recreation park is famous for its trails. There are three trails in the park: 9 hills, 6 hills and 3 hills. In addition to this it also has a children's play area which is very nicely done up. One thing that I noticed and appreciated was that the toilets were maintained and decent. Once you are done with the trail, there is a quaint little shop where you can catch a bite to eat.
TIPS THAT YOU SHOULD KNOW BEFORE STARTING THE 9 HILLS TREK
Before we start talking about the trek, there is a bit of cautionary information that I really need to give you. So just glance through the points below.
Take a photograph of the map before you start
The map isn't to scale but it will definitely help you on the trail. The distances on the map aren't very accurate either. They are more accurate at the start. As you head past the first six hills things start becoming tedious.
Let someone know that you are going on the trek
A lot of people get lost on the trek. Let someone know that you are embarking on one of the treks in Bukit Shahbandar Forest Recreation Park so that in case something does go wrong, they will send a search party to find you. Also remember that mobile connectivity isn't always available in the forest.
Look at the markings on the trees
When you think you are lost or unsure of the path to take look at the markings on the trees. They are usually marked with red or yellow paint. It helps you know which part of the trail you are on or whether you have gone off it entirely.
Check the weather
You do not want to be stuck on the nine hills trek in the middle of a rain storm. There are a number of streams that will probably widen, and you have to cross them. In addition to this, the paths will get mucky and there is little shelter on the last three hills. So do yourself a favour and check the weather before you head out.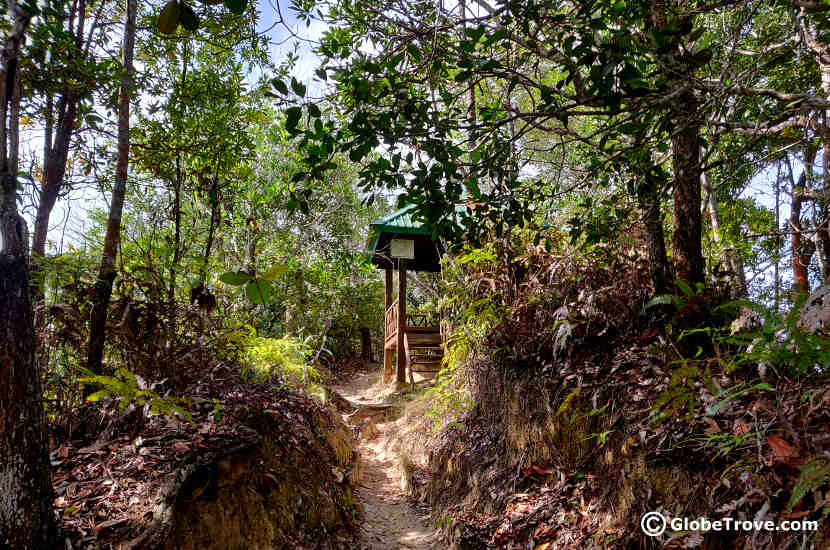 A glimpse of the trail on the 9 hills trek and the Pondok in the distance.
The Nine hills trek in Bukit Shahbandar Forest Recreation Park can be broken down into either the 3 hills trek or the 6 hills trek. It isn't a difficult trek but it does require a good deal of endurance to get through it. I managed to do it while pregnant, but I had to stop a number of times to rest on the way. Luckily we were in no hurry since we started early in the morning. The sea breeze also helped us keep cool.
For most of the trail, 'Pondoks' or 'shelters' would tell us which hill we had reached. Things however changed after Pondok 6. This is where the last three hills began. Remember how I mentioned that the map isn't to scale? This is where you will find out. The last three hills are the most challenging not just because you are probably already tired by this point but because in some places the trail is overgrown and in others you have to climb a bit of rocky places. We even had to cross streams by walking across strategically placed logs.
We found ourselves sitting and listening to the sounds of the forest, spotted a lot of mushrooms, vines, some interesting trees and even a snake that really spooked us because we did not know he was bathing in the sun. Poor guy was as scared as we were startled.
Once we finished our trek we headed to the little restaurant/stall at the parking lot. Nothing feels better than a tender coconut after exercise. At B$2 for a ginormous coconut, we found ourselves stuffed and happy!
WHAT TO CARRY AND DO ON THE 9 HILLS TREK
I'm talking about the 9 hills trek specifically because that was the one that we embarked on. There are two other treks that are popular and easier, those are the 6 hills trek and the 3 hills trek. Irrespective which trek you set out on, these tips on what to carry and are applicable. So do glance through them.
Make sure that you have a good pair of shoes. While the first part of the trail is paved, some parts are not and it can get a bit slippery especially if it has rained or is raining. A good pair of shoes will also keep the leaches out. We didn't encounter any, but the ground was dry when we did the trek.
I usually would not be a person to carry mosquito repellent but I had heard about the mosquitoes and how they descend on trekkers. Luckily Rohit carried some with him and we had it in our backpack. It took all of ten seconds from the time we stepped out of the parking and into the forest before we were scratching our hands where we had been bitten.
The trek is long and Brunei enjoys a nice hot tropical climate. It is easy to get dehydrated quickly. Make sure that you carry a lot of water. We carried a two litre bottle and it wasn't enough for the three of us.
How long the trek is will probably depend on your level of fitness. We started off at 9:30 am and finished only at 2. That was largely because I had to keep stopping and once during the way my sugar dropped quite low. Luckily, I carry sugar swatches just for those kind of emergencies. I would suggest carrying a few snacks.
Like I said before and I would like to emphasize again, the trek is beautiful. Just make sure you know how fit you are chose one that suits you best. I personally enjoyed every moment of it and if I have time I will definitely do it again!
Have you trekked in Bukit Shahbandar Forest Recreation Park? Which trek did you take? Did you enjoy it?
*This post contains Affiliate links