Buddha Tooth Relic Temple and Museum is one of the most beautiful places that I stepped into in Singapore's Chinatown. From the outside of the Buddha Tooth Relic Museum doesn't look like much. It's a tall building painted in red and white with gorgeous roof tops. The thing is that once you get into the building, it knocks your socks out. The interiors are just gorgeous! Unlike many of the other temples in the Buddha Tooth Relic Temple and Museum is relatively new. It was built in 2007 and yet the interiors and exhibits tell a story of Buddhist culture that goes back hundreds of years.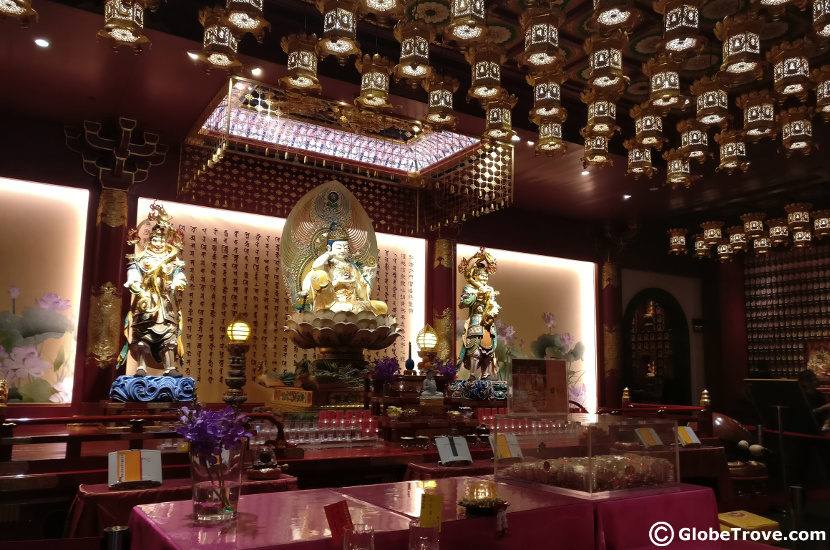 A glimpse of the Kulikah.
I don't know much Buddhist culture but as I stepped through the doors of the Buddha Tooth Relic Temple Museum, I was determined to learn a bit about it. One of the displays was the Kuliah. The majestic naga that you see coiling around the sword of Kuliah is the manifestation of Acalanatha. Acalanatha is one of the five Vidyaraja who is the Wisdom King of Esoteric Buddhism. In Sanskrit Acala means unmovable and steadfast in his faith in the Dharma. Kulikah is flanked on either side by his two child attendants. The attendant on the left is Kimara. He stands with his hands closed and holds a single pronged pestle in his hands. Citaka stands on Acalanatha's right. He holds a vajra staff and is dressed in the same gorgeous robes that Kimara has on.
BUDDHA MAITREYA – THE FUTURE BUDDHA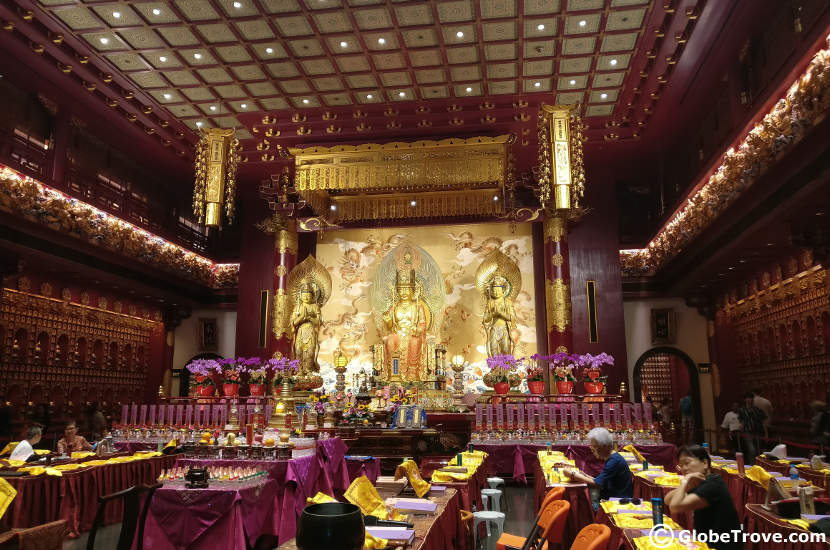 One of the main attraction of the Buddha Tooth Relic Temple and Museum is the Hundred Dragon hall. No kidding… The hall quite literally has a hundred dragons and if you don't know where they are, look up. The circle the hall on all the walls. In the centre of the hundred-dragon hall is the Maitreya also known as the future Buddha. The Maitreya is portrayed in a sitting position on the Sumeru throne.
THE PERSONAL GUARDIAN DEITIES BASED ON THE ZODIAC SIGN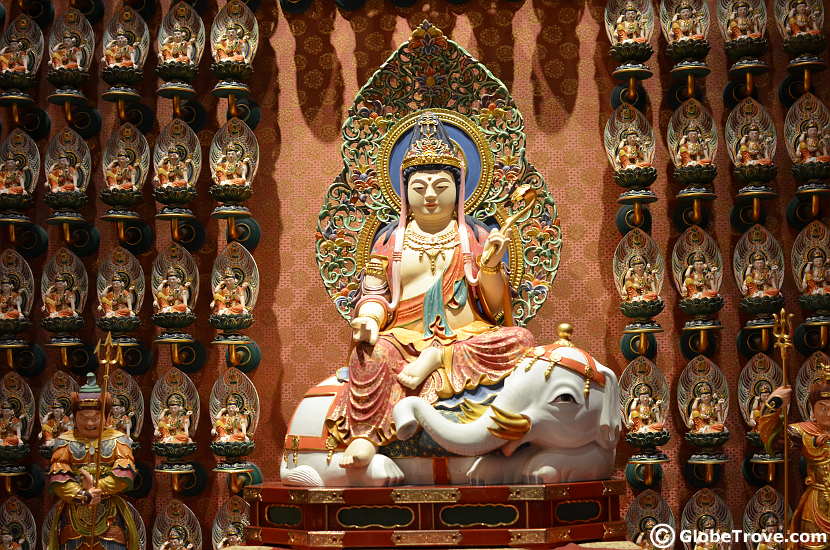 The walls of the hall with Kulikah are decorated with different guardian deities. The deities are guardians based on Chinese astrology. I couldn't help but wander around and search for the deity that is supposed to be Shawn's guardian and the one that is supposed to be mine. That was when I realized that we shared the same guardian deity. It was an amazing realization. Our guardian deity serves as a source of solace, spiritual support and inspiration.
The Buddha Tooth Relic Temple and Museum is an immersive experience. Not only is the colourful walls mesmerizing, the intricacy of the workmanship is worth marvelling at. You can watch people go about their religious activities. If you have any questions there are personnel around to help out.
*This post contains Affiliate links