Unlike many people, we did not stay in Kandy long enough to see the sights. In fact, immediately after our long journey from Ella to Kandy by train, we headed to the bus stand to catch a bus that would take us to Dambulla. We wanted to reach the city before dusk, so we were on the run. I have to confess, we were also a bit tired, so we caught a bite to eat at the station. Because we were in a rush we did make the same mistake that we did when travelling from Colombo to Unawatuna which was rather infuriating. As if that wasn't enough, we also made another one which soured our trip a bit. I think it was partially because we thought that we were being cheated. Anyway, I'll go into the details about how we travelled from Kandy to Dambulla by bus in just a bit.
The Kandy Bus stand is located close to the Kandy train station. That meant that after our long journey from Ella to Kandy by train, we did not have to go far to start the next leg of our journey. If you hunt for the bus stand on the map, search for Goods Shed Bus Stand. At first, we thought that it was the spot for transporting goods across the city due to its name. It turned out to be the intercity bus stand too. Once you enter the bus stand, the noise and chaos of the bus stand will probably overwhelm you. The intercity buses leave from the back of the bus stand at frequent intervals. Our bus from Kandy to Dambulla also left from here.
CATCHING A SNACK ON THE GO
One nice thing about the bus stand is that it has a number of small restaurants, stores selling food and fruit vendors. That means that you can either catch a meal at the bus stand or pack one to go. We did the later since we were short on time and we did not mind eating in a moving vehicle. Or we usually do not mind.
DIFFERENT TYPES OF INTERCITY BUSES FROM KANDY TO DAMBULLA
So, there are two different types of buses that ply between Kandy and Dambulla. One type is the regular red bus or the state-run buses. The others are the air-conditioned buses which are more expensive. Now we were rather tired after our long journey and I thought that making the air-conditioned bus would be less taxing and would be worth the splurge. I couldn't have been more wrong. The airconditioned buses are smaller buses. When we got into ours initially, it was just a regular bus with two rows of seats. What we did not know is that the sides of the seats flapped down to produce more seats. So as we progressed on our journey from Kandy to Dambulla the bus began to fill up considerably and we began to feel stifled. You can pack just so many people in an enclosed compartment before you begin to feel like sardines in a can.
Since the windows were close (airconditioned remember!) there was no breeze to act as a respite. The fact that the leg room wasn't great and people started to stand in the bus did not help our cause.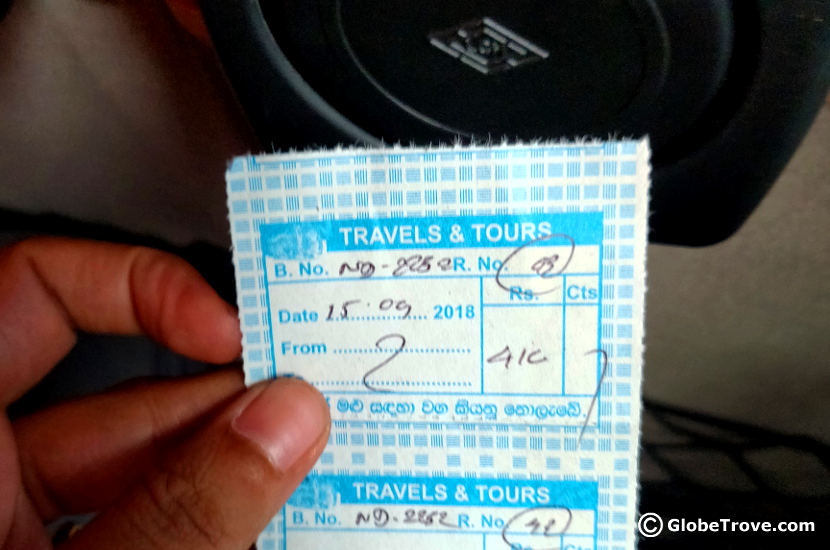 The bus ticket from Kandy to Dambulla.
I'm still not sure whether we were scammed or not. Before entering the bus, we asked how much the ticket would cost. The man who was ushering everyone in said 140 LKR per person. The bus started up at around 2 pm and we found ourselves on our way. If you've been on a bus in Sri Lanka, you will know that they start selling the tickets after the bus is in motion. The conductor came up to us some time after we had left Kandy behind. When we looked at the ticket it said 400 LKR per person! Arguing seemed futile as the conductor adamantly said that we would not get a bus if we got down which was true since we were in the middle of nowhere. We had no choice but to cough up the amount.
As we continued our journey we couldn't help but realize that the conductor wasn't the same person who had ushered us in the bus. So maybe… Just maybe… He had charged us for the whole journey from Kandy to Trincomalee instead of from Kandy to Dambulla. It was possible, but we weren't sure and there was no way to confirm it. Since we did not want any trouble, we took it as a bitter pill that we had to swallow. Luckily, the amounts that we were dealing with are rather small in general.
The Dambulla bus stand is in the heart of the city. You can choose to get down there or at the Dambulla temple. Since we were staying at Richwin Villa in Dambulla, we got down at the bus stand next to the temple. It meant that it was easier to walk to our accommodation. Over all, we found that the journey from Kandy to Dambulla by bus very tiring. It could have been because we were already tired with our prior journey or because of the circumstances in which we travelled in. I think that it was a combination of everything. At the end of the day, we were happy that we reached before dusk. It gave us time to familiarize ourselves with the city.
Have you been from Kandy to Dambulla by bus? We would love to hear about your experience in the comments below.
*This post contains Affiliate links