A lot of people try to take the train from Kandy to Ella because it is considered to be one of the most scenic train journeys in the world. In fact, the route has become so popular that it has put the train journey from Kandy to Ella on everyone's bucket list. It certainly made its way on to mine largely because I was curious. Now most people experience this journey by travelling from Kandy to Ella by train. Some even start in Colombo. We however did it a little differently because we did it the other way around. What I mean to say is that we went from Ella to Kandy by train. The route is the same, it is just the direction that differs. We were rather nervous when it came to doing this route. It was our first and only journey in Sri Lanka by train and we did not know what to expect. At the end of the day, I am pleased to say that we survived and had a rather pleasant journey. Plus, we made a couple of friends on the way.
GETTING FROM ELLA TO KANDY
There are different ways to head from Ella to Kandy. While we took the train to head to Kandy, I think listing out your options is great for people who want to make an informed choice. I guess that the mode of transport you take would depend on your preferred mode of travel and how much you are willing to spend. Comfort also plays a big role in your decision.
You can take the bus. I have no idea where the actual bus stand is, but we were on a bus that was headed from Kartagama to Kandy when we made our way from Tissamaharama to Ella, so we know that they ply the route. The bus stopped at the centre of the city so that we could get down. I am not sure whether that is the actual bus stop or whether the bus just stopped for our convenience (yes! Buses are known to do that in Sri Lanka!). One thing that is certain is that bus tickets are cheap so if you are a backpacker on a budget this may be something you want to consider.
As you already know, we chose to take the train from Ella to Kandy. This route is supposed to be less crowded that doing it from Kandy to Ella and it is also one of the most popular things to do in Sri Lanka. I won't go into the details of this just now because I have a lot to write in the notes below and it would just be telling the tale twice. So keep reading!
You can choose to either rent a car and drive or get a driver to take you from Ella to Kandy. Please make a note that in case you choose to drive, you need to have a temporary driving permit that you can obtain in Colombo. Most of us assume that driving with an international driving permit is enough but the Sri Lankan laws state otherwise. The traffic police are always on the watch to catch foreigners who haven't obtained one. Renting a car however is the most expensive option of the three. It is comfortable and it does allow you to stop at different sites on the way.
The Ella railway station is close to the city and it was an easy walk away from our accommodation (Nimsara Homestay) It may be a bit more difficult to walk to it if you are staying further from the city, commuting there by foot may be a little difficult but it isn't impossible. We had plenty of time in Ella and we headed out to the Ella train station a day before for two reasons: We wanted to book our tickets and we wanted to see where it was so that we were not running around like crazy at the last moment. Plus we needed to know the train timings. We learned quite a bit about how to book a train ticket in Sri Lanka.
COMPARTMENTS IN THE TRAIN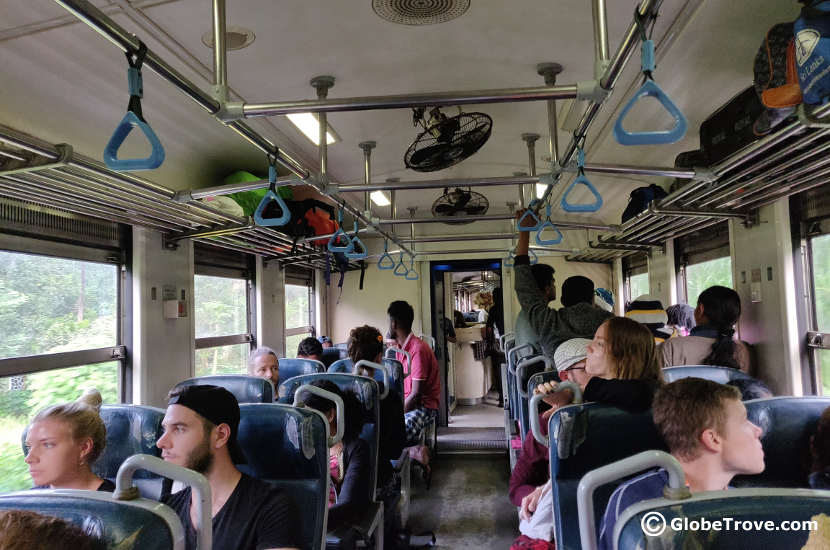 The compartments inside the train going from Ella to Kandy.
One thing that you will realize is that there are different compartments in the train. Each compartment will determine how you pay and it is denoted by class. i.e First class, second class and third class. I have to assume that the third class is the equivalent of general in the Indian trains and is a spot booking. It is also the cheapest ticket. Interestingly, we learned that the first-class compartment is separate from the second-class and third-class compartment and has its own unique entrance. I have heard that it also is an air-conditioned compartment which means you won't get to stick your head or legs out of the train. It also means that you have an assured seat which is not the case in the second-class and third-class compartments.
BOOKING YOUR TICKET FOR YOUR JOURNEY FROM ELLA TO KANDY BY TRAIN
We headed over to the train station to get our tickets a day before our departure. Second-class tickets were however unavailable and so were the first-class tickets. We had however read about how agents' pre-book these tickets to sell for a higher price. A couple in front of us did manage to snag a few tickets for a couple of days after us. The person at the counter was very polite and he gave us the train timings that we were looking for. We had decided upon the 6:35 am train. So we decided to head to the train station in the morning and book a third class ticket on the spot. Mind you, you need to reach an hour earlier than the train for this ticket. Imagine our surprise when we managed to get a second-class ticket in the morning. I guess all the agents returned their unsold the previous night.
The cost of the ticket was 240 LKR per person which is super reasonable. In fact, it is more than reasonable. It is cheap! All you have to do is brave the crowds when entering and run to catch a seat. Between the both of us we just got one. It was only later that we got another vacant seat so both of us could sit together. Till then we took turns sitting and there was so much to see, so I kept hoping from one door to another. Not the safest but fun.
OUR JOURNEY FROM ELLA TO KANDY BY TRAIN
The gorgeous journey from Ella to Kandy by train.
Unlike most people, our journey was not just to Kandy. Our aim was to head from Ella to Kandy by train and then catch a bus that would take us from Kandy to Dambulla. That was one of the main reasons why we wanted to catch the earliest train out of Ella. Like I mentioned before, we stood in line for ten minutes before we got our ticket and then we headed to the platform to wait. The platform was crowded and there were a couple of backpackers on the platform too. The security guard pointed us in the right direction, but it made no sense initially. Luckily when the train pulled up each of the compartments had a sign which told you where to go. It doesn't matter which ticket people buy though. Second-class tickets and third-class tickets all seem to use the same entrances.
There is quite a squabble for seats especially those who are embarking on the long journey to Colombo. Try and get a seat away from the toilets for obvious reasons. In the scramble however, it is difficult to be picky. Wondering which side would give you the best view? The answer is both so don't worry too much. The best part of the journey is between Ella and Nuwara Eliya. It also gets quite chilly so sure to keep a light shawl or jacket within reach.
One thing that I noticed is that the train is rather slow. I think this is largely because it passes through a lot of forested land and because the slopes are rather steep. Once the terrain evens out, the train begins to pick up speed, covering larger distances faster. I always advocate carrying your own food in case you get hungry. If you don't there are a number of vendors who pass through the carriages from the train canteen and they sell everything from fried snacks to fruit and tea. The cost attached to the food is more than usual though.
We arrived at Kandy railway station at 1:15 pm which gave us more than enough time to catch our bus to Dambulla. The Kandy railway station is large and bustling compared to the Ella railway station. There are a couple of restrooms that you can use once you reach which definitely helps especially if you have another long journey ahead of you.
All in all, the journey from Ella to Kandy by train was fun. We watched the scenery change from the mountains to the cities and it was rather peaceful.
Have you taken the train from Ella to Kandy or vice versa? We would love to hear about your experiences below.
*This post contains Affiliate links