I normally don't write reviews about specific restaurants or cafes simply because I like to cater more to the people who are travelling through. Yet, recently we went out for breakfast on a Sunday to a place called the Universal Cafe in Seria. It is a simple place with really nice food and I fell in love with it. The café culture in Brunei is quite extensive with a variety of cafes catering to people and the prices in each café ranges depending on its deco and what they serve. The Universal Cafe is a bit different in its simplicity. That was one of the reasons why I thought that I would write about what makes this café so great for those of you on this side of Brunei.
I chanced to read about the café online and I was intrigued. Universal Cafe in Seria is a family run restaurant which is very popular among the locals in the area. In fact, one could say that the café has stood the test of time. From the outside, you will notice that it isn't too fancy. A couple of chairs and tables, a few fans and busy people moving up and down with the orders. It is quite a bustling place and even though we got up late and went to the café at 10:30, it was still full.
Chances are that if you work in the area, you probably will bump into someone you know. Even though Shawn has been in the area just for a couple of weeks, he immediately saw a friendly face in the crowd.
I wouldn't call the café noisy. It was more bustling and it fondly reminded me of the Parsi cafes that I loved in Mumbai. The ambiance is all about the food and the families interacting over a good meal. It doesn't get simpler and better than this, except it does because the food is awesome!
One of the problems that we had when we visited was that there was no menu. We also did not speak much of Malay to understand what was being said. That however did not turn out to be much of an issue because we knew what we wanted and that is one of the reasons why I'm writing what the café is famous for.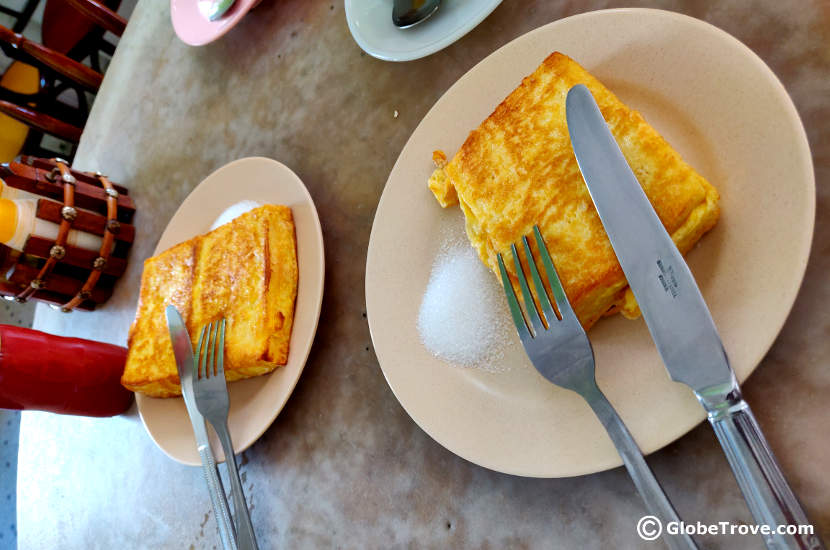 This was our order of double French toast with cheese.
Everyone comes for the cafes famous French toast. You should not leave here without it. The French toast isn't exactly what you would expect it to be. Stuffed with a generous helping of cheese and a light coating of egg outside, the toast isn't sweet. Sugar is kept at the side and you can sprinkle it to taste. Have it hot because that is when the cheese is all gooey inside. The person will ask you whether you want double or single. Single means just one helping. Double means two!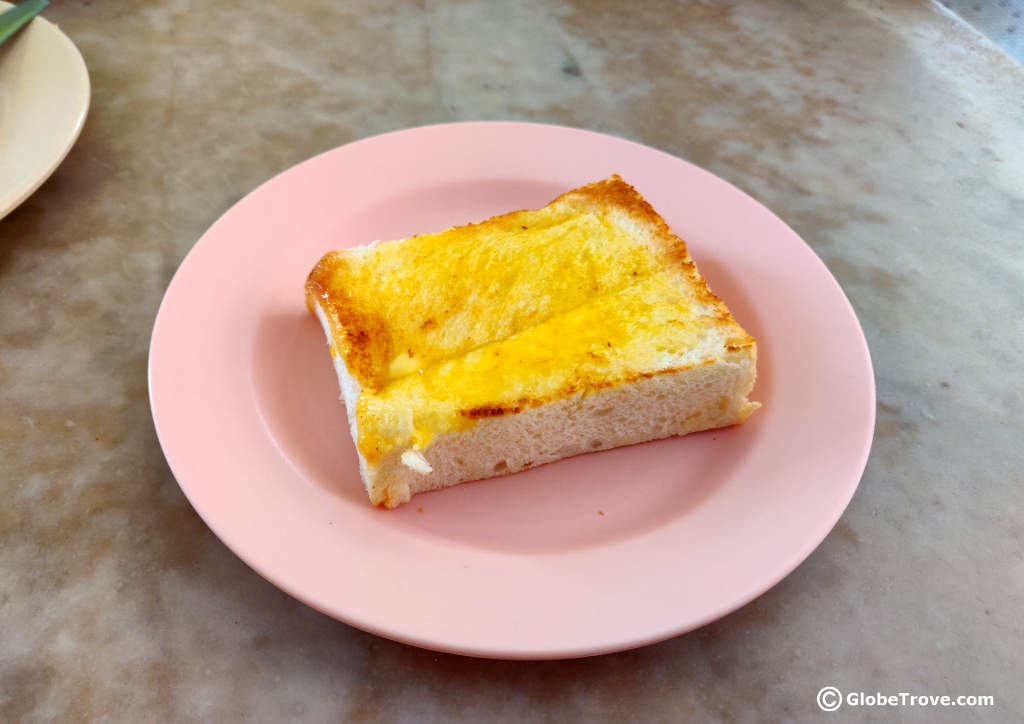 I ordered the toast and it came as a thick slice of bread (which I heard is toasted on a hot stone) and lathered in butter. It was sinfully delicious. I could have eaten a dozen of those slices!
While we are on the topic of bread, Shawn's friend also told us that the restaurant makes great Roti Kuning. We were stuffed at the end of our order but I definitely want to try that next time.
Another popular order is the half boiled eggs. You will notice that almost every table has them ordered. Just knock off the top and eat them how you like them. Shawn ordered the half boiled eggs and to say that he polished his plate is an understatement.
The Bruneians call tea and coffee,  teh and kopi. It is the Malay translation of the words. Like almost every local restaurant or café, Universal cafe in Seria has a lot of varieties of teh and kopi. Shawn had the Teh-C, that is tea with evaporated milk and sugar while I went for the Teh-O which is black tea. I really want to try the Teh-O with lime next time.
Oh and did I mention that the food was cheap? We had one double french toast with cheese, one single french toast with cheese, two half boiled eggs, one toast with butter, one teh-o and one teh-c and our bill came to B$ 8. One thing that I have realized over time is that I love to eat like the locals. I do wish I knew more local joints like Universal Café and I hope that as time passes by, we will make more and more Bruneian friends who can point us in the right direction.
Have you been to Universal Café in Seria? What did you think?
*This post contains Affiliate links