One of the questions that I am often asked is about the transport in Sri Lanka. I think as a traveller transport is always something that bothers us and understanding how easy or difficult it is to get from place to place can help put our mind at ease. Now, I've written a lot of articles about how to make individual journeys based on our experiences, I began to realize that a more comprehensive post was called for. That being said, I realize that there are different kinds of travellers that head to Sri Lanka. You have the budget travellers and you have the luxury travellers, and Sri Lanka caters to them all. Let's take a look at all the different options of transport in Sri Lanka that are open to travellers that are visiting the country. You can then decide which one suits you the best.
INTERCITY TRANSPORT IN SRI LANKA
Let's talk about intercity transport in Sri Lanka. If you are headed to Sri Lanka for a holiday, this is probably what is going to be first thing that you will look for when planning your route through Sri Lanka. Luckily, there are many modes of transport in Sri Lanka. Some are a bit more challenging than others. These are the ones that are cheaper. If you want to travel on a budget, the key is to travel like a local.
SHOULD YOU BOOK A FLIGHT?
I know that there are a few cities that you can take a local flight to from Colombo airport. The flights however are very costly and at times it may not be worth it. We personally chose to avoid intercity flights and used other forms of transport.
The train is a popular mode of transport in Sri Lanka.
The train routes connect a number of the cities in Sri Lanka. One of the most popular train routes in the country is the train journey from Kandy to Ella by Train and it has often been called one of the most beautiful train routes in the world. The most scenic part of the journey is between Nuwara Eliya and Ella and the journey is flanked by green valleys and mountains on all sides. Taking the train however makes a lot of travellers nervous. The reason is because the trains are usually crowded and the tickets are hard to get.
If you plan on catching the train, don't worry. We have you covered. There are three sections in the train: first class, second class and third class. First class tickets need to be booked in advance and are rather hard to get. They are more expensive but if you have one it means that you are assured of a seat. The first-class compartment is an airconditioned compartment and is the most comfortable of the lot. You won't however be able to stick your head out of the train which is an experience that many travellers want.
Second and third-class compartments do not have air conditioning and are rather crowded. The people tend to move about both compartments till the conductor sends them back. You need to be quick to enter the compartment. We found the journey rather exciting and it reminded us of the Indian train journeys that we were used to. A second class can be booked in advance but if it runs out, you can try to buy it an hour before the train is due. The same can be said about the third-class tickets. If you want to know more details about our experience of traveling in Sri Lanka by train you can check out the link in the related articles below.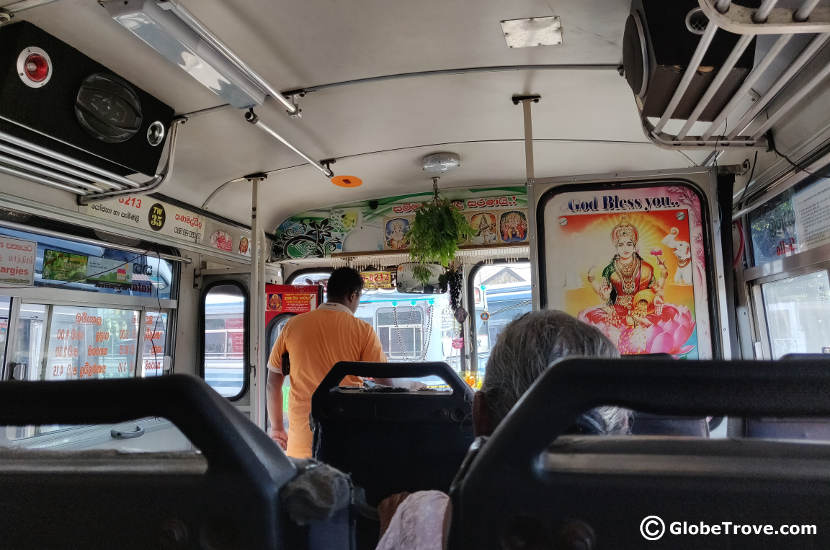 The bus is another popular mode of transport in Sri Lanka.
The bus quickly became our favourite mode of transport in Sri Lanka. There are so many buses plying from city to city that it takes the stress out of travelling. Bus journeys are also very cheap and safe. The easiest way to catch a bus is to head to the local bus depot. I would suggest asking your host at your accommodation where the bus depot is and if the buses that ply along route you want to take depart from that deport. There are two main types of buses that you can take: The ones that are run by the government and private buses which are usually air conditioned. We personally loved the state run buses more. We tried taking an air conditioned bus from Kandy to Dambulla and the journey was not pleasant. We were jammed like sardines in a can and it was a rather uncomfortable way to make the trip. You can check out the routes that we took. You may find it helpful if you are heading out along the same route.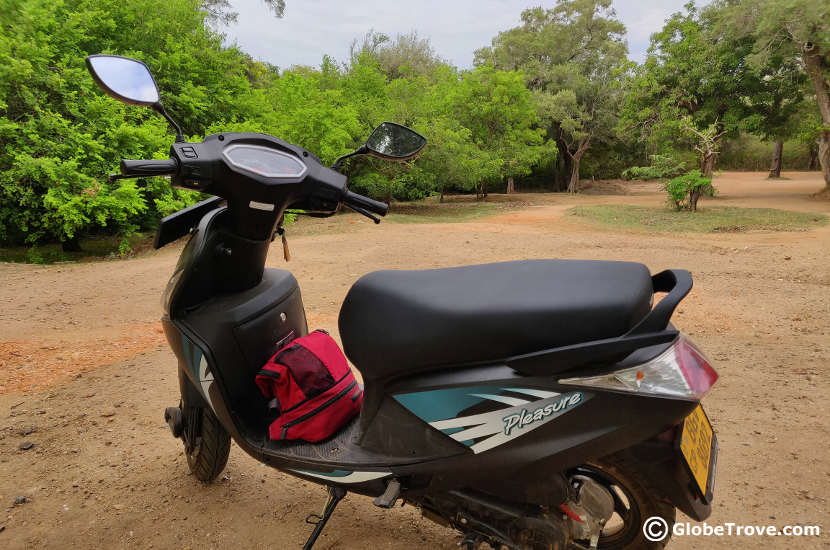 One of the motorbikes we rented as transport in Sri Lanka.
Yes, this is an option in Sri Lanka. It is also a more expensive option. There are a number of sites and companies that will allow you to rent a car or a motorbike in the country and you can drive through the country. Driving is definitely more comfortable and flexible than using the public transport. There is one thing that everyone who rents and drives should know. International driving licenses do not work in Sri Lanka. One needs to get a temporary driving permit in Colombo  without which you could get into trouble. You'll find a detailed article about how to get one in the related articles below. Alternatively, if you do not want to drive, you can hire a driver to take you around. Note that this will increase the cost of transport significantly. It will however be more comfortable and is safer for people who aren't used to the traffic or driving on the left side of the road.
TRANSPORT IN SRI LANKA WITHIN THE CITIES AND VILLAGES
With the intercity transport out of the way, let's focus on how a traveller can get around a city or a village. Local transport is also a very important aspect of travel and it is something that I fret about a lot. Luckily, Sri Lanka has a number of different options. Not all of them are expensive and I guess the type of transport that you take depends on which part of the country you are in. Big cities like Colombo are well connected. The further out you go, the less the connectivity is and that shouldn't come as a surprise. I think we used so many different modes of transport to move around which included bus, tuk-tuk, boat, bike, cab etc. I will go into each one in the detail.
We did take the bus in a couple of places. It isn't always easy as the buses are packed and you need to mention that you will get down at XYZ stop or you will be billed for the entire journey. Keep an eye on the online map so that you know where to get down or you will land up walking more than you intend on doing. It has happened to us, so I thought I would warn you. We found local buses in all the places that we visited. The frequency however differs.
Tuk-tuks are a popular mode of transport. They are popular in all cities in Sri Lanka. In Colombo, you can demand that they use the meter. It isn't true in the case of all locations. Beware of the meters that they use on the phones. They run way to fast to be right! That being said, you can haggle with the drivers till you settle on a price that you are willing to pay.
Renting a motorbike or a car an give you a lot of flexibility and can be cheaper than taking a tuk-tuk in the long run. It is a lot of fun and we personally love it. I have mentioned that Sri Lanka has its own rules for driving in the country. You need a temporary driving permit which can be obtained in Colombo. An international driving license is not valid so make sure you get your permit. If you haven't already checked out our post on how to go about applying for one, I suggest taking a look at it.
While we did not travel to many islands in Sri Lanka, you will find that you do need to take a boat or a ferry across. We found that we needed to pay someone to take us across to Pigeon Island National Park. It isn't too expensive if you travel as a group. It is doable if you travel as a couple. A great way to lower the price is to ask people in your hostel or accommodation if they would be interested in tagging along.
I know many of you will think that this is a ridiculous suggestion but I think that walking everywhere is a really good idea. You have no idea how many spots we would have missed if we just hopped from site to site without walking. It is a great way to watch the local culture and immerse yourself in it. I find it a great way to see the surroundings and get in a bit of exercise too.
With that, I close up my article on transport in Sri Lanka for travellers. There are many ways to move around and transport in the country does not have to be expensive.
Have you been to Sri Lanka? What was your most used mode of transportation in the country? We would love to hear about your experience in the comments below.
*This post contains Affiliate links