When we started out, Dambulla wasn't on our list. The more we interacted with people on our way, the more we realized that we would be fools not to add it to our itinerary. Not everyone stops at Dambulla. It is a small but rather bustling city. It is however strategically located close to a number of noteworthy sights in the area. In fact, in my opinion, Dambulla is at the heart of Sri Lanka's cultural triangle. We may have planned on staying just a night in the city, but we landed up staying for three! Luckily for us, we found and amazing place to stay in that gave a taste of village life, was a stone's throw away from the Dambulla Cave temple and served the best food in town. Anyway, let us get back to our Dambulla travel guide shall we?
DAMBULLA TRAVEL GUIDE: Getting To The City
I think that the best way to start our Dambulla Travel Guide would be to understand how to get to the city. Getting to Dambulla is fairly easy since the city is well connected. It does not however have a train station or an airport. Road transport is the way to go. We found that since the city has a large bus stand and it is on the way to many popular cities, the bus frequency is high. We personally travelled to Dambulla from Ella. That meant that we took a train from Ella to Kandy and a bus from Kandy to Dambulla. There are regular buses that ply from Colombo, Anuradhapura, Trincomalee and Polonnaruwa to Dambulla to. As you can see, it is easy enough to reach the city by bus.
If bus isn't your cup of tea, you can choose to rent a vehicle and drive but make sure that you have your temporary driving permit in order before you do. It is a simple enough procedure. Unlike many other countries, an international driving license is not valid in the country. Driving in south east Asia may however scare you away from the roads and if that is the case then you have another alternative and that is to hire a driver.
CHOOSING YOUR ACCOMMODATION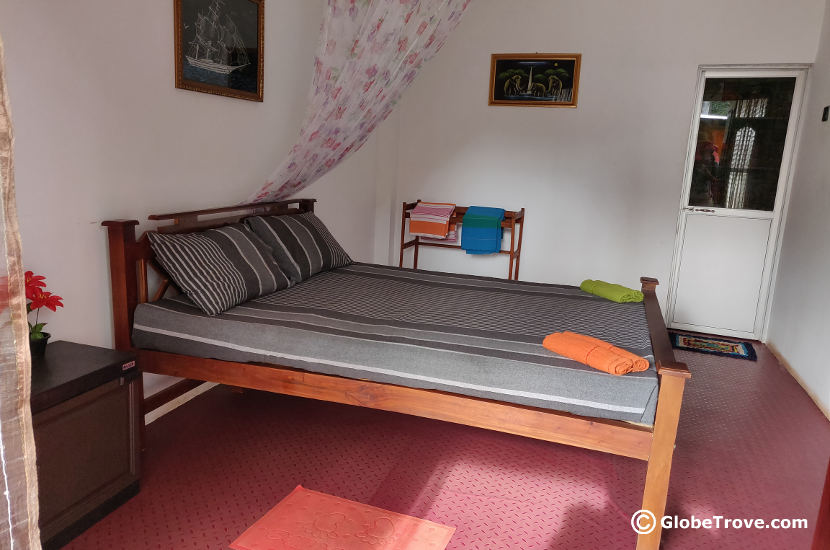 Our choice of  accommodation in our Dambulla Travel Guide was a quaint budget hotel.
Normally I don't worry too much about the accommodation we choose but in Dambulla that became slightly critical since we wanted to rent a bike. Since Dambulla hasn't become a popular spot for tourists to stay, a lot of tourist related activities like bike rentals have not cropped up. We chose to stay in Richwin villa which was a few minutes walk away from the Dambulla cave temple. Since it was not on the main road nor in the main city, it meant that our stay was quiet and peaceful. The owners of the villa also rented out motorbikes for tourists to use. We did walk around the city and we there were no other rental companies that we could find. Renting a motorbike made our trip so much more fun. The accommodation also conducts tours and has a cab service in case that is something that would interest you. You can read my detailed article about our stay there by clicking on the link below.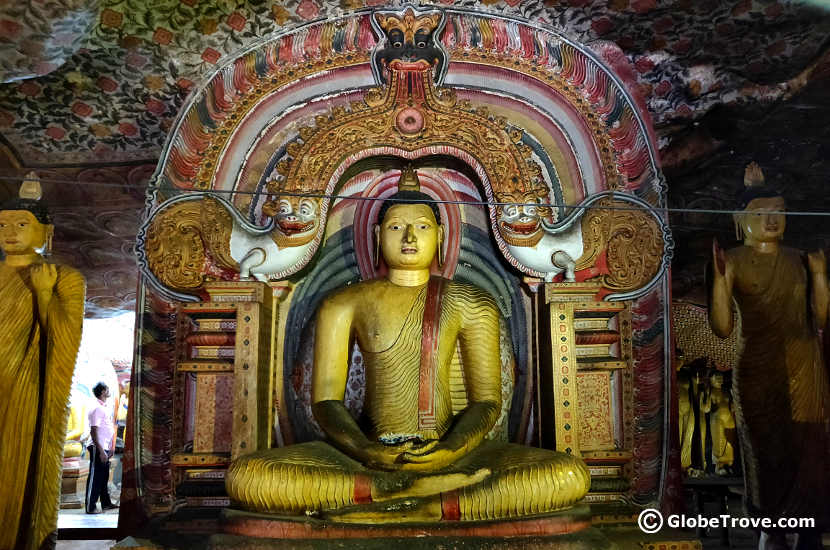 Dambulla is famous for its cave temple.
I have to be honest here. Dambulla isn't famous for much other than the Dambulla cave temple. It is really hard to miss. A large gorgeous Buddha in all his golden glory invites you. If you think that you can be in and out of the complex in five minutes, you are wrong and so were we. Our five minute stop at the cave temple turned out to be a 3 hour stop. Luckily we had plenty of time. One quick tip: Carry water. You are going to have to take a short hike on your way to the temple. If you haven't read it already, I would suggest reading our article on the Dambulla cave temple.
We found that Dambulla was a perfect base for us to head to a number of locations across the cultural triangle in Sri Lanka. The Dambulla cave temple is just one stop in the city. Getting from spot to spot may be challenging. You can however choose to use the local buses, rent a vehicle or hire a cab. You will find a details about each location in their specific articles that I have written. I will attach their links in the related articles section of each suggestion.
Sigiriya is one of the places near Dambulla you should visit.
Very few tourists leave Sri Lanka without a stop at Sigiriya. The ancient fortress is famous for its historical and archaeological value. Located at 17 kilometres away from Dambulla, the Sigiriya fortress is an easy trip to take from the city. In fact, if you are in the area, you definitely should not miss it. The vast sprawling gardens, the hike up an almost vertical rock (It has railings. Thank God!) and the gorgeous views from the top are some of the reasons why you should visit it. The citadel at the top of the rock fortress is impressive but make sure that you visit it either early morning or late evening or the heat will get to you.
RELATED ARTICLES: SIGIRITA: Have You Climbed Up The Lion Rock Yet?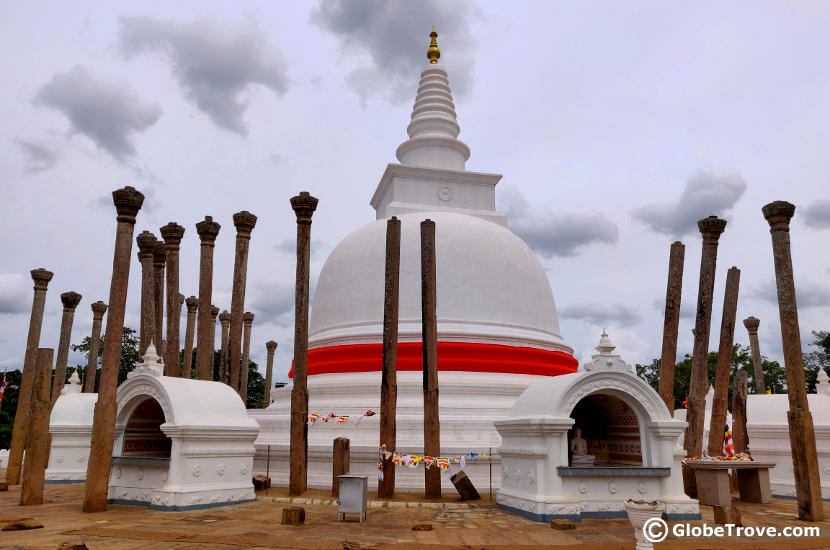 Anuradhapura is one of the places that you need to visit near Dambulla.
Another gorgeous UNESCO heritage site that you should think of visiting is Anuradhapura. At 63 kilometres away from Dambulla, this ancient city is another great place to visit. Unlike Sigiriya, the structures in the city are spread out across a large expanse of land. One thing that I noticed about Anuradhapura was that the ancient city and the modern city merged together to coexist. The monuments are well cared for and many are still being carefully restored. There are few tips to going through the entire complex and some many saving ideas (it depends on your passport though) but I won't go into the details since I already have a long post up. You can find the link in the related articles section below.
RELATED ARTICLES: Anuradhapura: Wandering Around The Ancient City
We were in Kandy only briefly and did not really have much time to explore the city which is something that we regret. Kandy is 73 kilometres away from Dambulla and is a town that is famous among tourist and locals alike. At a higher altitude, the weather is much cooler making your stay extremely pleasant. Wildlife reserves, lakes, temples and culture are all a part of your day when you visit the city.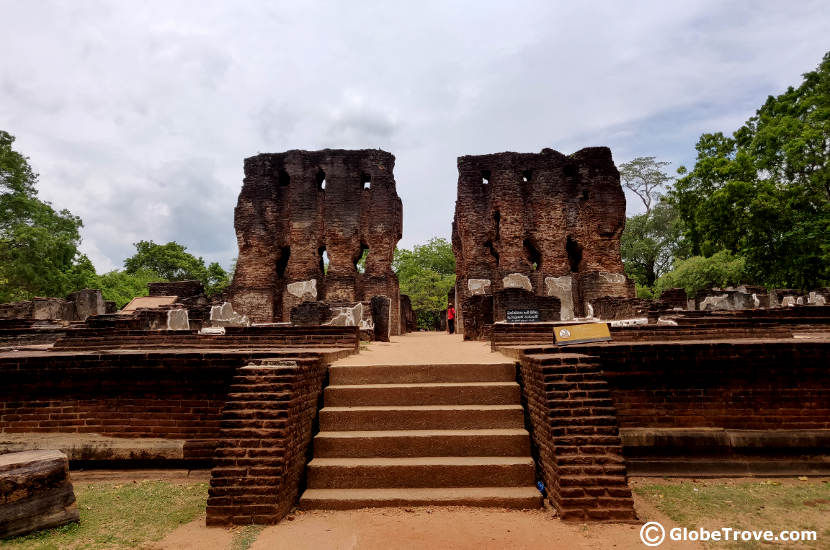 Polonnaruwa was one of the places we visited near Dambulla.
Located 67 kilometres away from Dambulla is an ancient city named Polonnaruwa and I just had to add it to our Dambulla travel guide. I loved the time that we spent in this gorgeous UNESCO heritage site. Unlike Anuradhapura, the ruins in Polonnaruwa lie within a gated area. This means that reaching each one of them is easier.  We found it much more organized and easier to access. The ruins are beautiful and you can see how much effort has been put into restoring the monuments. There are places where you can stop and get a bite to eat, toilets and even places to sit and relax. I won't get into all the details because I already have a detailed post up. If you are headed that way, I suggest taking a look at it. You will find the link in the related articles section below.
RELATED ARTICLES: Polonnaruwa: Exploring The Ruins Of An Ancient City
Minneriya National Park is a popular safari zone in the North of Sri Lanka. The watering holes make it a great place to catch a glimpse of the elephants that wander that way. While we did not take a safari into the park, we managed to catch a glimpse of a herd of elephants while we were on our way back to Dambulla from Polonnaruwa. They are such magnificent beasts and it was such an experience to sit and watch them in their natural habitat. I just had to it as a day trip in our Dambulla Travel Guide.
There you have it. All the gorgeous places that we visited in and around Dambulla. As you can see, Dambulla provides a great central location to visit so many of Sri Lanka's treasures. It is something that I would highly recommend. It beats shifting from spot to spot and it gives you the chance to explore the area at leisure.
Have you been to Dambulla? We would love to hear about your experience in the comments below.
*This post contains Affiliate links